Childhood Memories at Al-Taybeen Museum
Special Feature
Childhood Memories at Al-Taybeen Museum
The entrance of Al-Taybeen Museum. Photos courtesy Al-Taybeen Museum.
"Throw it out! You don't use it anymore!" Every child has heard their mother say this about their toys and other neglected objects. Some of us have kept a few sentimental items from our childhood—maybe a gift from a loved one, a Game Boy, or a precious heirloom. But what if you collected an array of things throughout your childhood? For Majid Al-Ghamdi, that was his hobby. What started as a humble collection in 1992 at eight years old—from toys to snacks and drinks popular at the time—turned into a good "old" museum. Today, 28 years later, he rummages through his ever
growing 10,000 nostalgic collection. What others saw as dispensable, he saw as treasure. Al-Taybeen Museum is wistful, weird and wonderful. A trip down memory lane for people of all ages. Visitors would excitedly express, "I remember this!" as they browse through Al-Taybeen, which translates to the good or rather, the era of the wholesome goodness. Items as big as an airplane seat, as old as 1600s cameras and as small as a 1980s Strepsils case are stacked high and low on the shelves. Look up, look down, left and right—you do not want to miss a single thing in this
unique museum…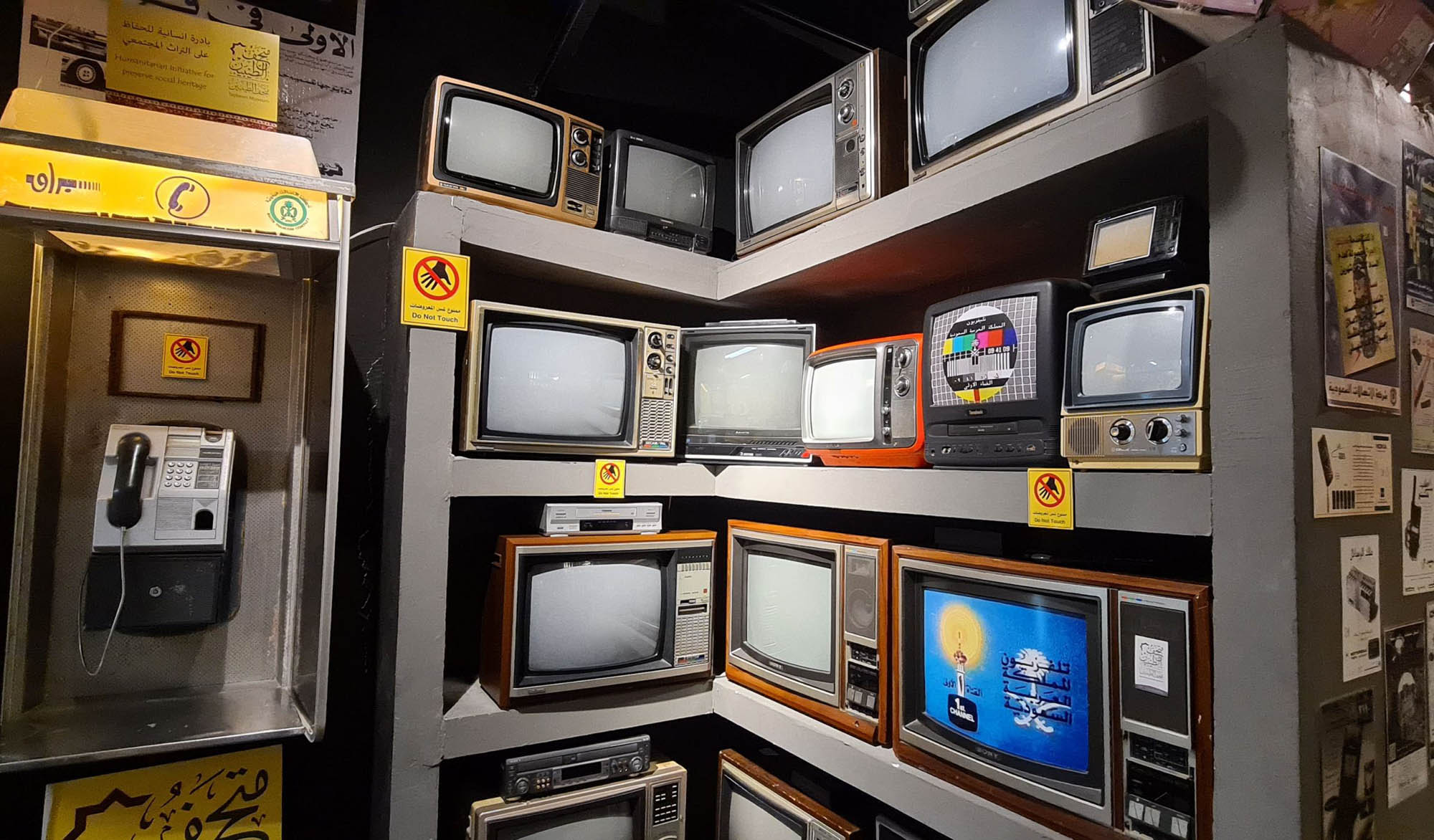 Old television sets and telephones. An example of the wide collection at Al-Taybeen Museum.
Majid is an avid collector of everything antique. Every day, more items fill up what minimal space is available. Sentimental memorabilia passed down from generations that are too precious to face wastelands make it to Al-Taybeen. Outside, the museum looks like an ordinary villa with a yellow welcome sign that indicates treasures lay inside.
Birds sing you are welcome as your eyes catch a massive cutout board of a 2000's Nokia phone. The atmosphere inside? Pure bliss. Visitors reminisce in the childlike innocence they once felt. You can find your long-forgotten favorite toys and your parents will be delighted to see their day-to-day objects from their own childhood.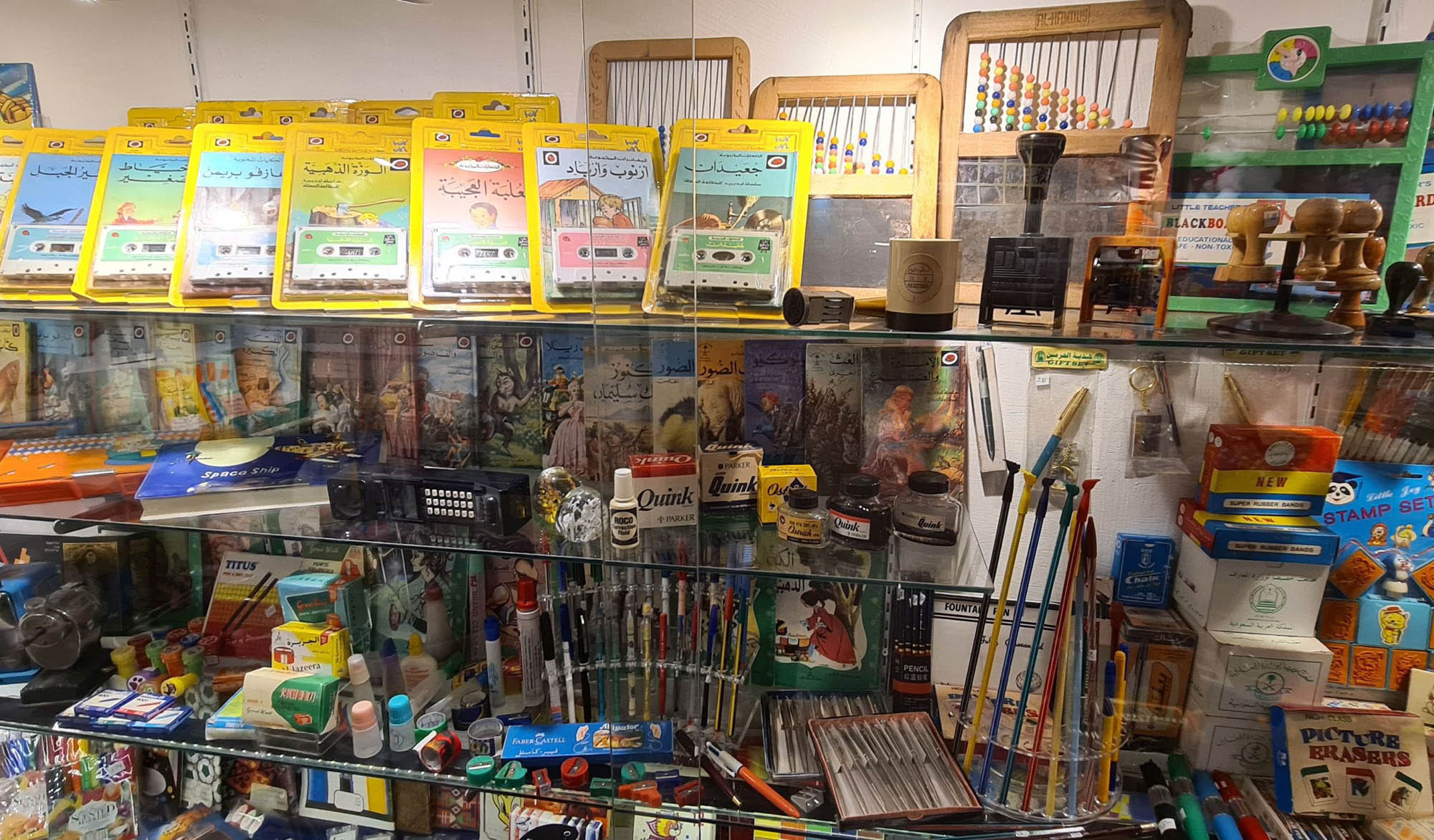 Childhood books and items, from the wide collection at Al-Taybeen Museum.
Visitors will feel right at home at Al-Taybeen. Majid aims to keep the scrappy museum as authentic as possible. "I see vintage items as a relief from our busy lives," he shares. "Old items take me back to my happy childhood when we were innocent and free." After conjuring one too many collectibles,
Al-Taybeen opened to the public as a museum in 2018. New items are added almost daily since its opening. From bought antiques to luckily found gems—Majid is keen to preserve treasured objects from around the world. He is a treasure hunter of childhood memories, a nostalgic hero, if you will.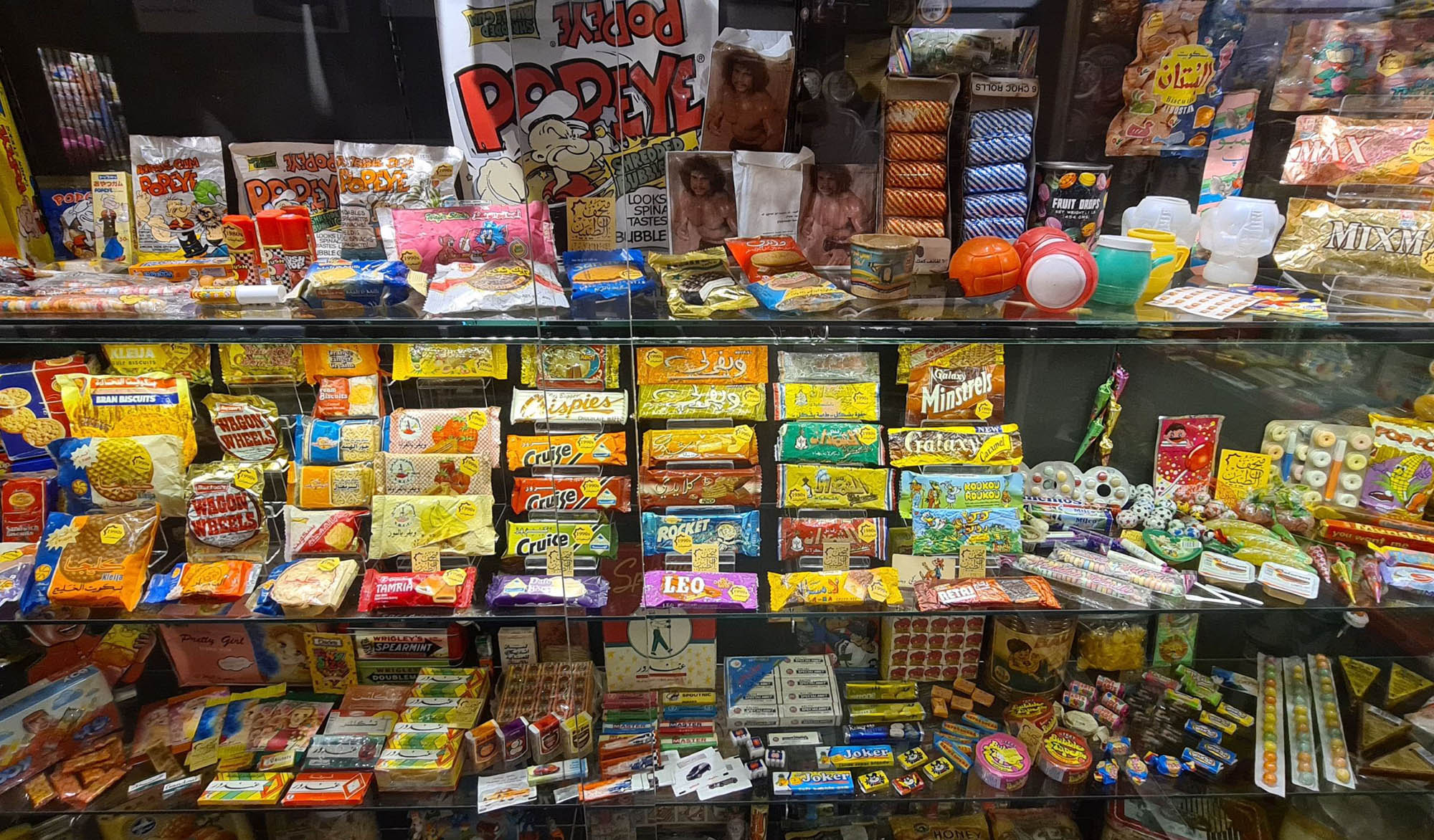 Childhood sweets and snacks, from the wide collection at Al-Taybeen Museum.
Our childhoods are fond of sweet treats and many breakfast cereal bowls. At Al-Taybeen, you will relive your childhood through the snacks and beverages, which will spark memories of chowing down on chocolate bars and sipping on fizzy sodas. The first zone in the museum offers a more than an ordinary collection of soda cans—Coca-Cola's 1950s bottles to Vimto over decades. What Majid shares is not only a trip to a familiar time but a chance to discover the evolutions of brands we know today.

1950s Snickers boxes are displayed above the Kit Kat packaging. A 1920s Kellogg's Corn Flakes, a 1970s Lipton box, and the progression of Mackintosh Quality Street boxes (which famously hold needles and threads in households) are all propped up for you to observe and remember.
With friends and family, he supplied the keepsakes. He saved a telephone booth from the King Fahd Park before it would be trashed, with connections, he retrieved an airline seat from an old Saudia plane, and he had bought other rare gems to display. There is an old chair that is said to be the one that the Founder of the country, King Abdulaziz Al-Saud sat on in 1925 in celebration when Jeddah was united with the Kingdom. Al-Taybeen is for the fanatic of all-things vintage, a place to find forgotten toys, treasures and other tangibles. The transformation of telephones, typewriters and televisions are all part of the treasure trove.

This museum reminds us of the blissful freedom we experienced as children. When the Playstation (PS1) was all the rage in the 1990s and kids played video games for endless hours. When families gathered and played board games like Carrom and we all stacked movie libraries of VHS tapes.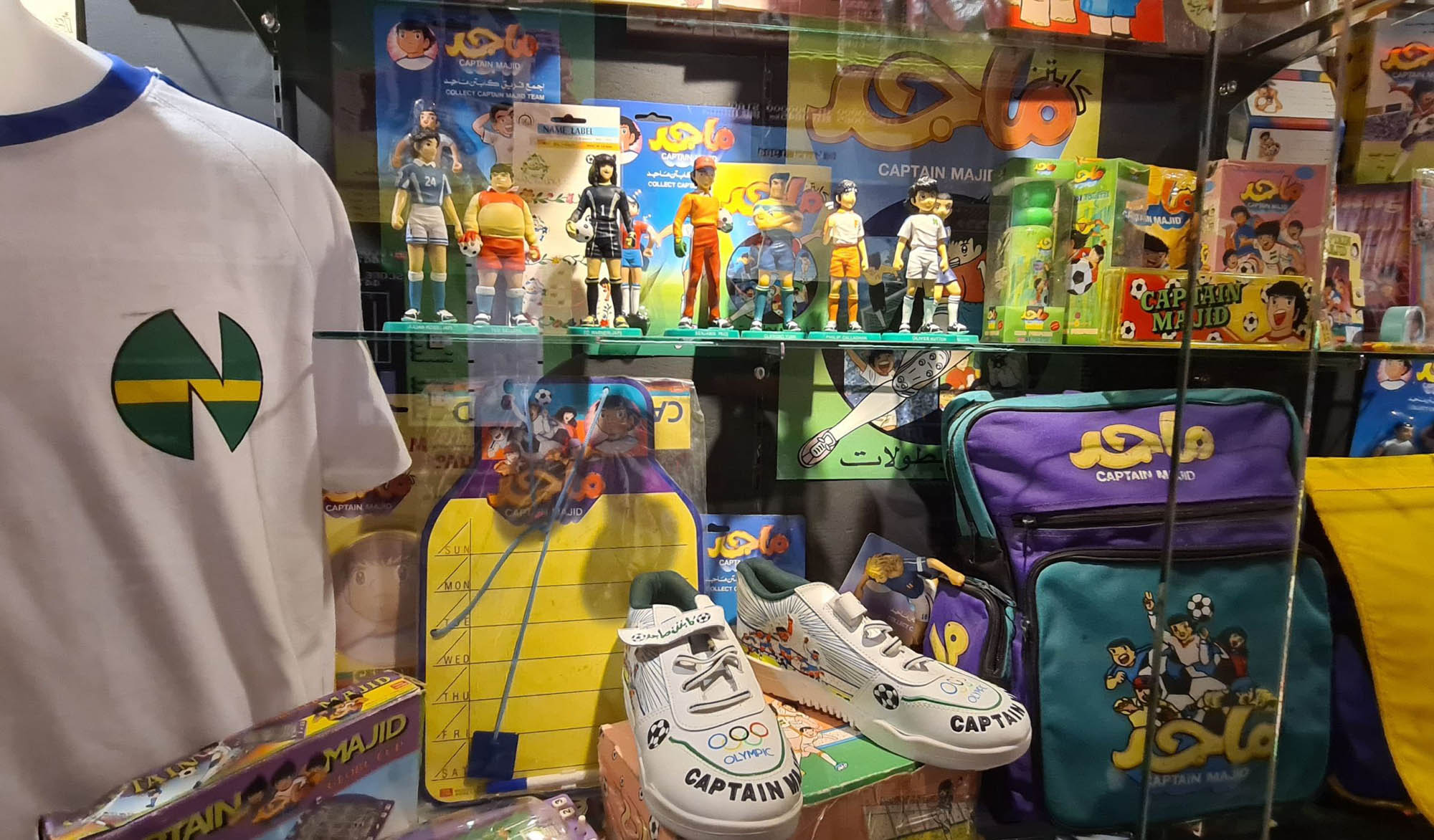 The Japanese anime dubbed into Arabic 'Captain Majid,' with a cult following in the Middle East. From the collection at Al-Taybeen Museum.
"Kids nowadays are not enjoying their childhood as much as we did," Majid states on the topic of childhood today versus older generations. "They lack physical entertainment because of modern technology." Children today grow up scrolling through iPhones as young as 12 years old, not using their hand-me-down Nokia's from their siblings. Visiting this museum will remind us how things were, reflect on how things are and ponder what will be for future children.
"It's painful when people say they wish they had known of this place before they had thrown out so many of their items," Majid says. He mentions how our items hold memories—every toy, bottle, and even paper becomes sentimental. Blasts from the past are kept in the time capsule that is Al-Taybeen. Consider donating your precious items to this wonderful museum before throwing them out during your next spring-cleaning. To go back in time and relive your childhood, visit Al-Taybeen Museum, a place for all good things and great memories.