Spotlight
A feminine Identity
'Kohl around my eyes,' by Alia Al-Farsi. 2018. Mixed Media. Art courtesy of the artist.
By
Ithraeyat Editorial Team
Identity is the heritage, morals, and set of beliefs that we passionately carry just like our names
Alia Al-farsi is an Omani artist from Muscat
She has an innovative touch in her art, capturing different colorful sides of her culture and identity. Inspired by her homeland, each stroke on her paintings tells us a story about where she comes from and where she belongs. Al-Farsi creates with her art a vibrant world with passion and beauty, reflecting her philosophy in every frame. She paints faces to study the secrets held in the eyes. This passionate artist began her journey at a young age, encouraged by her father to become an artist who represents the Omani culture and art. Al-Farsi participated and continues to participate in important regional and international exhibitions, and has received numerous awards for her work.
Ithraeyat interviews the dynamic artist, and finds out more about what drives her, what does identity mean to her and to her inspirations.

Q1. What does art mean to you?
Art is the manifestation of our fragility and strength. It is a spiritual medium, a gift that allows us to talk, shout, laugh, and cry without a voice. On a personal level, art has strengthened my voice while giving me a space for me to express my own relationship with my spirituality, my femininity, and my cultural identity.
Q2. Can you tell us about your background and how you started as an artist?
I have always seen my identity as an artist as being invariably linked with my home country—Oman—so inevitably, my journey began there. I grew up in Muttrah, which is famous for its souq, bright colors, and lively energy, which I always saw as an inherently artistic landscape to be surrounded by as a child. I had this big dream to have my own art gallery after my father took me on a road trip from Muscat to London in the 1970s. Mesmerized by what I witnessed in European museums and art galleries, I knew that art is the path I would follow and dedicate my life to. Since 1993, I have been taking part in regional and global art fairs to represent my country and build my brand. In 2017, after exhibiting in the Venice Biennale and Art Basel, I had a decent collection of art and clients. It was then that I decided to build a sanctum of art in Muscat, Oman. In 2020, I inaugurated Alia Gallery, my biggest artwork.
Q3. What artistic and cultural forms have most influenced your style and work?
I am a follower of abstract expressionism, so I set my contemplation and consciousness free to create visual images that I depict on canvases. Whenever my mind plots for a new painting, I seek refuge in my messy studio, and amid the chaos of the room and the mind, a story is woven.
In terms of style, I view my art as eclectic and unclassifiable, which is primarily a result of years of exploring different schools of art. However, there are key ingredients in all my works that keep them distinctive. All my works are results of real-life experiences that affect me directly or indirectly.
Q4. What themes are most common in your work? And Why?
I am constantly inspired by my homeland, Oman. A place where authenticity, family, and culture are not only well-preserved but honored and celebrated. From the colors of Omani women's traditional dresses to the colors of our untouched natural landscapes, Oman inspired me to show the inner beauty of the relationship between humans and nature, and that's why my works are global and relatable. But to answer the question of "Why" is challenging. Being a native Omani innately connects me to the land and its people, and as an artist who is quite introspective in her work, it has become quite natural for me to draw on this large part of my identity in my art. However, even as an onlooker I believe I would still be pointed to drawn to this land. It represents a fusion of the materialistic and the spiritual packaged set against its own beautiful natural backdrop. All of this is what makes Oman, Oman.
I also have a strong interest in the philosophies of Sufism as it is captured in the movements, facial expressions, and reflective looks of my figures in the paintings. Symbolically, Sufism takes shape within my work due to the manner in which I continue to look introspectively and create pieces reflecting my own relationships with the physical and spiritual world.
Q5. What does 'identity' mean to you? How do you identify and view your identity or identities and how do they intersect with each other?
Identity is the heritage, morals, and set of beliefs that we passionately carry just like our names. To me, being a woman, an Omani, and an artist are inseparable aspects of my identity. Embracing each facet of our identities and ensuring they coexist is the only way we can move forward to explore ourselves and face our reality. As we become more distracted by technology and less in touch with the world around us, our identities, the faith we have, the colour we are born with, the career we choose to pursue, become more relevant and important than anytime before.
Q6. What do you hope to achieve through your work, and who is your target audience? Generally, how has your work been received?
I want my art to resonate with the viewers, and to make them reflect upon themselves. I opened my art gallery "Alia Gallery" in 2020 because I wanted tourists to see Oman in a contemporary way. The rapid growth of Oman over the past few decades has dramatically affected our traditional lifestyles and the way we perceive each other and are perceived by onlookers. Through my art, I want to preserve our Omani identity and present it in a new light. In the past two years, I have had many collaborations with local and international artists, writers, singers, and even larger companies. I believe these partnerships speak to the ability of my art to mesh the traditional with the modern. However, more importantly, I believe every single visitor at the gallery has been affected in some way and leaves with a positive impression of Oman, and this is what truly makes me proud.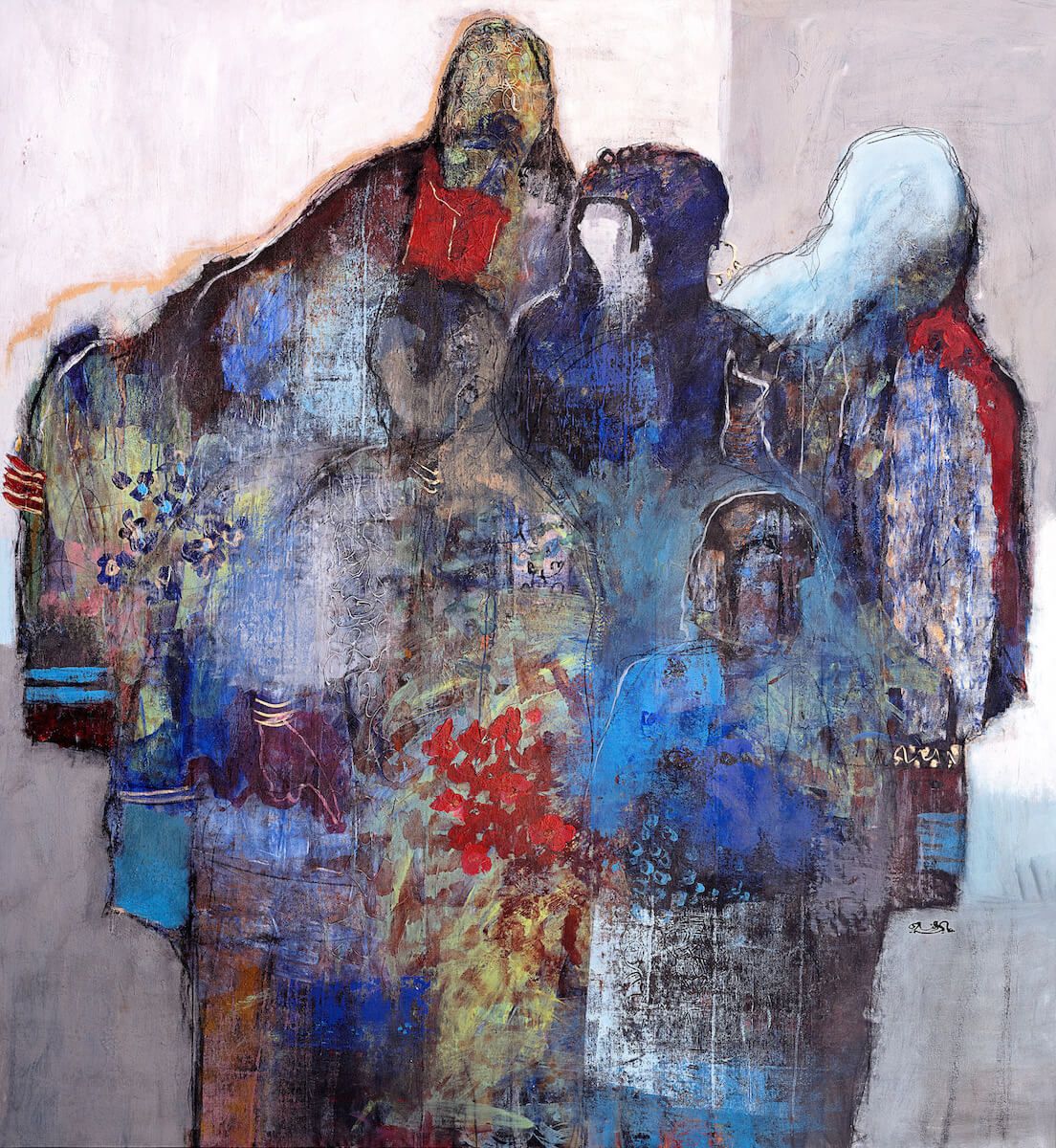 'Do you know what goes on in my mind?' by Alia Al-Farsi. 2022. Mixed Media. Art courtesy of the artist.
Q7. How does the Arabic language, poetry, culture, and literature influence your work? Why?
Arabic poetry, especially the ones written by master Sufi scholars such as Ibn Arabi and Al Hallaj and Al Rumi have effortlessly slipped into my heart, as they shaped the way I sense God and His blessings. Their words painted visual images in my soul, many of which I reflected on my paintings.
I was also fortunate enough to work on a collaboration effort with the beloved Algerian writer Ahlam Mosteghanemi, in which she dedicated ten of her Arabic poems to my gallery and I painted ten corresponding canvases representing her words. This was one of my favorite collections because of its representation of the beauty of the Arabic language and the power to reach across borders to create something never seen before.
Q8. What motto do you live by?
Mottos we live by change based on the age and experiences. There's no particular proverb that I live by.
Q9. Any role models?
My late father – God have mercy on his soul- has always been my hero. He had a huge role in shaping my personality and ethics.
Q10. Future plans? Any exhibitions, or any new work, or workshops?
I am currently busy planning for my first NFT collection launch event, and my gallery will be home to the launch of two luxury cars. Additionally, I am planning to exhibit in two major cities in the Middle East during winter and start a few collaborations with 5-star hotels in Muscat and Salalah.
To see more of her art, visit Khaleej Art Museum, one of our partners.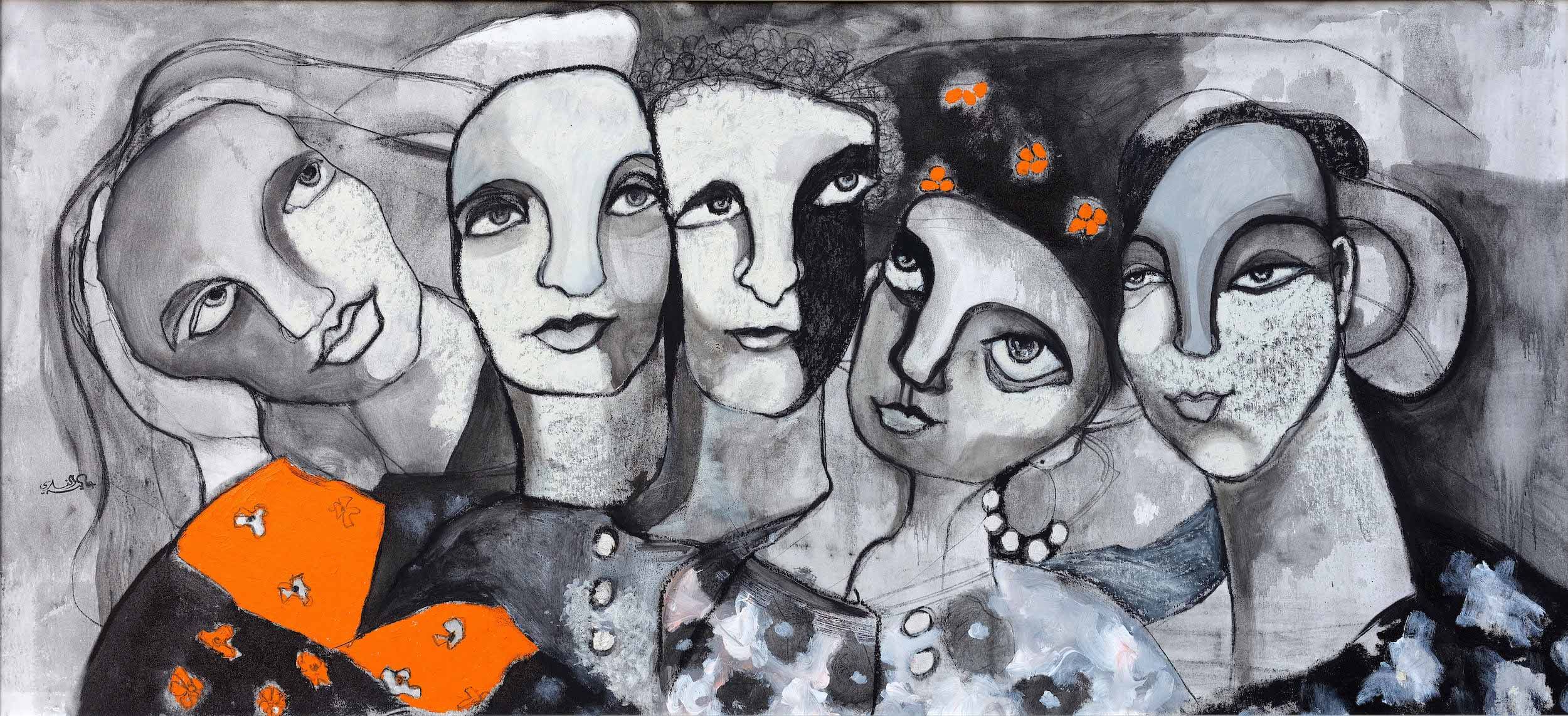 'You Will Never Find Anyone Like Me,' by Alia Al-Farsi. 2017. Acrylic on canvas. Art courtesy of the artist.