Spotlight
The Joy of Our Artists
Original new art debuting in Ithraeyat by the wonderful Ola Hejazi.
By
Ithraeyat Editorial Team
Ithraeyat has been fortunate to feature amazing artists and creatives from the Middle East, and here we share which artworks give them joy. We hope it gives you joy as well to discover them with us.
'Salsa Can'
"I love this painting. It is from my memory, it captures the innocence of the time, the simplicity of the play, that makes me smile each time I look at this artwork. The tomato sauce inside the can was used in cooking. The boys in the area would take the empty salsa can and play with it like a football. While playing, the boys are so happy. I wanted to capture this pure happiness with a clear sky around them. This is how we used to be so happy, just playing in the street, with a simple empty salsa can. This art captures my own joy and the joy of simpler times…" Legendary Artist Dia Aziz Dia.
'Tawaf around the Kaaba'
"Allah Almighty has created man, and endowed him with reason and thinking, each with his own structure and constituents. Art is a taste and feeling, and a measure of the civilization of peoples, and our beloved country has the purest spot on the face of the earth: it contains the Sacred Mosque and the Holy Kaaba, the qiblah of all Muslims, and it contains the mosque of our Prophet and our beloved Muhammad, peace be upon him and his family and companions.
My expression was established through research and experimentation of a fine art style, the aim of which was to send a message to the world about this pure spot that I love because I am a Muslim, and all Muslims love it from the farthest corners of the earth, in an impressionistic inductive style without details, and with the touches of a drawing knife.
The large crowds of pilgrims around the Kaaba, infused with spirituality and a white-dominated color rhythm, altogether linking the heavens and the earth, such as showers of rain and hail, and a deep sense of what the event means, far from spectacle." - The renowned artist Abdullah Al-Shalty
'Empowering Saudi Women'
"As a Saudi artist, I have experienced multiple stages of changes and events. I was interested in the historical documentation of these stages in my artistic achievement. In this painting, I documented the "Empowering Saudi Women'', to express the "New Saudi Arabia'' under the government of the Custodian of the Two Holy Mosques King Salman and the Crown Prince Mohammed bin Salman; and to express Saudi women who honored their country with a strong presence and recognized in all forums. She truly earned the Medal of Pride, Honour and Elevation, as she was the creator of generations and the teacher of the values from which we learn." - Tagreed Al Bagshi
'Open Window'
"Windows is a consistent theme I revisit in my art. And I decided with the new year, I want to open my window to hope, to love and to positivity. In our childhood, we used to have open windows, ones that were open to our neighbors and to life outside. Now they remain closed, we only open them to clean out the dust. So, I want to encourage us to remain open, and to welcome whatever life brings. In this artwork, you see my sweet bird Tutta, who has been there for me in the toughest of times, and whom I love dearly. I also feature our wonderful coffee and symbols of a love story in the figurines you see there on the cup. There is something in every corner of this piece, little surprises, in the same way we should welcome good and new surprises with an open window that welcomes a new year." - Artist and art teacher, Ola Hejazi.
'Al Rustaq'
"In Anwar Sonya's Al Rustaq, two men are depicted walking between the trees of the Omani wilayah that the painting is named after. The work is part of a series of watercolor paintings that the pioneering artist created in 2022, and that were inspired by his memories in various areas of his native Oman, including Al Rustaq, which is known for its heavenly topography and which Sonya brilliantly captures here.
I had the privilege of viewing a number of works from Sonya's series in March, in his presence, and between tens of incredible paintings, this stood out to me the most. My late grandfather and great-grandfather both served as governors of Al Rustaq at different points in history. Whenever I see the work, which now rests in my home, I am reminded of them, their outstanding character, and my heart is filled with warmth."
Sharifah Alhinai is the founding director of the Khaleeji Art Museum, and the founding COO of Sekka.
Sharifah Alhinai. Image by Nabeela Huda.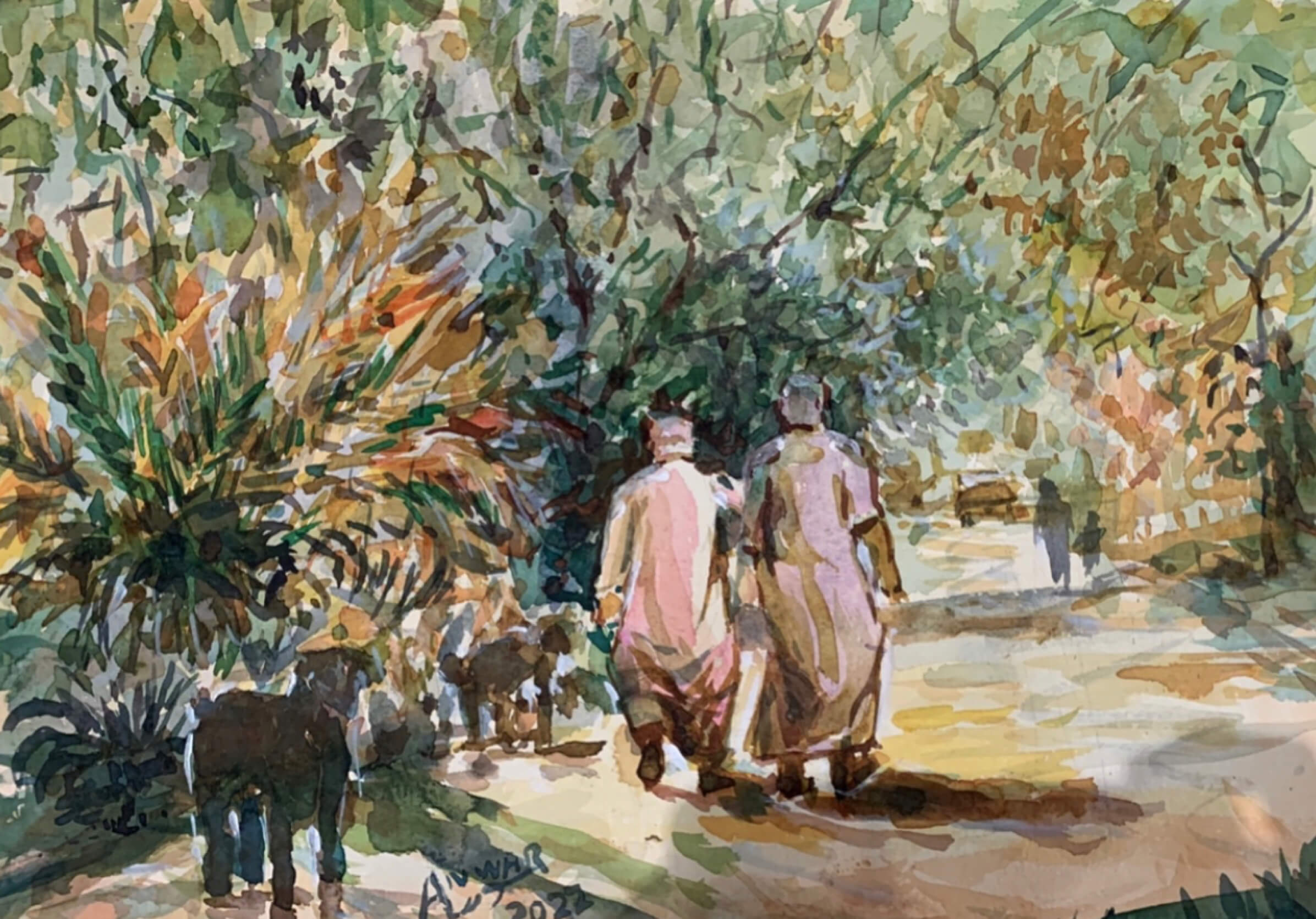 Al Rustaq. by the artist Anwar Sonya.
'Al Mahaffa'
"The fan, or "Al Mahaffa" has been associated with man's relationship with nature throughout the ages, which explains his adaptation to it according to time and place, as he likens it to accelerating events. This work symbolizes adaptation to our current era, and how we can coexist with the fears that we have, which I now embody in a symbolic expression within this painting.
This work gives me the strength and determination to face the changes, because despite the changes taking place and the speed of this era, and our attempt to keep up with it; there remains a need for the artist to know the value of his artwork.
Because art is a sensory experience, only 10% of people succeed in expressing this feeling by embodying it in an image, artwork, or idea to become like a beacon that illuminates this artist's feeling." - Fatimah Al Nemer.
'Our neighbor Um Hussein'
"This artwork brings joy to my heart, because the woman in the painting wears a type of veil that is famous in Qatif, decorated with red on its edges, and it is known as (the robe) or (Al Rida) in the Qatif dialect. This work of art reminds me of the grandmothers and grandfathers in the past among the alleys and lanes of the city of Qatif, and this robe is considered rare in our time. Therefore, I am very happy when I see an old woman wearing this dress, because I know that one day this traditional dress will disappear.
In this artwork, the woman also carries a dish of luqaimat, and this food is usually associated with the month of Ramadan and its joy and blessings, as neighbors and relatives share this dish among them."- Zeinab Al-Mahoozi
'Dimensions'
"My art gives me peace and joy because I make art that I consider a celebration of identity, culture, peace, and soulful beauty inside out! The whole creative process brings me joy and inner peace, from the early stages of inspiration all the way to unfolding the hidden gems through my art! As a multidisciplinary artist who is raised by thoughtful and considerate artists, I never take the realm of arts for granted and continuously appreciate having a creative voice that evolves what could be rather than what is through an intricate reflection of meaning and high sophistication in message delivery.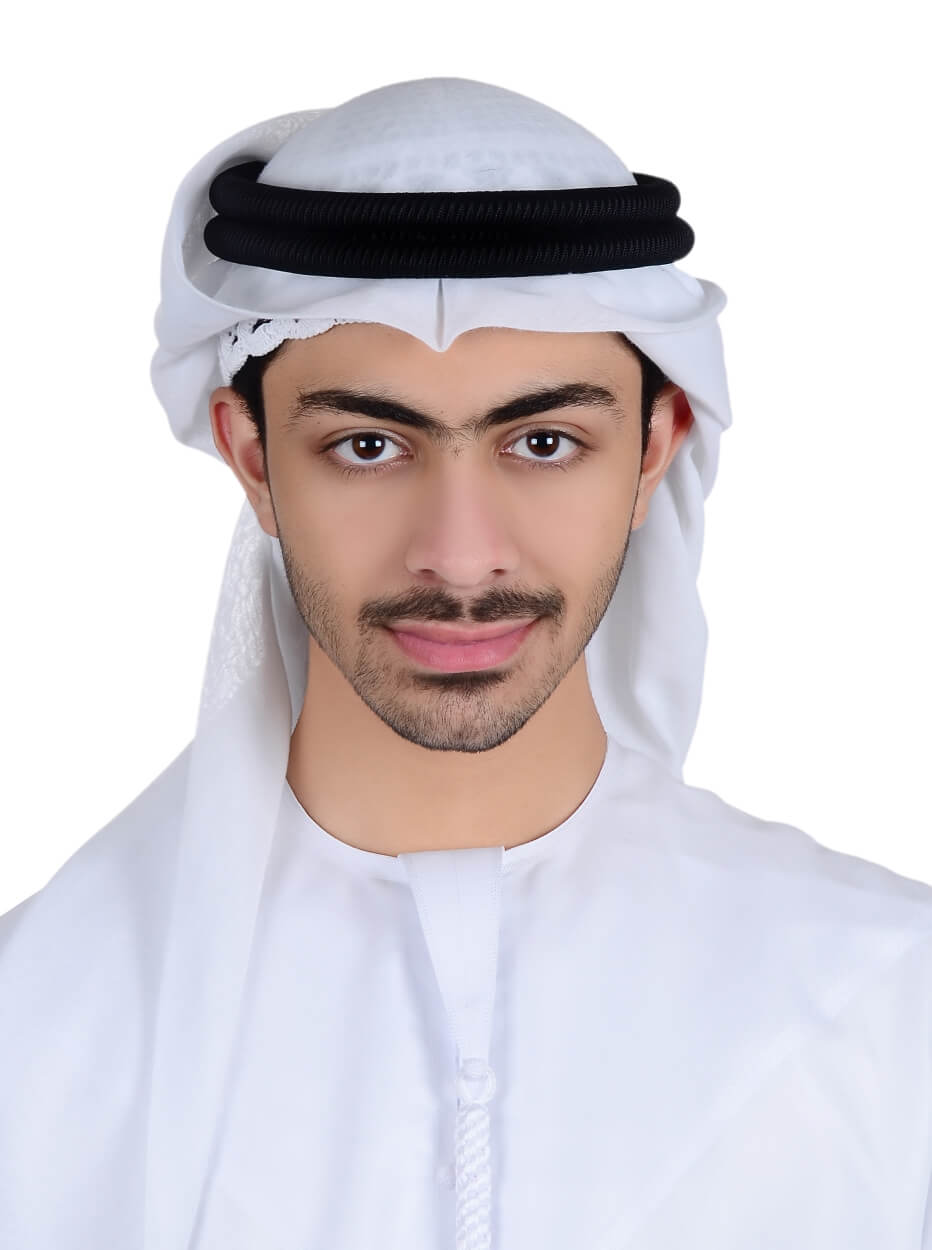 The artist Husain Al-Hashmi.
I have a passion for art that speaks through silence, art that sparks to minds, hearts, and souls despite your own language, culture, and roots. Art that is rooted, multilayered, and contemporary all at once. Art that embraces the roots of the past through the stem of the present for the fruits of the future."- Husain Al-Hashmi 1383 Studio Founder & Multidisciplinary Spatial Artist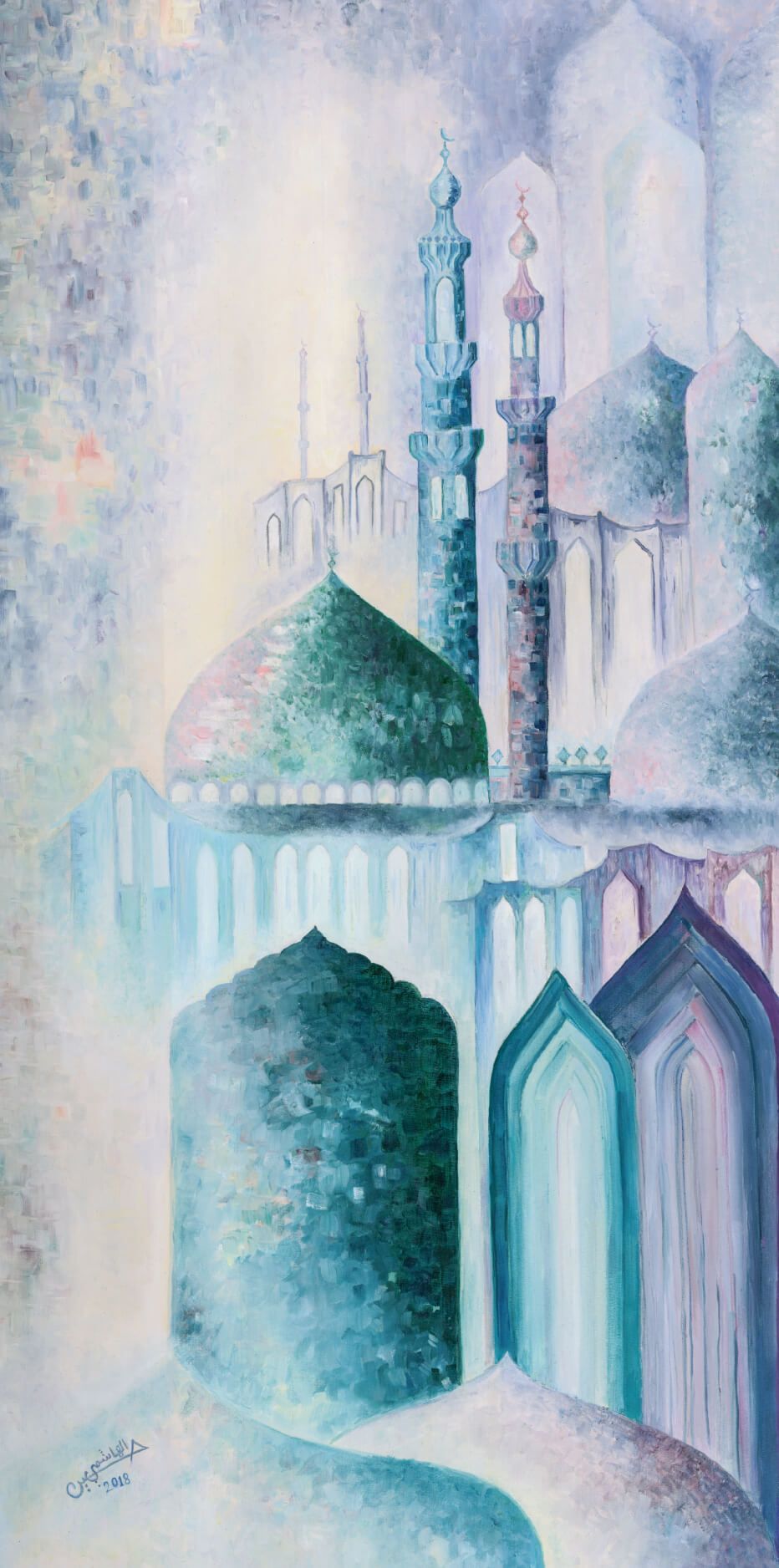 'Dimensions,' by the artist Husain Al-Hashmi.