Cover Art
The Sound of Ithraeyat
By
Ithraeyat Editorial Team
Soothing, soft, classical and timeless…. were the inspiration behind Ithraeyat music…
Nasser Al-Shemimry, Saudi musician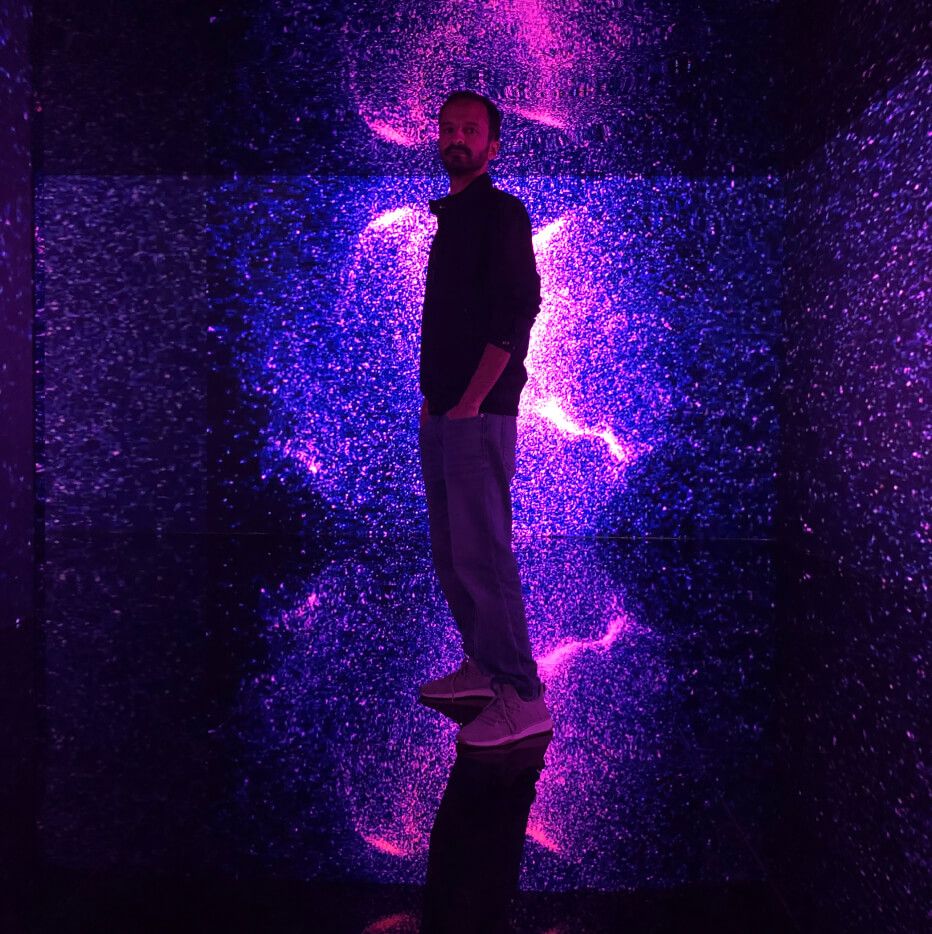 What started off as a more sombre musical piece, based on Hejzi maqam, ended up being more of a universal piece; one inviting reflection, nostalgia and peace.

The man behind the Ithraeyat musical piece that plays on the Ithraeyat website, and is now part of the brand's identity, is a young dynamic man who is always exploring the world of sound and art.

The Saudi audiovisual artist Nasser Al-Shemimry, also known as a DesertF!sh, is famous for his audio-visual interactive artworks. Through the alias he represents his Najdi roots and life on the Red Sea coast. Based in Jeddah, he practices multidisciplinary digital arts in his studio Desert Dream Audio Visual. Desert Dream serves art galleries, corporations and artists as a modern audio-visual agency that provides niche technical consultation services and media composition in the arts.
After serving the contemporary art scene as a consultant assisting in producing digital artworks, Nasser started creating his own stand-alone audio-visual pieces with the aim of presenting sound and interactive visual art in a new light in the region, focusing on topics such as the realm of human awareness of space and time and the human condition in relation to technology. With many commissions under his belt after his debut at Saudi Art Council in 2019, Nasser has pushed the envelope for digital art in the Kingdom through cutting edge immersive art installations.

From the visual side, Nasser is delving deep into the world of interactive art through self-taught graphics processing. It is a topic of great interest by which he connects two mediums together: audio and visual. Having a musical background along with visuals, Nasser aims to create works that are driven by computers in real time, creating a unique harmony between technology and human interaction.
In this exclusive interview with Ithraeyat, he tells us about his background, projects, and what inspired him to create Ithraeyat music.
Q1. Tell us a little bit about the inspiration behind Ithraeyat music?

The music made for the Ithraeyat website was composed with a timeless moment in mind. Considering the visitor to the site would listen to something on loop, the composition plays a soft orchestral melody with lush ambience. The result is a soothing loop that does not age quickly and provides a magical ambience most fitting for the wonderful content that is on the website.
Q2. Tell us about yourself. Why did you enter the field of music?

I don't know why I entered. I would say that I naturally gravitated towards it. It is a field of infinite expression and the process of composing and producing music brings joy to me.
Q3. What are some of your favorite projects and why?

My favorite projects are those that involve creating generative music. I like to do music programming and create algorithms that generate musical ideas that fit the direction of the project. My most favorite project was creating an interactive audio-visual tunnel for the inaugural Imprint Exhibition at Misk Art Institute in 2020. The work was titled Transcendence 2.0.
Q4. What are the challenges of this industry in Saudi Arabia and the region?

One important challenge is how the industry will adapt to fast-paced development without over-stressing the system. How do we go about meeting the rising demand of music, art, and entertainment in an efficient manner and with realistic timelines and achievable goals? The constant rush to create record-breaking feats and pressure from corporations and official authorities may end up creating a competitive environment that promotes gatekeeping and favors meeting deadlines over substance.
Q5. What are some of your upcoming projects?

I have an interactive digital installation at the inaugural Diriyah Art Futures.
Q6. Who are your role models and why?

Aldous Huxley, Ray Kurzweil, Albert Camus, Stanley Kubrick, Phillip K Dick, and John Cage are individuals who were key in inspiring me to become the person I am today. Through engaging with their ideas, works, and schools of thought, it has shaped my understanding of the world around me and how I observe it. Whether through novels, essays, films or artworks, these iconic individuals lead a profound life that always inspires me in my quest to find meaning and purpose.
Q7. What Motto do you live by?

"The whole is greater than the sum of its parts" – Aristotle
Q8. What does art mean to you?

Art is communication through a given medium to express a thought, idea or emotion. It is an open ended field of expression that provides a limitless manner in conveying messages and ideas.