The Art of Our Natural World
Special Guest Artist
The Art of Our Natural World
'Grape Birds,' by Alonsa Guevara Courtesy of Tashkeel.
By
Ithraeyat Editorial Team
If you think about our evolution as humans, we have been connected with fruits and trees for hundreds of thousands of years. They are an indispensable part of our evolution...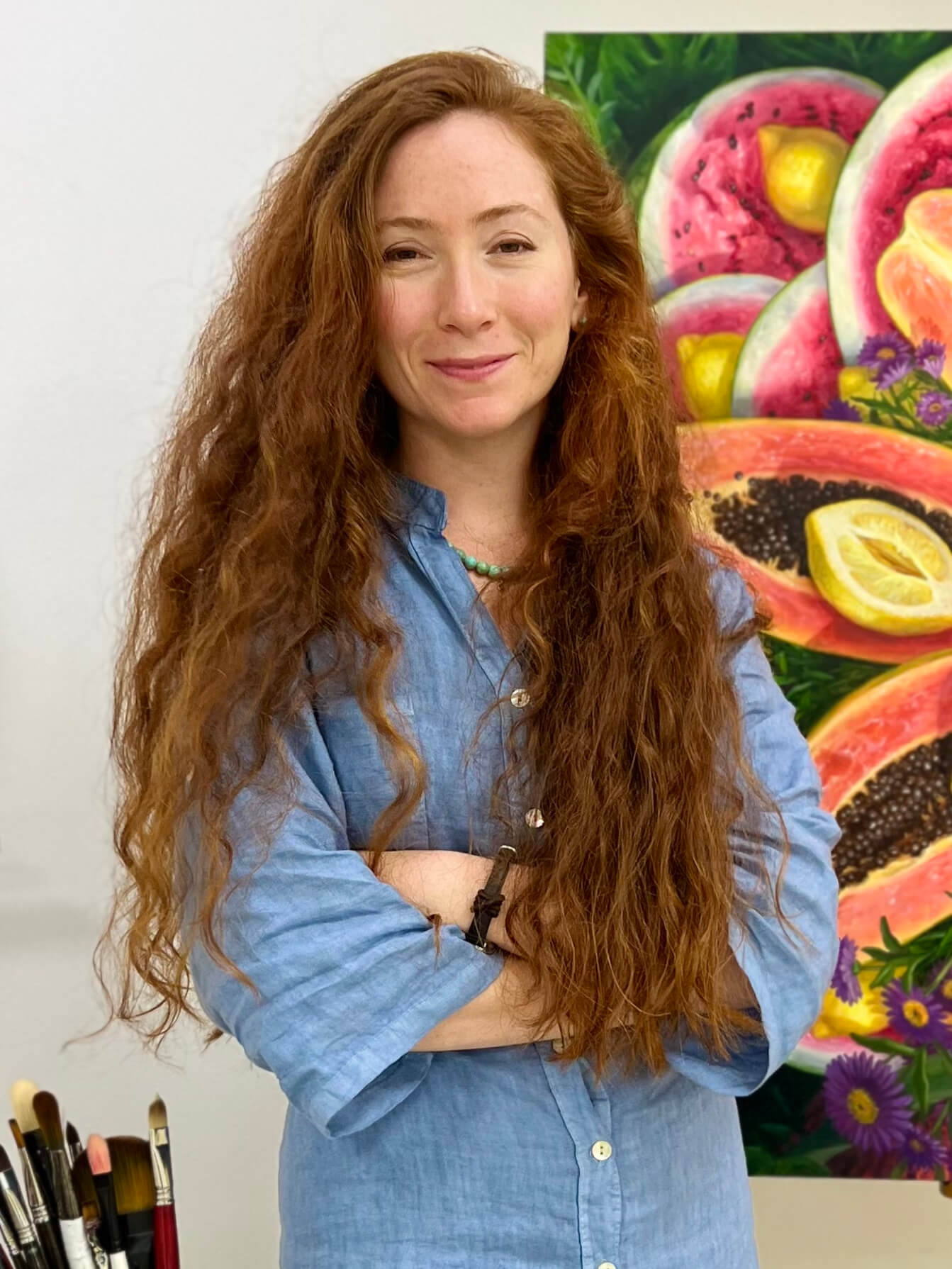 Chilean artist Alonsa Guevara's creations are vibrant, alive and lush. A delicate common thread across her paintings is her artistic exploration of the connection between humanity and nature. Her art takes us back to our own experiences with nature, fruit, insects, and life itself. The New York-based artist's paintings are a window to an imaginary universe where the lines between fantasy and reality are blurred. Guevara's work explores questions of womanhood, identity and belonging while celebrating the connection between humankind and nature.
Her main inspiration derives from the experiences of living in three different countries and is especially impacted by the formative memories of her childhood spent living in Ecuador's Rainforest with her family. After living there for seven years, Alonsa moved back to Chile to receive her BFA from the Pontifical Catholic University of Chile in 2009.
In 2011, she moved to New York to complete the MFA Program at the New York Academy of Art. She was awarded the Elizabeth Greenshields Grant in 2013 and received the Academy's Fellowship award in 2015.
Guevara's work has been published in Forbes Magazine, Time Out NYC Magazine, VICE, among others and has exhibited internationally, including in China, Mexico, Denmark, Argentina and Chile. Her most recent solo show Apparitions was in February 2021 at Anna Zorina Gallery in NYC.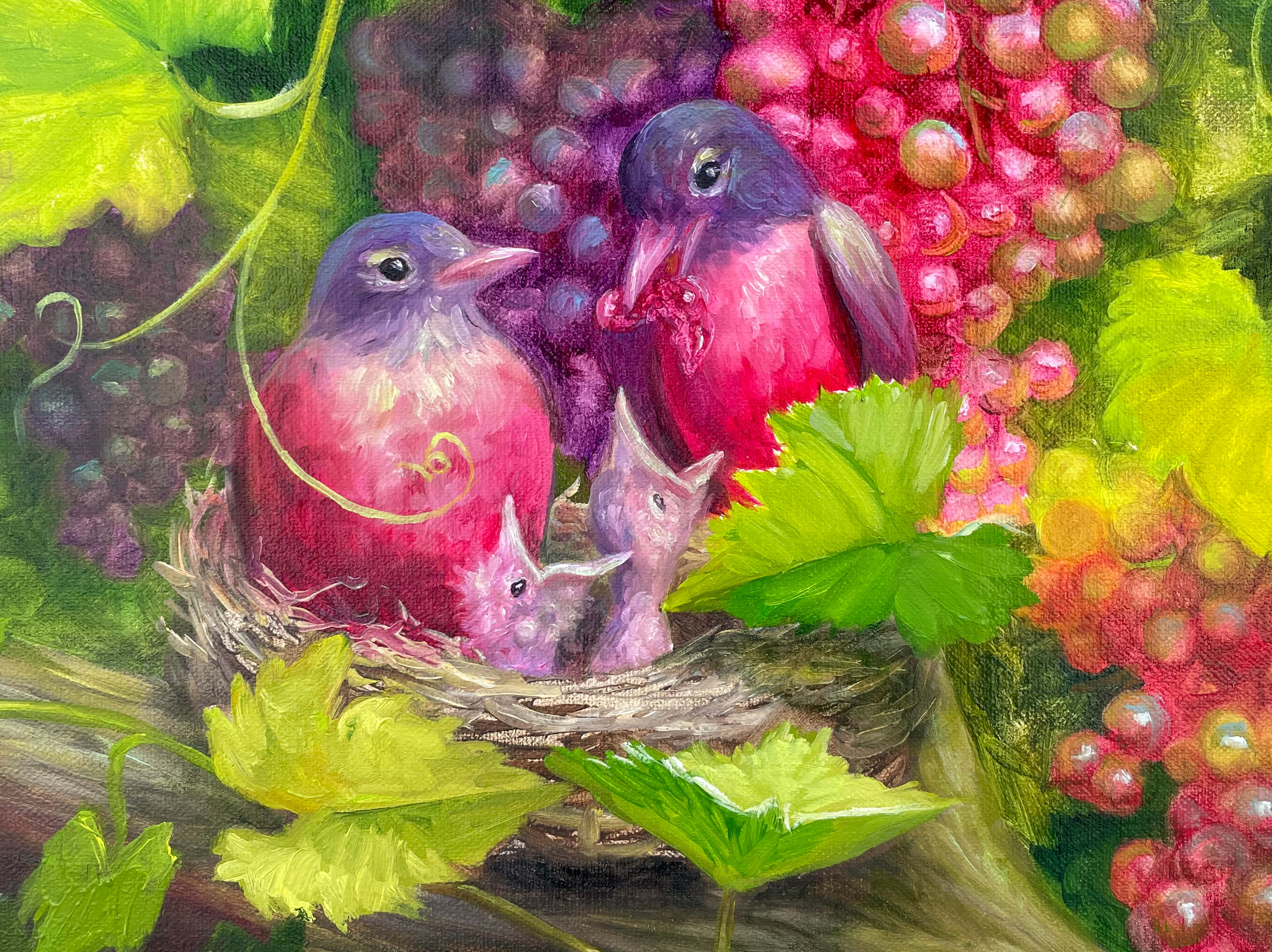 'Grape Birds,' by Alonsa Guevara. Courtesy of Tashkeel.
Through an interview with Ithraeyat, we meet the colorful Alonsa, and are taken on a storytelling journey of her art and the art of nature.
What does art mean to you?
Art for me is a universal language. A language that lives inside of everyone, and that allows many thoughts and interpretations. Art is a space for reflection. It helps us to slow down and be present, not only when we are creating, but also as a viewer when we are experiencing the artwork.
Tell us about your relationship with food. Why the special focus on fruit and trees?
If you think about our evolution as humans, we have been connected with fruits and trees for hundreds of thousands of years. They are an indispensable part of our evolution. With my Fruit Portraits and Trees series of paintings, I hope that the universality of our relationship to foods from the earth will connect with people everywhere in the world. Each fruit and tree will bring memories of its smell, the places where it was seen or tasted for the first time, and all of the complex emotions that come attached to the feeling of enjoying the fruits of nature. I'm hoping that when the viewers see these works, all their senses get involved. The look of the fruits turns on the memory of their smell, then the taste gets activated, and even the feeling of their textures creates a multi-sensorial experience
Tell us about yourself, when was the first art piece you drew?
I am originally from Chile. When I was five years old, my family and I moved to the Rainforest in Ecuador, staying there for seven years, and then back to Chile. From a young age, I was very creative. I found different ways to entertain myself by playing outside, making drawings, sewing, playing music, and, later on, painting. And I had the luck of having a supportive family that always encouraged me to be an artist. When I was twelve years old, I made my first oil painting. My grandmother introduced me to this medium. I fell in love with it and I haven't stopped since then.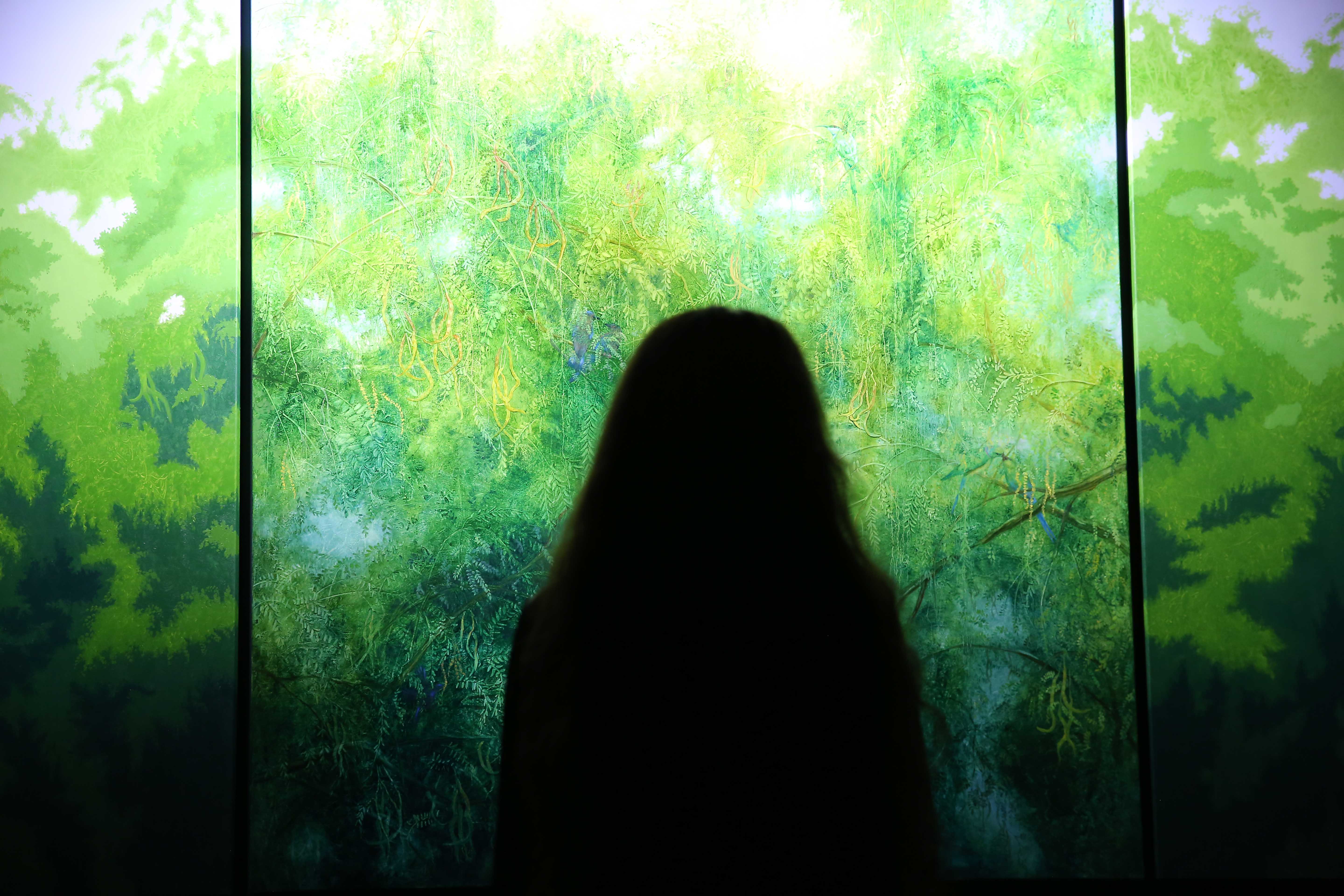 A visitor getting lost in the vibrant art of Alonsa Guevara. Exhibited at Al-Serkal. Courtesy of Tashkeel.
Tell us more about your art, and the themes you like to explore.
My work is a celebration of the beauty and complexity of the natural world as well as an investigation of the vital connection between nature, humans, and our spirituality. As a Latin-American woman that has lived in three countries, each with a unique society, culture, and landscape, my work explores questions about identity, belonging, and womanhood while offering my understanding and appreciation of beauty. As a multidisciplinary artist that makes paintings, sculptures, installations, sound pieces, performances, and videos, I create imaginary worlds that invite viewers to enter a multisensory space where they can find themselves being part of each piece. My work often contains a ceremonial/ritualistic feeling that honors our spirituality, fertility, and the cycles of life. Depicting flora, fauna, fungi, and human bodies, I commemorate the connection between humankind and nature, a relationship that has weakened over time.
What are some of your past projects that you feel had the most impact?
I think that my most impactful project so far is my current Solo Exhibition "Counting Leaves" at Tashkeel, Alserkal Avenue. I invite everyone to go visit. But a project from the past that was very impactful was my installation Alumbrados por la Misma Luna (Lit by the Same Moon), presented at Spring/Break Art Show, in New York, in March 2020, just when COVID was starting. This was a nature-driven installation that incorporates paintings, handmade musical instruments, living plants, sand, found natural objects, aromatic scents, and finally a sound piece that guides the viewer through the space.
What are some of your future plans and current projects you would like to share?
My Solo Exhibition "Counting Leaves" has me very excited! I'm presenting more than 40 works conceived and created in Dubai during the past 10 months. This show includes paintings, sculptures, textile works, installations, sound work, and a performance that was captured on video. I have been visiting the exhibition many times and I love seeing how people engage with the work and take their time to observe and reflect in front of each piece.
(Editorial Note: It ended on April 25, 2023.)
It's a new day, a new opportunity. Get up and make the best out of it!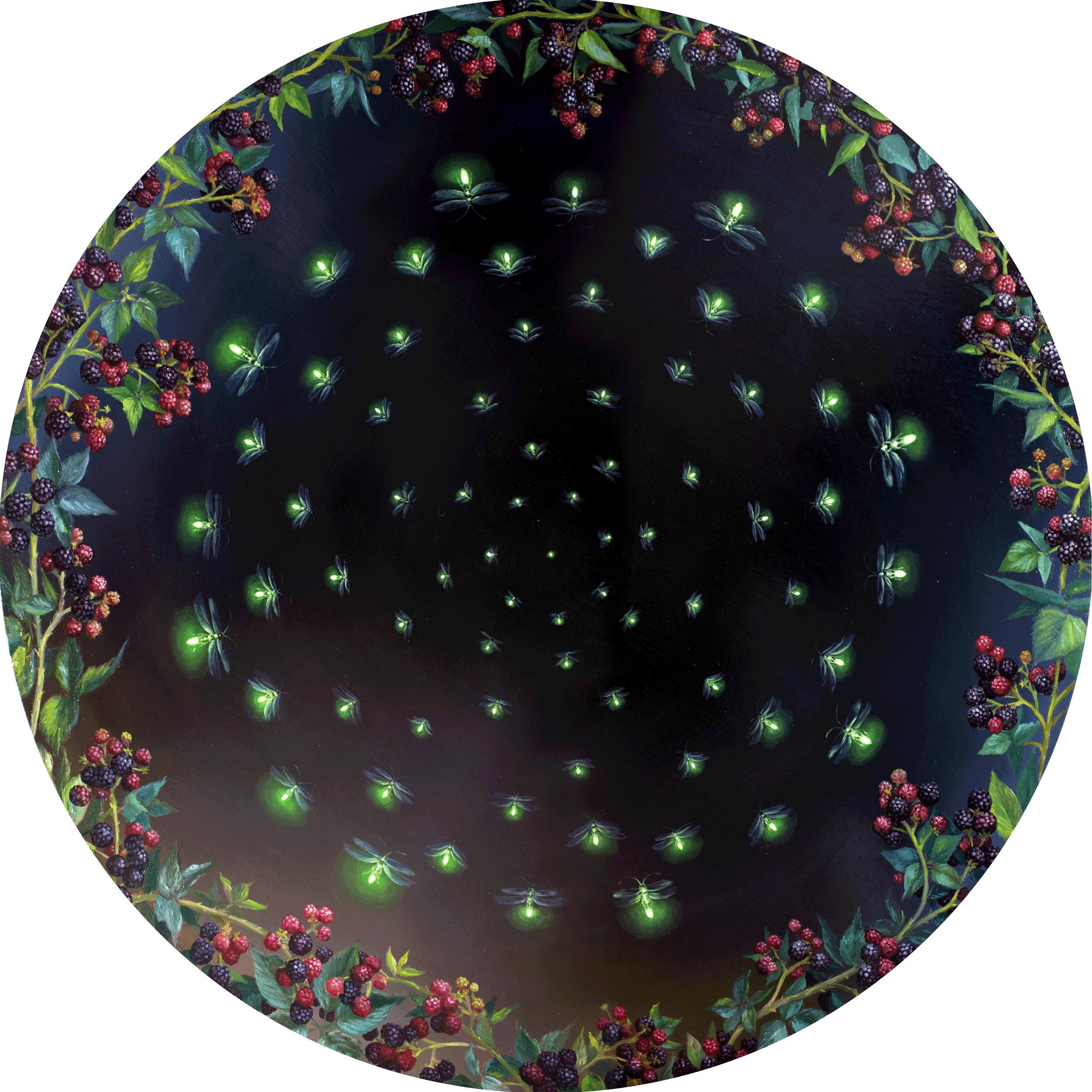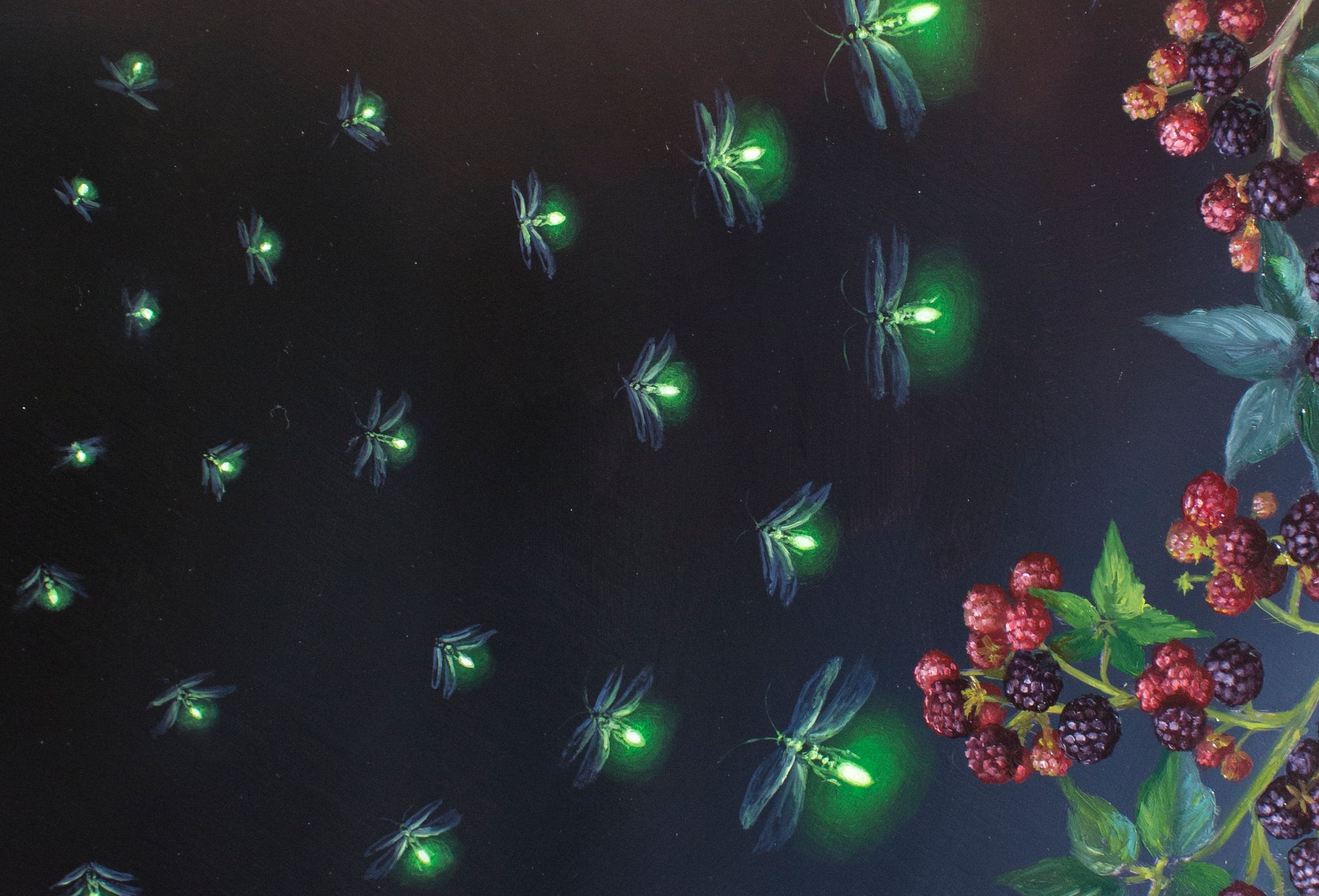 Call of the Fireflies detail.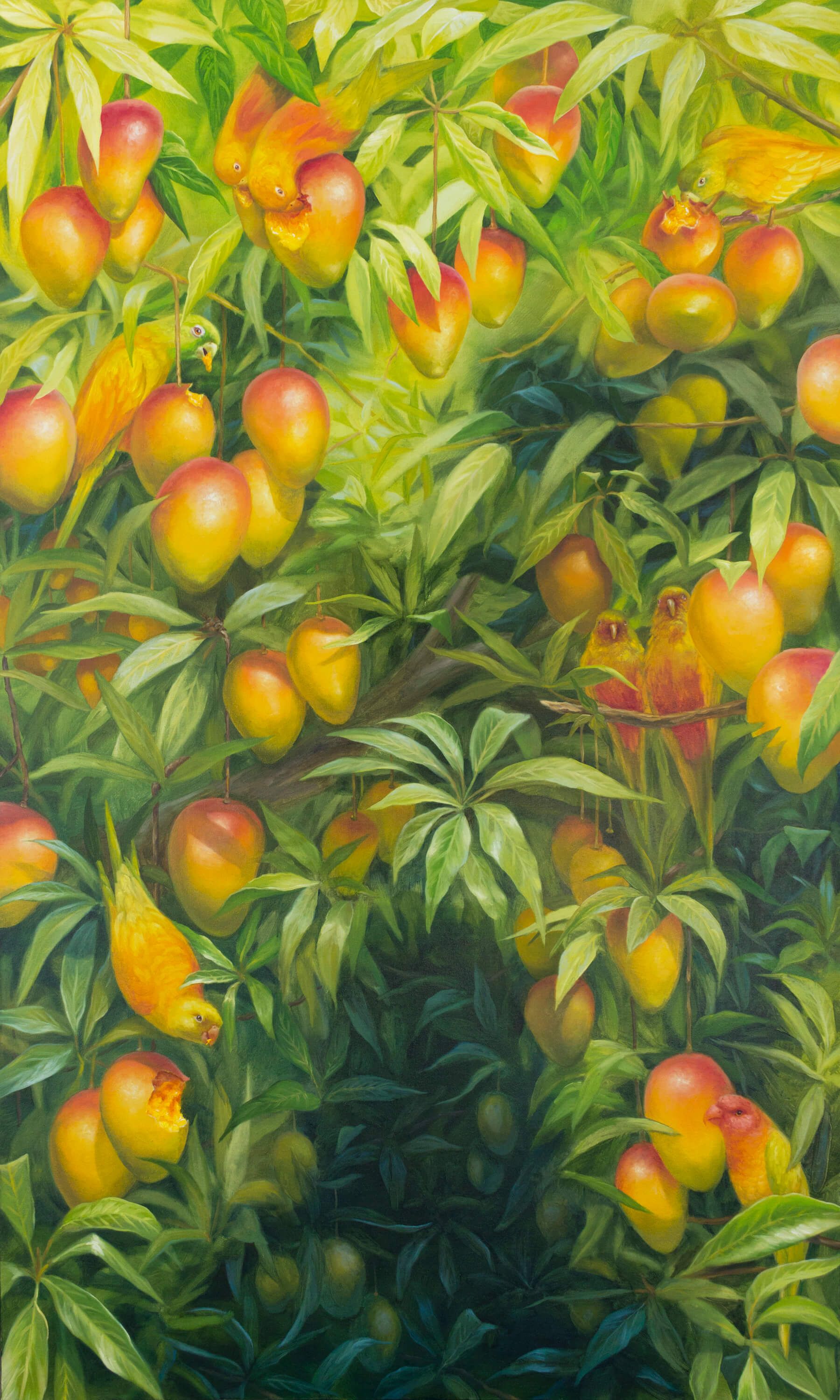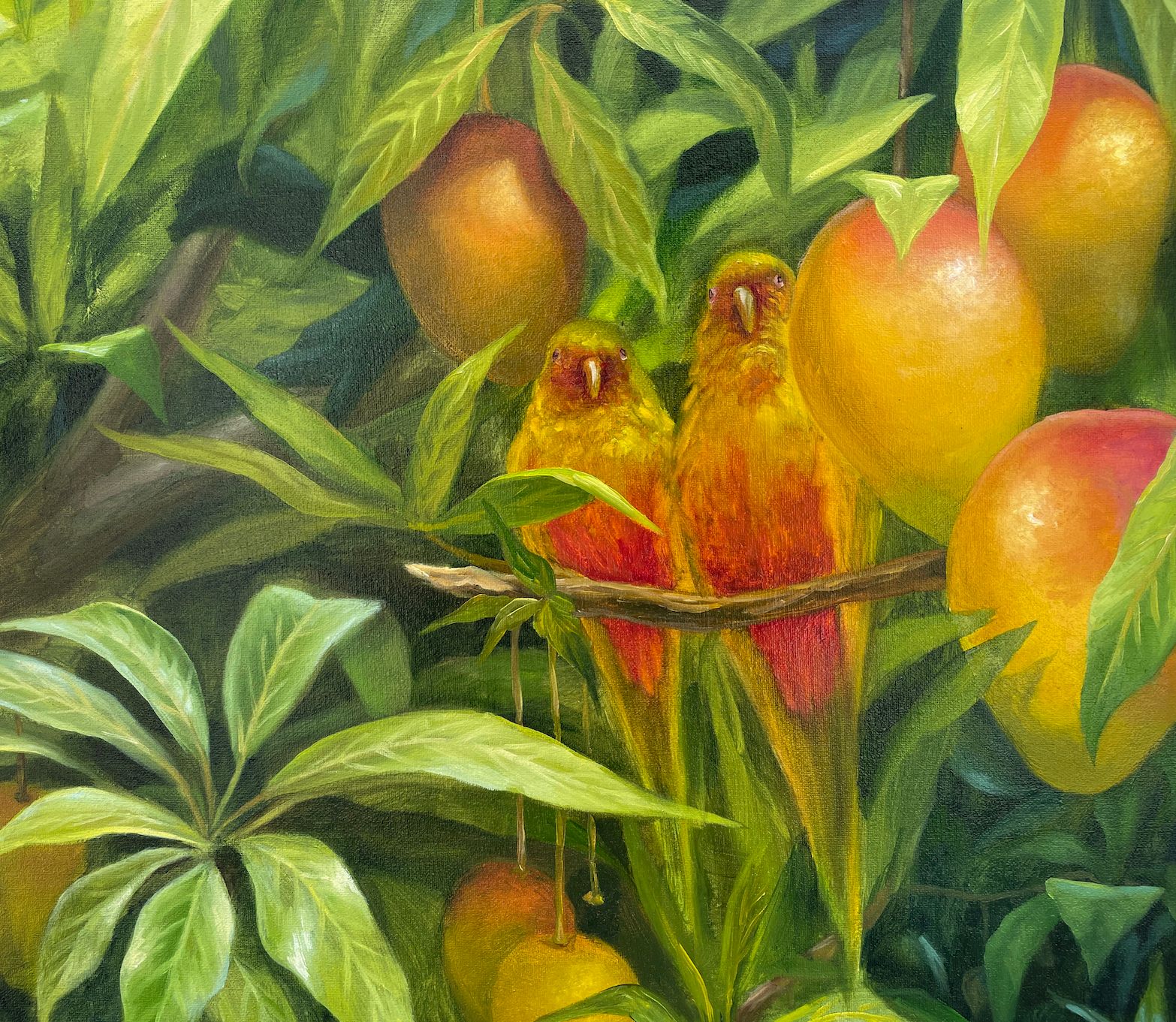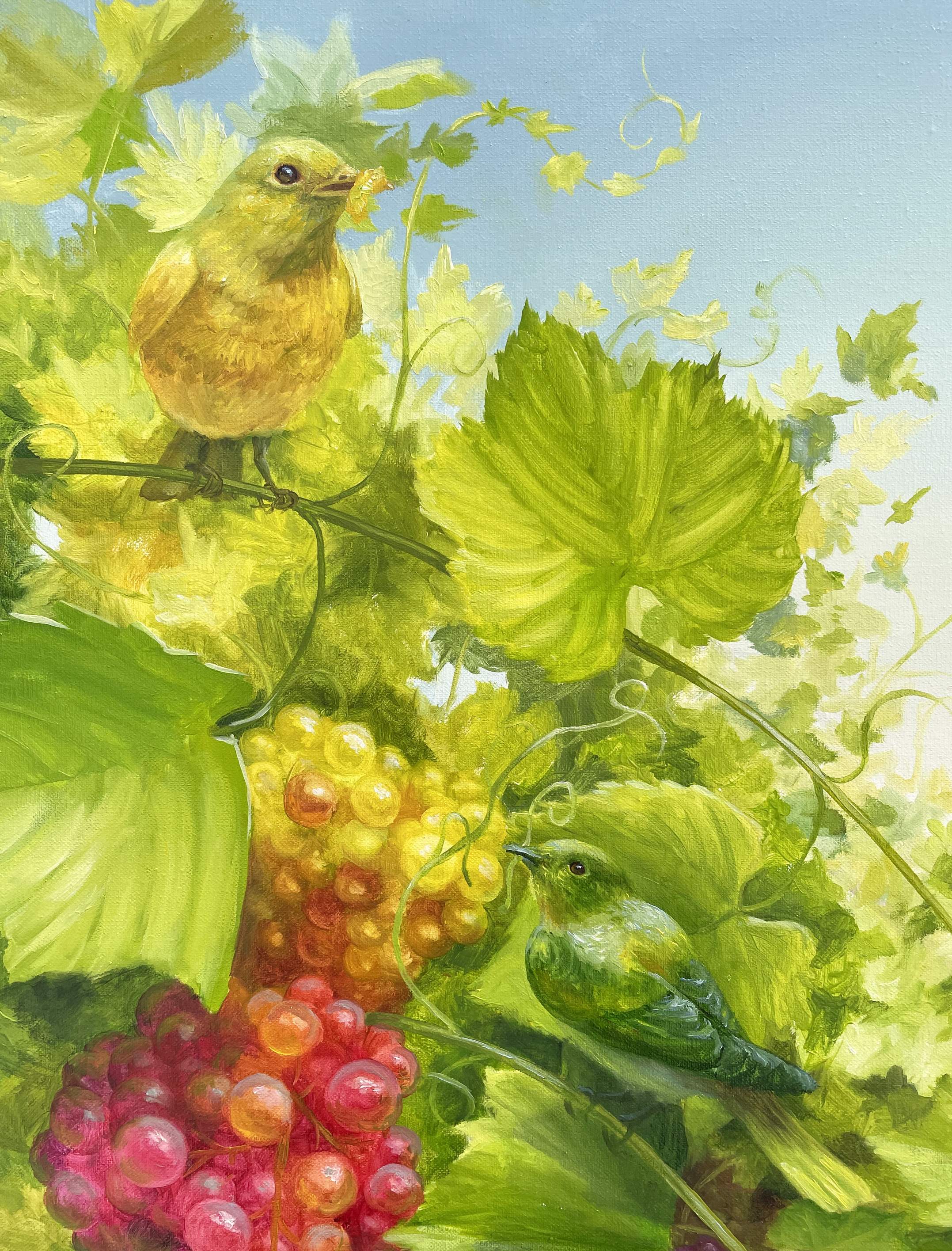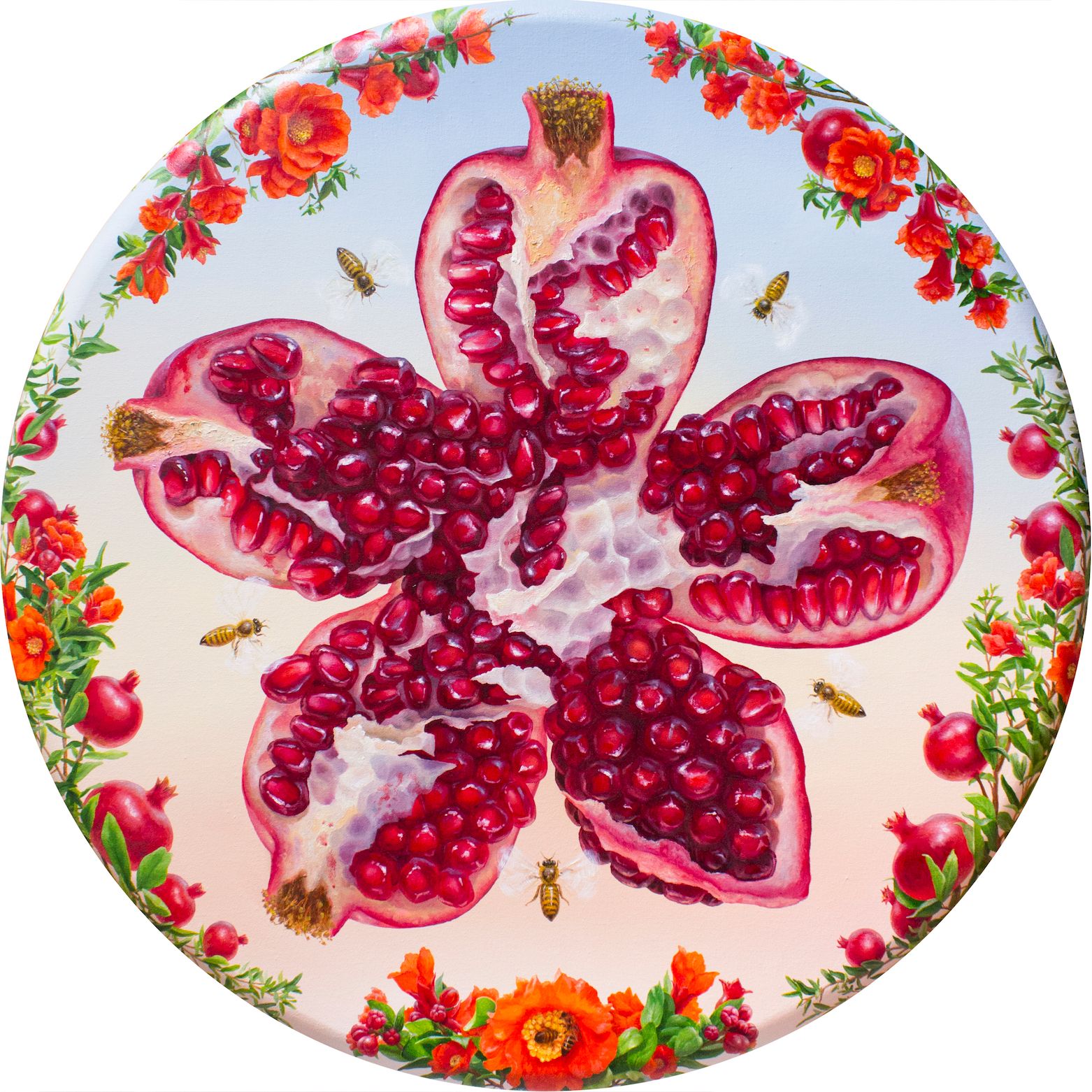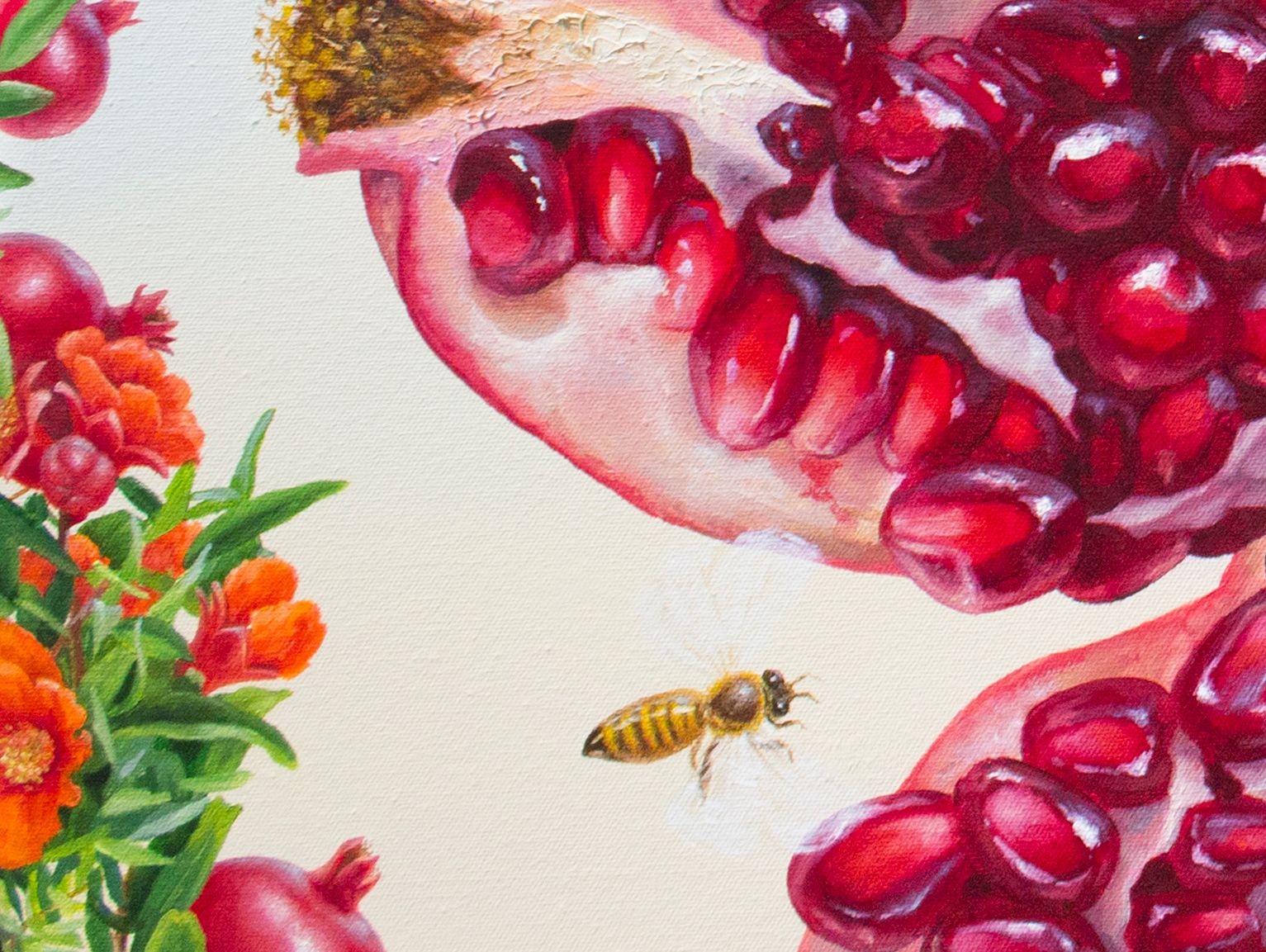 Call of the Pomegranate detail.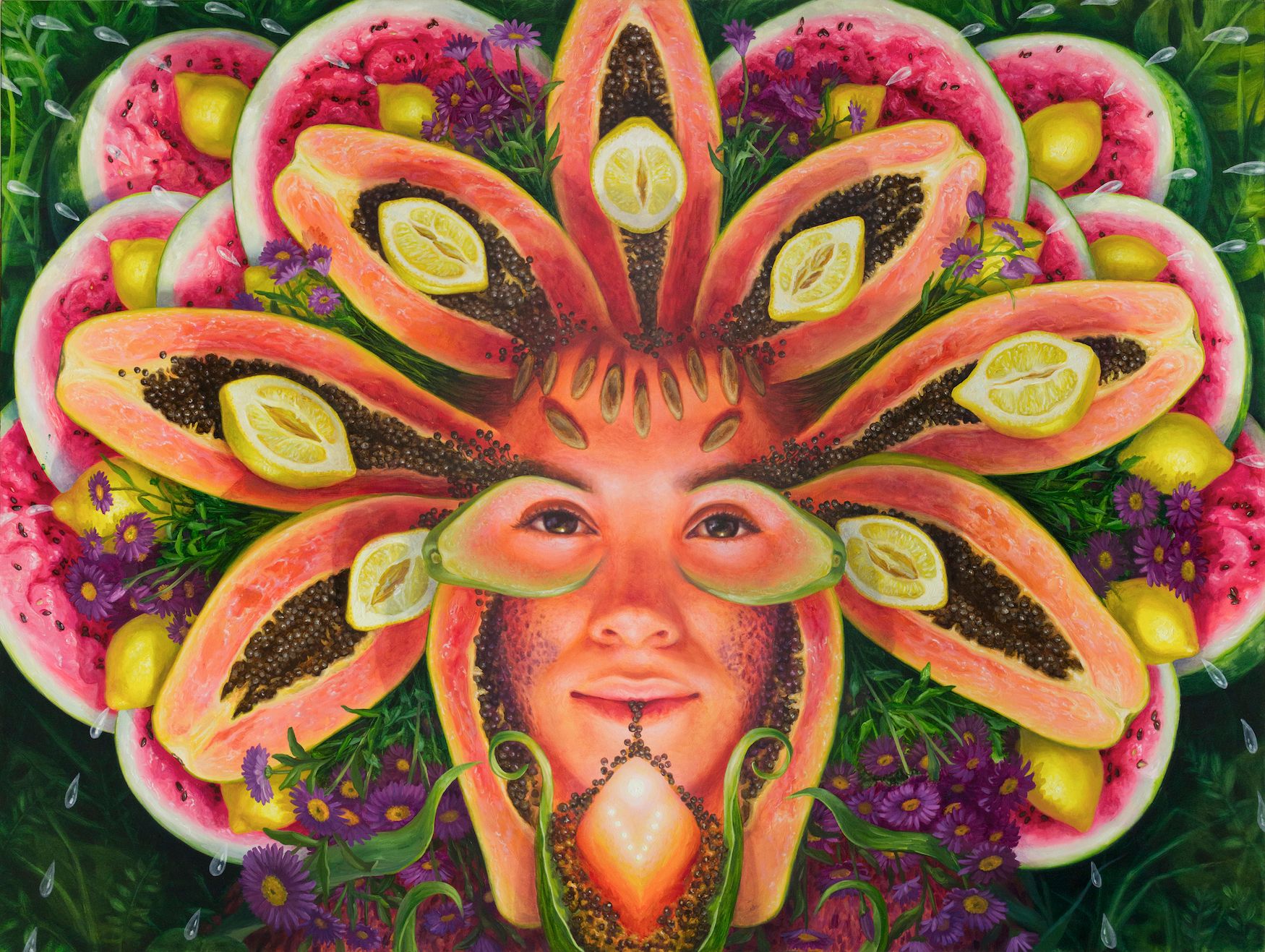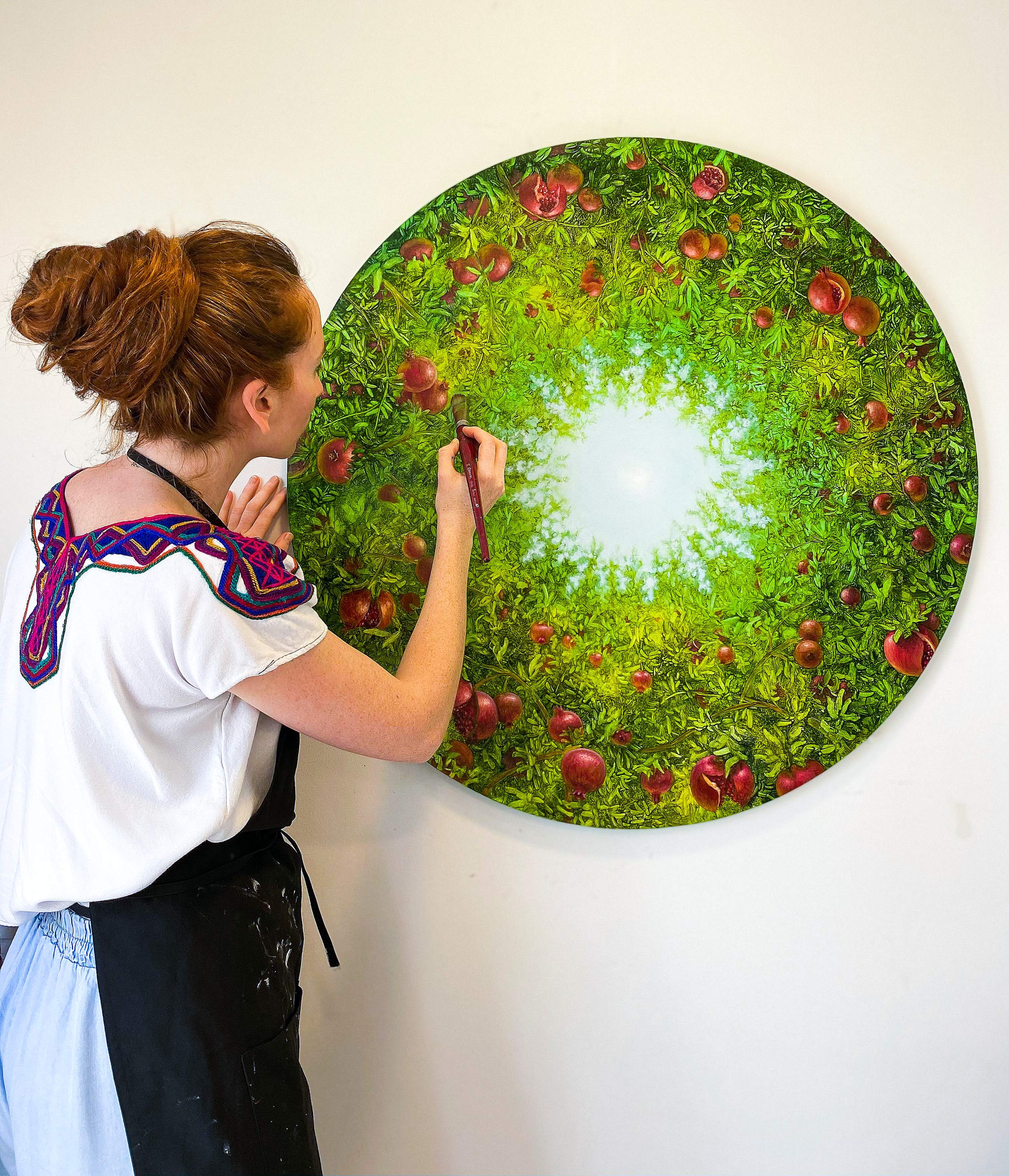 Alonsa Guevara's painting her latest creation.