Challenging and rediscovering
'Theme Special' featured Saudi Artist.
Challenging and rediscovering
"Alice in Wonderland," by Eiman ElGibreen. 2017, reclaimed wood, Scandinavian wood, and transfer paper, 66x45 cm. Photographs: courtesy of the Royal Geographical Society, Picture Library.
It is impossible to define art, but for me it is both a hobby and a profession. I try to see it as a hobby, because I believe once you start taking it seriously, you lose your courage to experiment with it.
Said Eiman ElGibreen Saudi Artist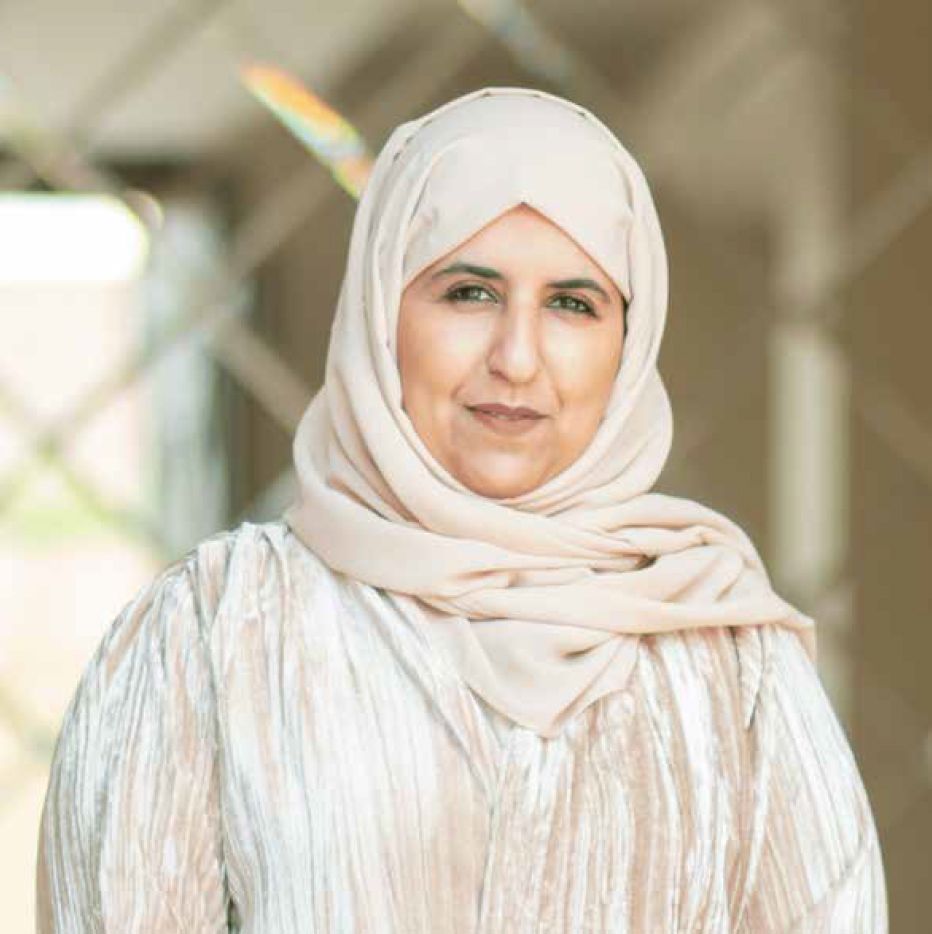 'Theme-special' featured Saudi artist, Eiman ElGibreen, whose unique multi-dimensional art comments on Saudi culture and challenges perceptions as it engages the imagination and unlimited world of creation.
Eiman ElGibreen has been making waves and breaking new grounds with her unique art that combines commentary, culture and creativity.
The Saudi artist first exhibited her work in 2000, when she was a junior in college, and continued to showcase her work regularly until her first breakthrough in 2006 when she won the second prize in Alsafeer Annual Competition organized by the Ministry of Foreign Affairs. "The prize helped me get attention and it was also the first time I showed my new style which relies on personal archives to make collages over untreated wood," she told Ithraeyat. "I was finally standing out, separate from the influence of my academic training and my favorite artists."
ElGibreen is an assistant professor of art history at the Princess Nourah bint Abdulrahman University in Riyadh and holds a PhD in art history from the University of Sussex (UK). To challenge stereotypes, she started creating artwork that triggered conversations about sensitive issues. "I started to make artwork in collaboration with fully veiled women so people will understand that it was their choice to veil and it should not undervalue their professionalism. I was also very careful not to silence the voices of other women who wore the same veil but against their will. Eventually, I started to be more concerned about the "practice" of stereotyping; where it comes from and why do we practice it.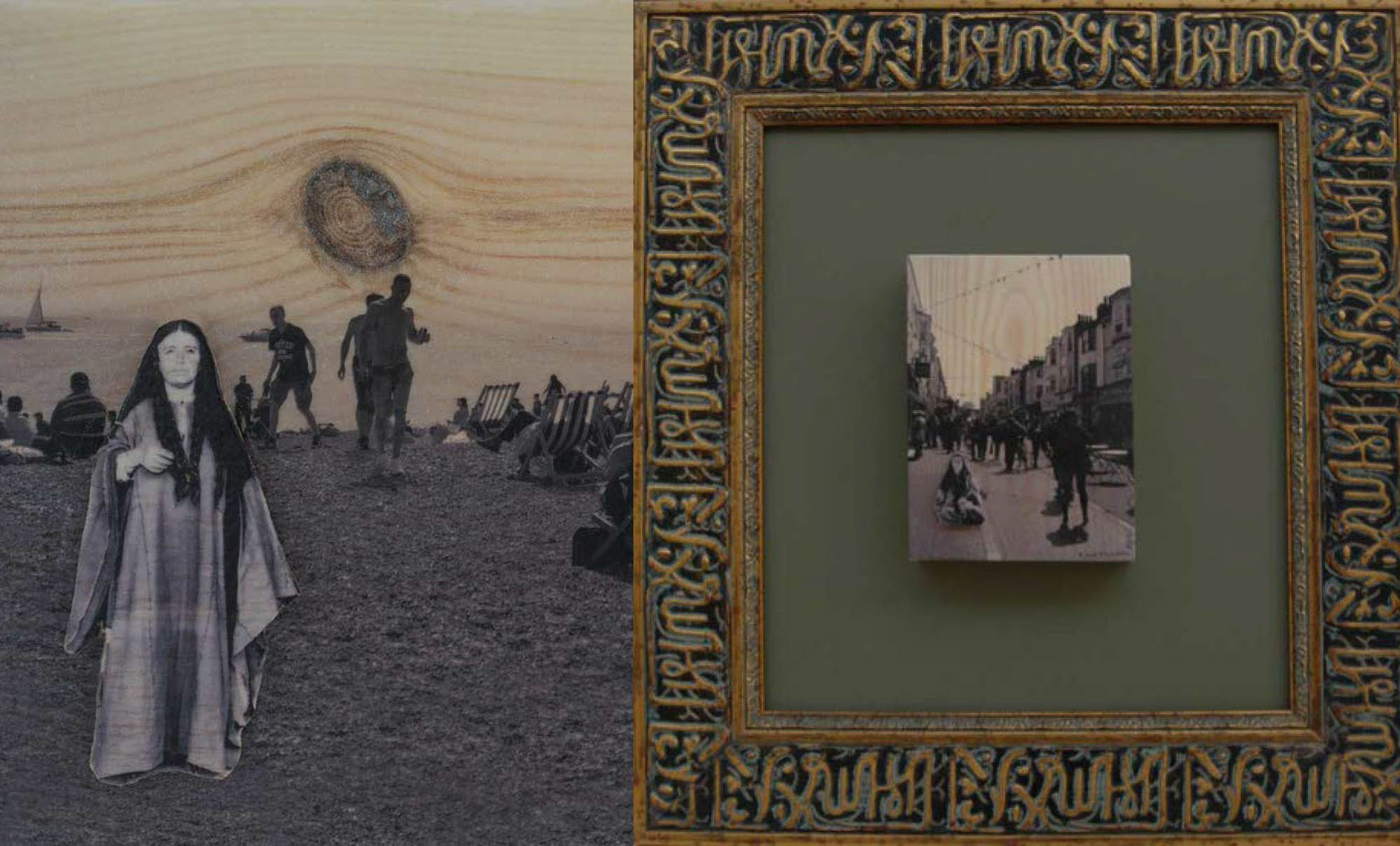 "Turkiyyeh at the Seafront," by Eiman ElGibreen. 2015. Collage, Scandinavian and Balsa wood. Overall size: (56×53) cm Turkiyyeh's photo rights go to Gertrude Bell archives, Newcastle University, UK.
I came to the conclusion that stereotyping is not the real problem, because it is meant to help us create general rules that we can use to treat someone new respectfully based on what we assume about her or him," explained ElGibreen. "However, what made it a horrible practice is that the world today is a hybrid, therefore the general rules we developed about different societies, gender, races, and so on are no longer accurate. Now, I try through my work to encourage people to re-familiarize themselves with our new hybrid world and reshape their perception of it."
One such artwork is the cover art titled 'Does a Face Make a Difference?' that features 64 smiling faces of girls under each brick through its reflection in the mirror at the bottom of the clear acrylic base, done so to increase this feeling of uncertainty about the reality of things around us. The work was inspired by a classical Arabic poem called Beauty in the Black Veil قل للمليحة في الخمار الأسود. The poem written in the 8th century tells the tale of a man who fell in love with a beautiful woman who wears a black cloak. Before this poem, Muslim women used to wear their cloaks in
different colors. "According to the story, all the black veils were sold out after the release of this poem because everyone wanted to be known as the beauty in the black veil. I was looking back in history trying to understand how this poetic symbolic concept of beauty attached to the black cloak in old Arab culture had evolved." The images of the young girls used in this sculpture are borrowed from 64 accomplished conservative Saudi women "who wanted to manifest their presence against any prejudice that could undermine their professional accomplishments."
As for a surprising fact, ElGibreen shares she has a twin sister. ElGibreen is also a curator of a few notable exhibitions, such as the 2019 Saudi National Pavilion at the 58th Venice Biennale and has participated in various exhibitions and collaborated on several important Saudi art projects. She is a recipient of the Getty-CAA
Grant for International Art Historian for 2020 and was recently appointed as a Saudi Shura Council member. A dynamic artist with many stories, she shares a motto she lives by, one that future artists "It is the intention thatmay find helpful in their lives: really counts - تﺎﻴّﻨﻟﺎﺑ لﺎﻤﻋﻷا ﺎﻤﻧﺇ."