Special Feature
Sustainable Architecture
Sa'af Pavilion at Ithra, (Tanween 2021). Photos by Yasir Al-Qunais. Visitors to Ithra can enjoy and learn more about this craft in an interactive and multi-sensory setting.
The palm tree is a national symbol in Saudi culture and carries many layers of meaning for us and affects many ways in which we live as a nation.

During Dubai Design Week in 2019, under the patronage of Ithra, Azaz Architects created a public art installation using palm tree leaves weaving techniques to make a tent-like playful pavilion filled with white dune structures for visitors to interact with and learn more about the significance of palm trees to Saudi culture.

By using "Sa'af, سعف ", woven fronds from the palm tree, Shahad Al-Azzaz's creation reflects the craftsmanship within her cultural heritage as she aims to revive a dying tradition and reintroduce
it to global audiences. In this work titled "Sa'af, 2019," Shahad explains her goal to draw attention to one of the essential crafts in the Kingdom that is being threatened by extinction due to the rapid modernization and industrialization that swept our world.

The woven fronds is an ancient craft by people who inhabited the Arabian Peninsula to create many practical tools and objects such as baskets, food mats, food containers, and carpets. Shahad is very keen on reviving that traditional craft and making it contemporary while offering the artisans an opportunity to capitalize on their skill. Here Shahad Al-Azzaz shares her thoughts with Ithraeyat.
Sa'af Pavilion at Ithra, (Tanween 2021). Photos by Yasir Al-Qunais. Visitors to Ithra can enjoy and learn more about this craft in an interactive and multi-sensory setting.
Q1.
When did you start your journey as an architect?

The day I decided to go to architectural design school for college was the first time I had thought about becoming an architect. Prior to that, I had always planned on attending medical school. Due to one fateful conversation with my sister, I was quickly convinced to pursue a design and architectural degree. After many challenges and opportunities, I think it was when I began working in Spain that I first felt like everything I had worked for finally brought me to somewhere that made sense to me.
Q2.
What was the inspiration behind Azaz Architects firm?

I greatly appreciated being in a beautiful city like Madrid working for a prestigious firm and being responsible for all Middle Eastern projects, but it felt like there was a piece of the puzzle missing. As my role grew, I moved further away from designing and was occupied with managing, which wasn't something I enjoyed. That realization was the spark that ignited the thought of Azaz Architects.
Q3.
What is Azaz Architecture's philosophy, and how do culture, sustainability, and preservation play a role in it?

When I decided to move back to Saudi and start my own firm, I quickly noticed my school of thought would fill a gap in the region. Architecture for me was about ideas and feelings. I want to create architecture that creates a feeling which eventually sparks conversation. Very often, we think about the end objective first, but we ask ourselves (sometimes the clients) what they want to feel like inside our design. We use architecture as a language to find the answer. That within itself is our own philosophy. Architecture is fluid as an idea, we are always chasing after its meaning in the most inclusive terminology.
Q4.
Is sustainability a core theme in your practice as an architect?

It has to be. Sustainability in our designs is sustainability for our business. More clients are becoming conscious about principals of sustainability. This presents an opportunity for us to add an extra dimension that could differentiate us from other designers.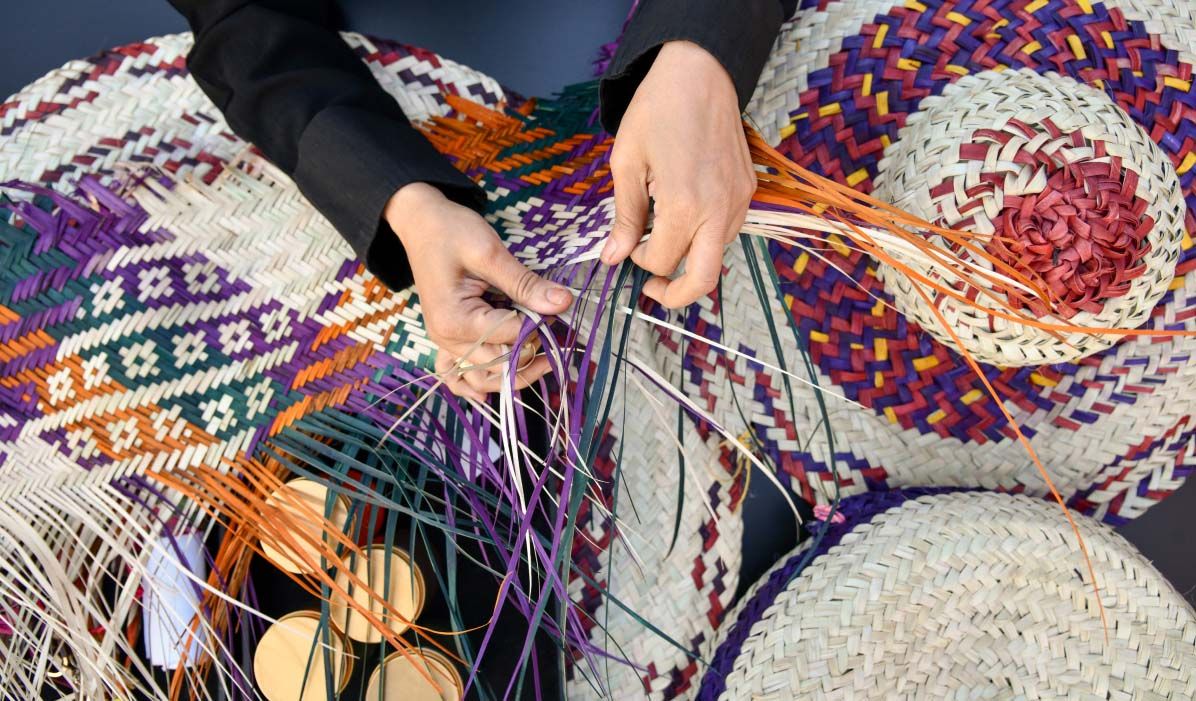 Q5.
What inspired you to create Sa'af What is the primary objective or goal you're trying to achieve out of this?

I made many visits to Alhasa in search for the talented artists that still practice palm frond weaving as their primary craft. I met a family, living on a farm, doing not much other than practicing this artistry. I was impressed by their resilience and their technical skills. When I first presented my concept, they were intimidated by the scale, but they eventually agreed to collaborate. Even though we often celebrate the advances of technology and machine manufacturing, I wanted this pavilion to be symbolic of their stand for their craft and resilience against the threat of machinery replacement.
Q6.
What are your hopes/aspirations for the future of Saudi art and architecture?

Given the attention that has been given to Saudi arts, design, and architecture in the past few years, I can only be optimistic for what's to come. We at Azaz Architects, along with other Saudi designers, are proving that we can deliver and compete with international firms.
Q7.
What motto do you live by?

Do it.