The era of sustainability
Bridges: Cross-Cultural Conversations
The era of sustainability
'Al-Qawareer (the bottles),' by Ahlam AlShedoukhy. One of the EU Ambassador's favorite artworks.
'The era of sustainability,' an interview with H.E. Patrick Simonnet, the Ambassador of the European Union Delegation to the Kingdom of Saudi Arabia, the Kingdom of Bahrain and the Sultanate of Oman.
"Art is indispensable to my life, it helps me to find a sense to it…"
In this special issue of Ithraeyat, we feature an exclusive interview with H.E. Patrick Simonnet, the Ambassador of the European Union Delegation to the Kingdom of Saudi Arabia, the Kingdom of Bahrain and the Sultanate of Oman, where he shares his insights and views on sustainability, art, present and future initiatives.
Q1.
What does art mean to you?

A lot, art means a lot for my family and myself. My mother after being a nurse became an historian of art and graduated from the Ecole du Louvre and worked in many galleries in Paris. She really emancipated herself through art. My sister and myself have been brought by her to so many museums that I can hardly remember all of them. But it infused a lot in our minds and my sister is still today an artist (sculptor and painter) and I myself have spent part of my youth painting and drawing, on anything even on the grounds and walls of Paris. I have transmitted that passion to my children who are mini artists…even if they don't like it so much to go to museums. Art is indispensable to my life, it helps me to find a sense to it!
Q2.
What is sustainability, and what are some of the EU's most important sustainability related projects, current and future ones?

Sustainability has become an imperative. People of my generation have all lived without conscience of the "finiteness" of our world and its resources. This is not possible anymore and we need to sharply aware of what entails sustainability. I think that the European Green Deal is the most important initiative of the EU in this regard. In short, it is a set of policy initiatives by the European Commission with the overarching aim of making the European Union climate neutral in 2050.

With this, the EU is taking decisive action to achieve its net emission reduction target of at least 55% by 2030 and be on track towards climate neutrality by 2050 – both these objectives are now legal obligations enshrined in the EU climate law. But this plan has no chance of success if we don't work together with our partners.

The European Green Deal offers a great opportunity to engage more strategically with our partners in the Gulf in these endeavors. And the Kingdom of Saudi Arabia has a very ambitious agenda, under the leadership of HRH the Crown Prince Muhammed Bin Salman, as we saw with the announcement of Saudi and Middle East Green Initiatives in October last year.

We want to work together. The EU could share its expertise and know-how to accompany and fast track the transition to low-emissions and circular economies as enablers of economic diversification, with a particular emphasis on sustainable investments and green growth. And the Gulf countries have shown particular interest in this kind of cooperation. We also count on the Gulf and KSA in particular as a future source of imports of renewable energies for Europe, green and blue hydrogen in particular.

So we follow with great interest the major developments in Saudi Arabia as concerns hydrogen, the important concept of Circular Carbon Economy as well as flagship projects such the city of NEOM project. We look also forward to the implementation of all the aspects of the Saudi and Middle East Green Initiatives. These are very promising initiatives and through our dialogue we are keen to explore synergies and ways to reinforce cooperation between EU and Saudi Arabia.

Q3.
Are there any EU-KSA current and upcoming initiatives? Any related to culture and art?

We are following with great enthusiasm and excitement the developments of the cultural scene in Saudi Arabia with extremely interesting professionals from different fields of arts showcasing their creativity and talent. I have also had the pleasure to attend different events such as the MISK Art Week or the Diriyah Contemporary Art Biennale and hope to be able to experience even more of the cultural scene in Saudi Arabia. Those are top class events! We are all impressed.

As many Saudis know, culture is historically, socially and economically important in Europe and we are eager to introduce European culture to the people and facilitate cultural exchanges between Europeans and Saudis in various fields, be it music, film or education. These come in addition to the activities already undertaken by the Embassies of the 20 EU Member States present in Riyadh. We are also eager to facilitate capacity-building/sharing of expertise. In this regard, we have the ability to bring in European expertise in various fields, in case this could be of use for Saudi counterparts.

In terms of concrete events, we are preparing currently the 1st European Film Festival to take place in Saudi Arabia. Cinematography is a universal art, which explains our idea of facilitating cultural exchange through such a Festival. There will be films from many different European countries but besides showcasing films, we are also looking into bringing some European movie professionals to Riyadh to engage with the Saudi counterparts. We would also like to host a European Food Festival this year in Riyadh, as we know the Saudi love for food, which we very much share.

Q4.
What are some of the misconceptions people here, in KSA, have about the EU?

I would say that while people know lot about Europe and European countries, not many know a lot about the European Union as such. Hence, our challenge is to make the EU more known among the Saudi public. Despite the lack of knowledge, our ties go very deep in a wide variety of areas, including political relations, economic and trade cooperation, energy, climate change, cultural and security cooperation. We are also proud to be Saudi Arabia's second biggest trading partner in the world. In terms of overcoming the misconceptions or knowledge gaps, we are hoping to engage further in cultural exchange as a bridge-builder to create mutual understanding. Earlier in February, we organized together with the Prince Saud Al Faisal Institute for Diplomatic Studies an intense one week training for 35 Saudi, Omani and Bahraini diplomats on EU affairs to help prepare them for representing their countries in various European capitals.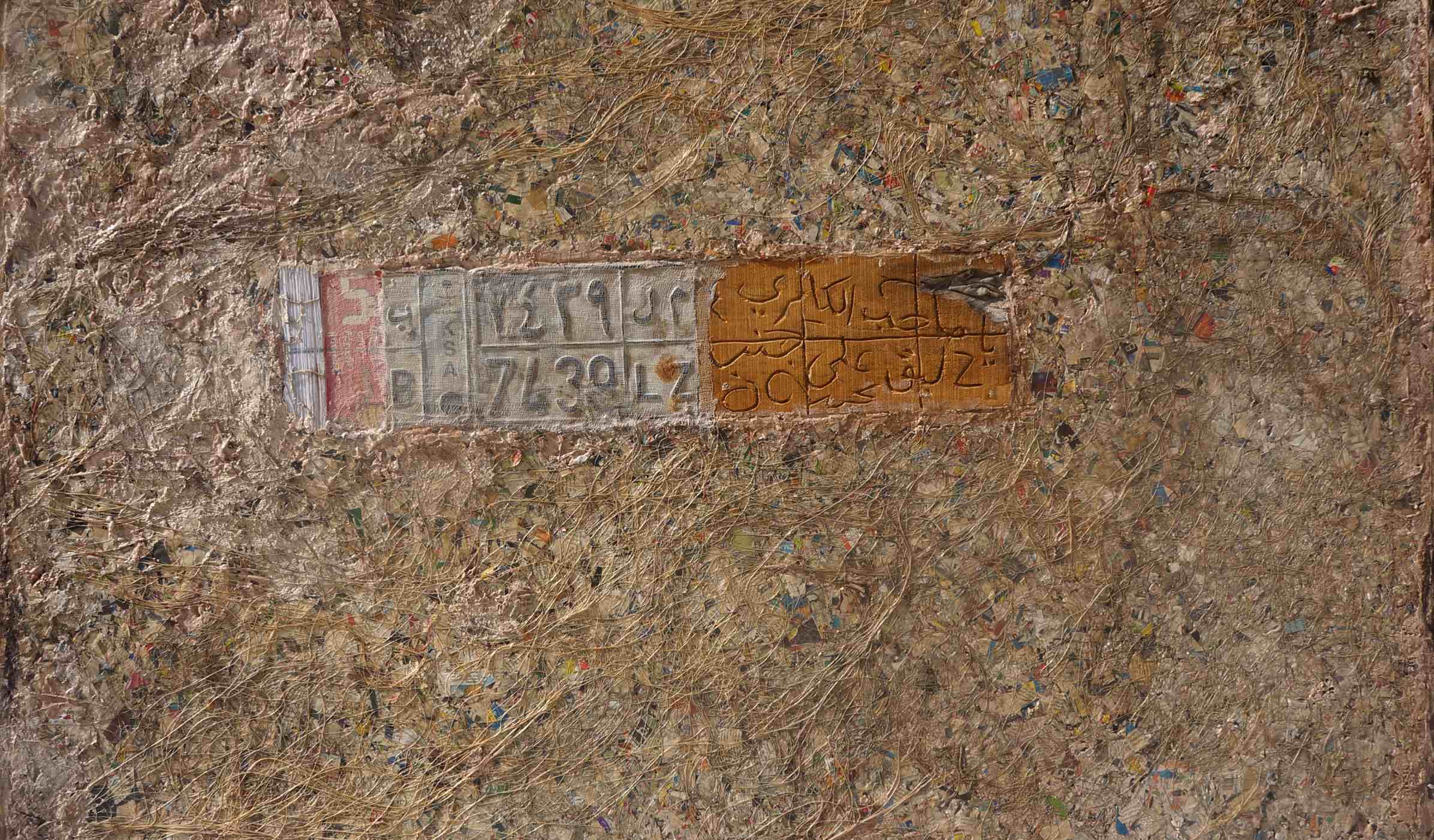 'Untitled,' by Mohammed Al-Ghamdi. 2014. Mixed media on wood. 109 x 152cm. Courtesy of the artist and Hafez Gallery.
Q5.
What motto do you live by?

There are many mottos I could go with… but one I like is from this movie by Francois Truffaut "Jules et Jim", when one of the characters say that he wants to be "curious by profession"…I like that being curious of people, things, nature….my interest for art stems from this curiosity. And if you are curious, you tend to live great adventures and you learn to respect people, their traditions and beliefs.

Q6.
Can you show us some of your favorite art (either hanging at delegation/ or home) and tell us about it and why you like it?

The painting I have chosen is "Al Kawareer" ("The Bottles") by Ahlam Alshedoukhy, a Saudi artist. The painting portrays Saudi women – the backbone of the Kingdom's society, and every society around the world for that matter.

I like how the artist herself refers to her paintings depicting women, saying that they are both soft and unyielding. Anywhere in the world, women have to learn to be resilient and strong, to win their independence and to break the glass ceiling (of the bottles). Saudi Arabia is doing very well in empowering women and opening up the labor market to them. 33% of the labor force being female workers is a real breakthrough and the EU is very supportive of that.

But coming back to that painting, I just like it because it is simply beautiful.
Q7.
Where have you visited in Saudi Arabia, and share with us one of the most memorable visits and why?

I have visited several regions all around the Kingdom, such as Jeddah, Al Ula, Dammam, Qassim, Abha; and I plan to discover inshallah more of the country's richness in 2022. If I need to single out one of those visits, I would say that my trip to Hail was particularly memorable both for its people (so nice and hospitable) and its heritage sites. I had the opportunity to visit Jabal Raat and Al Manjoor, two treasures of Saudi history and heritage.

The rock art left behind by Thamudics and Nabatean civilizations testifies to the long history of the country, inhabited some 10000 years ago. It was very impressive to see such old engravings, it reminded me of the importance of preserving our planet and human heritage for the next generations. Saudi Arabia has a variety of historical sites and a rich potential of becoming a major touristic destination to all history, art and culture lovers

Q8.
Anything else you would like to add that I may have missed to ask?

Many have forgotten it but medieval Muslim scholars, men of arts, science and technology have brought for many centuries their knowledge to Europe and have fed our culture and civilization. More recently, Europe has also brought a lot to the Muslim World and the Gulf, in terms of innovations, new ways of life, new models of solidarity and economic development (and recently vaccines). This formidable exchange will continue I am convinced of it also because it is underpinned by a strong interest for each other's culture and history. That is what is driving my work in KSA.