Reaching a 'golden' milestone
Letter from the editor
Reaching a 'golden' milestone
'Qaf from the Abjad Hawaz series,' by Dana Awartani. 2018. Shell gold, gouache, and ink on paper 32 x 73 cm. Art courtesy of ATHR gallery and the artist.
Art is everywhere…You can't stop art, it will find its way to express itself…
HRH Prince Badr Bin Abdulmohsin Al-Saud in an exclusive interview with Ithraeyat
In 2020, during the Covid-19 era, as the world and all its cultural outlets went into lockdowns, Ithraeyat Magazine was born to help keep the cultural pulse alive by keeping the artists connected to the public and the public with the artists and creatives. Our phones then were filled with negative news, and so Ithraeyat— which translates to 'enriching stories' — brought positive, beautiful stories and artworks right into our phones, and into our lives. Now celebrating two years, Ithraeyat magazine brought together pioneers and emerging artists together, inspiring reflection and conversations. With over 400+ articles, 500 artists, over 13 renowned local and international cultural partners, as well as exclusive features and interviews with VIPs and legendary figures, we want to thank all those who have been part of Ithraeyat's journey.
Like every creative endeavour, it took a few sleepless nights, with several sketches of the design and possible different names, including the name 'Well No.7' homage to the legendary oil well which would later become known as the 'Prosperity Well.' It struck oil in 1938 and began producing commercial quantities. On May 20, 2008, the late King Abdullah bin Abdulaziz Al Saud, laid a symbolic cornerstone for Ithra not far from the Prosperity Well. We commemorate our anniversary with the theme 'Gold,' as gold is more than a precious metal, it is philosophical and symbolic for a strong, pure and reliable core, one that lasts and never loses its luster. It is what we turn to in times of crisis and celebrations.

As Ithra's Ithraeyat grows, we hope you grow with it, and continue to take part in its cultural journey and explore its latest digital platform.
In this tradition, Asma Bahmim presents a pronounced sense of detail that translate to the same concern for richness. But, in the meantime, modernity has come, offering the possibility of associating to the refinement of gilding. The line's exactitude is an incompleteness that provides a counterpoint, and consequently the ornamental character of the representations is weighted by the sheet which now serves as a background and is no longer merely a support. Here, the paper plays a fundamental role in its abstraction capacity: it's an integral part of the motif, even if it appears most often as a breath. Serpentine lines and other curved movements create a plastic dynamic that can be assimilated to elaborate a form of visual cosmogony. Flowers, fish, pea-cocks, chimeras, and stars fill the pages in the absence of a narrative, like divine creatures able to tell the world in its unity.
Asma Bahmim. Sky Fish from the Black Cloud series, 2021 Gouache, hand painting, gold leaf on panama paper and handmade paper 20 x 33 cm. Art courtesy of ATHR gallery and the artist.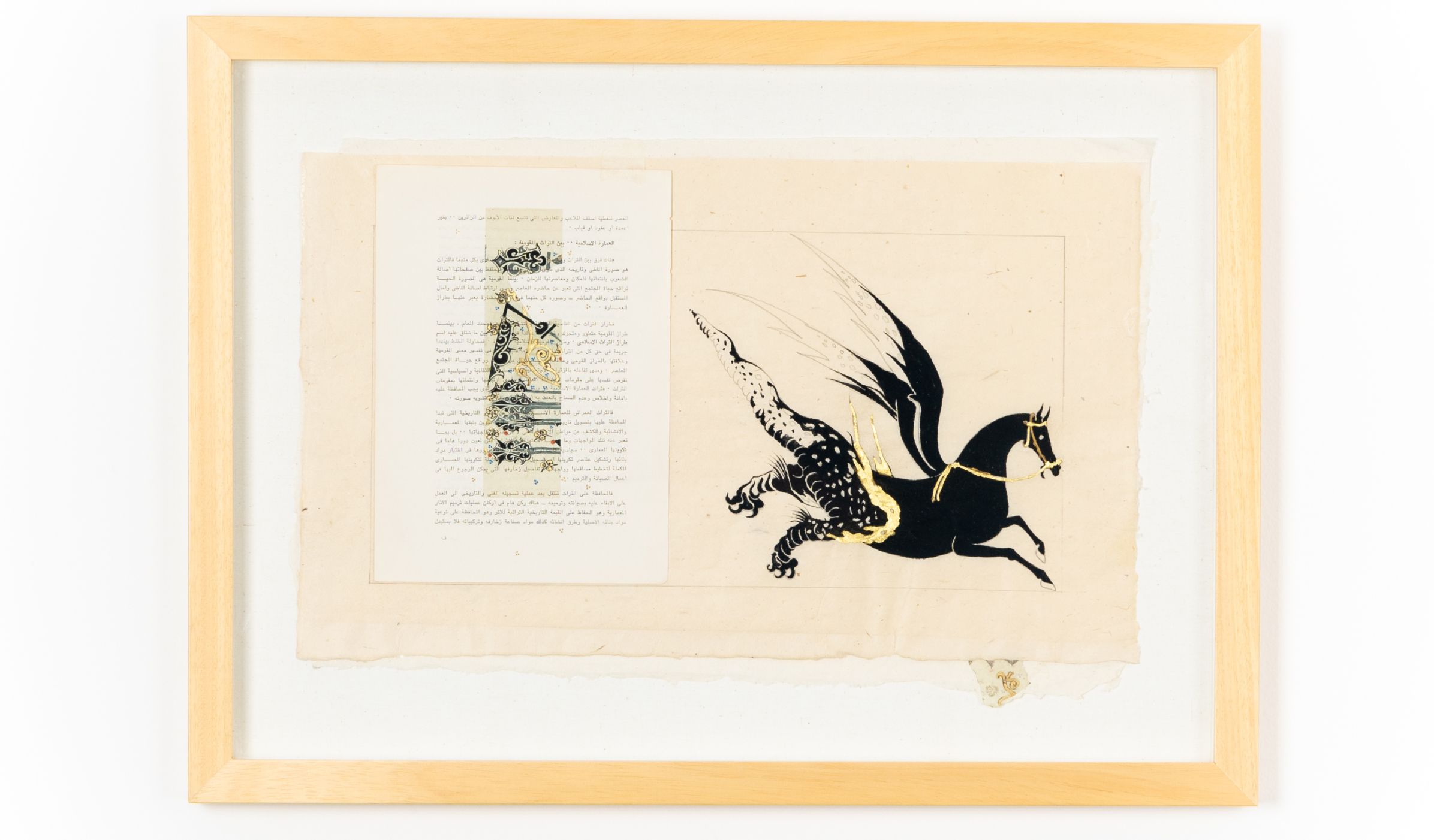 Asma Bahmim. China Virus from the Black Cloud series, 2020 Gouache, hand painting, gold leaf on panama paper and handmade paper 36 x 55 cm Art courtesy of ATHR gallery and the artist.
It is a virus called the China virus, which attacked this beautiful animal, which is of interest wherever it is found among Arabs and foreigners, the horse that runs as an immigrant from an ancient manuscript.