Harmony of rhythm and art
Guest Artist
Harmony of rhythm and art
Acrylic colors on canvas. Size 60*60 cm. Art courtesy of the artist.
By
Ithraeyat Editorial Team
Abdullah bin Saqr is a Saudi artist who loves art and embodies his true feelings with his brush, and is distinguished by his paintings that reflect the rhythm of Saudi folklore, creating a live scene that allows interaction with it.
Saqr has received many artistic awards, and participated in many local and international exhibitions, bringingto them one of the most important parts of the Kingdom's identity through his creative formations.
Saqr began to draw from a young age, and continued during his school years until he obtained a bachelor's degree in art education and became an art teacher at the Ministry of Education in 2001. Art from his perspective is "a language that does not need an interpreter; art is a sincere expression, art is a message."
Saqr sees himself as a simple artist who taught himself despite the difficulties he faced at the beginning of his artistic career. He says that the lack of highly qualified professional teachers made it difficult for him to start his career, but the presence of the Internet made it easier for him to learn, develop and practice art, through viewing and correspondence with international artists.
When asked what identity means to him in art, he replied: "It is the artist's expression of what surrounds him." He describes the embodiment of identity in his works, saying: "After self-education and mastery of my tools, I actually found that the artist is the son of his environment and his surroundings, so I searched in folk dances. I found them to be very rich topics in dress, movement, customs and traditions, as well as in harmony and rhythm, all of which are aesthetic values that enrich the artist's work."
To come up with a different experience, Saqr was keen to mix his bright colors, simple formations and high aesthetics, to embody the harmony of movements with rhythms, where if you look closely at his paintings, you can almost hear their voice and songs. Feelings are the most important thing that affects the artist. They are the source of inspiration and creativity from which he draws. Saqr says that "the pride and majesty in his scenes of these various dances and their connection to this good land" is what inspires him the most and motivates him to paint, simulating with his brush the beauty of the ancient heritage.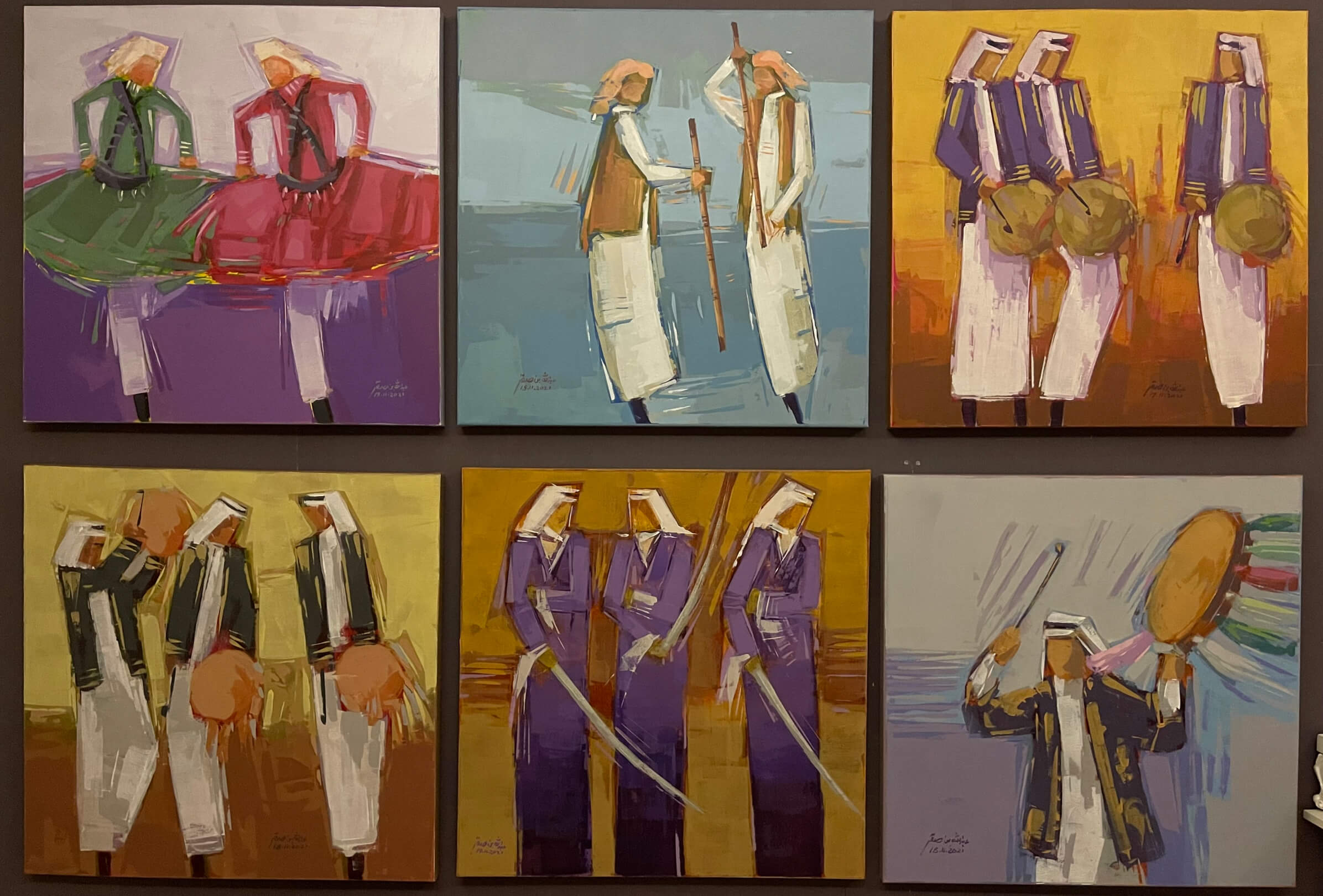 Collection of the artist's paintings, with his courtesy.