prince of generosity hatim al-tai of hail
Add to your Bucket List
prince of generosity hatim al-tai of hail
"More generous than Hatim," says an old Arab proverb, referring to the great legendary generosity of poet Hatim Al-Tai who once lived in Hail. Sometimes mentioned as a prince and a tribal chief of the Tayy tribe, he is believed to have lived in the 6th century CE in the northwestern area of Saudi Arabia known today as Hail. He is said to have inherited his generosity from his mother Gonayya bint Afif Taiya. According to one legend, while pregnant with him, his
mother dreamt that she was given the choice between ten average sons or one with exceptional generosity; she chose the latter, and thus Hatim was born predestined to be exceptionally munificent. He was said to have given away everything he had, and no one who visited him would leave empty handed. There are signs to his home and tomb, in Towaren of Hail. His tomb also became a legend…
It was said his tomb was built on a hilltop with two stone troughs representing the pots from which he fed the poor, as well as the statues of four mourning maidens. Travelers who camped near his grave would report hearing the sound of the maidens mourning all night long.

His story is immortalized in the famous 1,001 Nights collection of tales, where Scheherezade relates a story about his tomb that is the stuff of legends.
The story goes: When a group of travelers arrived at Hatim's tomb, one of them said in jest, "O Ḥatim, we are thy guests tonight." Ḥatim gave them a feast from beyond the grave, by making one of their camels fall ill so that it had to be slaughtered and eaten. The morning after, Ḥatim's son ʿAdiy arrived with a fine camel, explaining that his father had told him in a dream to replace the one that he had killed in order to feed his guests. Books, movies and many adventures and stories feature Hatim Al-Tai with riddles to mythical creatures. With his name known even to non Arabs is perhaps a testament to the importance of generosity as a universally admired value.
But this is just one element to visit in Hail. It is famous for its castles, its historical and archaeological sites, with rock art capturing many legends and stories. Jabal Umm Sinman at Jubbah and the Jabal al-Manjor and Raat at Shuwaymis in Hail Province are the most important and largest archeological sites in the Kingdom. They show numerous representations of human and animal figures covering 10,000 years of history. The Rock Art of Hail region is the fourth archeological site in the Kingdom to be included in the "World Heritage List" of UNESCO.
As you plan your trip to Hail, here is another legendary story featuring Hatim.
There was once a king who felt so jealous of Hatim's reputation for generosity that he sent an assassin to kill him. Ḥatim receives this assassin as a guest, inviting him to spend the night in his home. In the morning, on discovering that his guest is on a mission to kill him, Ḥatim offers his own life in order that he should not have to return empty-handed to his king. This exceptional munificence wins the assassin over, and even appeases the king when he hears about it. It is said the king even began to like Hatim, and as proven by the fact his name is still known today, Hatim Al-Tai's spirit lives on beyond the grave, still winning over hearts because of his once open heart.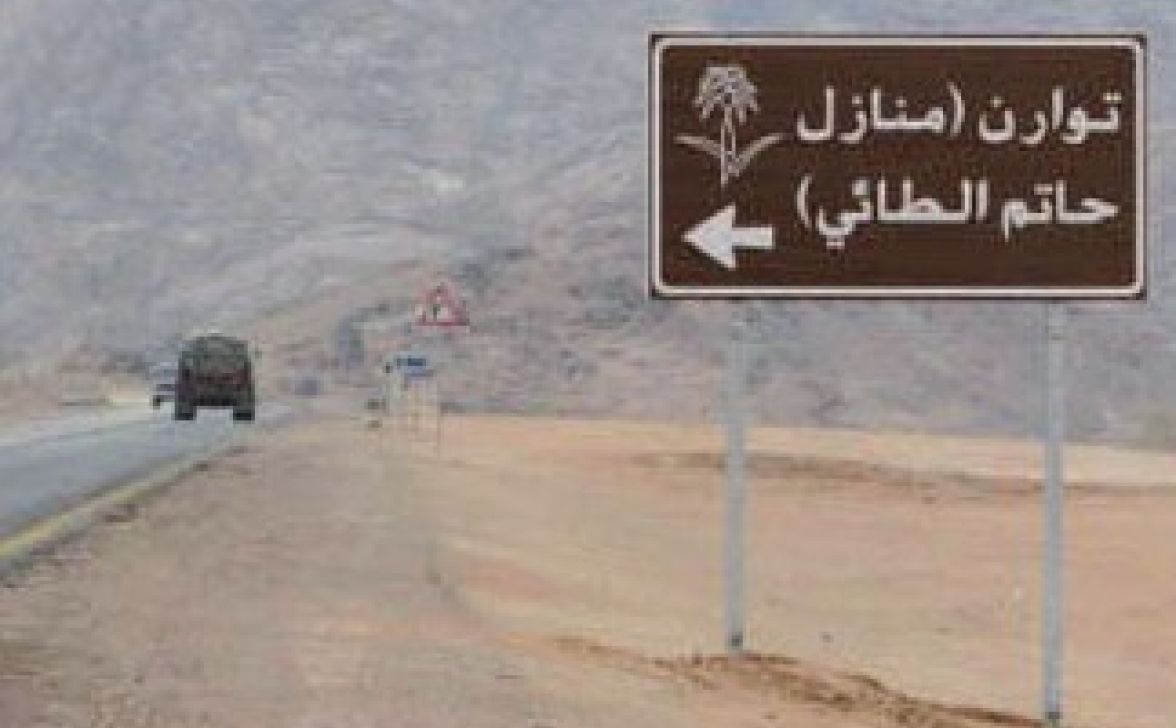 Location of Hatim Al Tai's home.