Special Feature
The wall of legends
"The Arab Knight." The legendary actor Omar Sharif from the legendary film 'Lawrence of Arabia.' By Saudi graffiti artist Klakh.
How does one become a legend? Some would say it is a combination of charisma, mystery, originality, dedication, being impactful, being the first, and often the last of their kind, and perhaps just having that something "special" no one else has at that moment. "It is a difficult question to answer and I doubt there is just one answer," said Abdullah Al-Rasheed. The Saudi art enthusiast and collector, who is also known for his support of new Saudi artists, has a special dedicated wall to legendary figures in the cultural scene in the library of his home.
He commissioned the Syrian artist Monzer Al Sharabi in Jeddah to draw up figures that have earned the title of legend. From the Saudi cultural scene, the collection includes literary giant Ghazi Al-Gosaibi, poets Prince Badr bin Abdul Mohsin and Prince Khalid Al-Faisal, music icon Mohammed Abdo and Talal Al-Maddah and soccer player Majid Abdullah. "I created the Wall of Legends as an artistic homage to the greats of our country and beyond," said Al-Rasheed.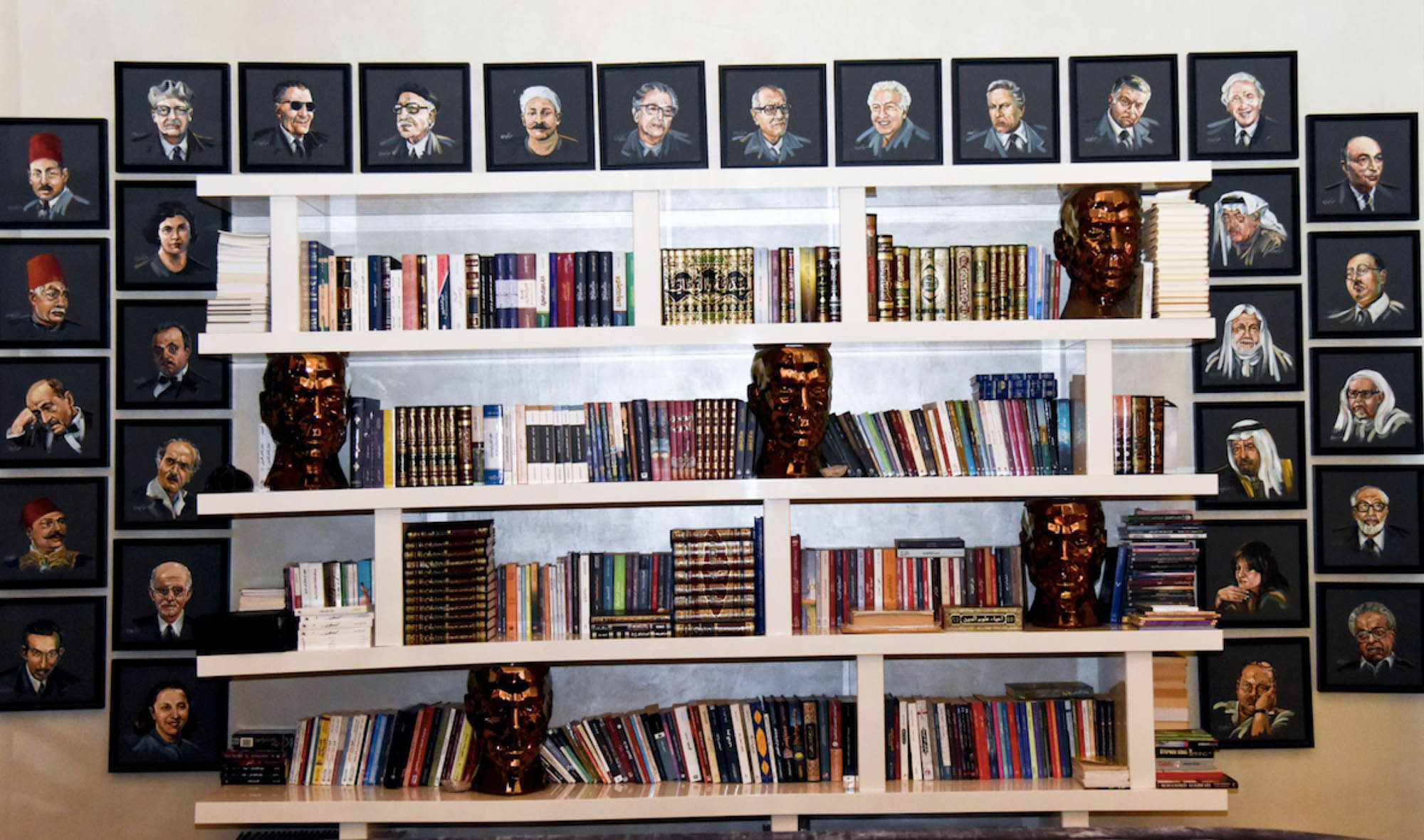 A special dedicated wall to legendary figures in the cultural scene in the library of Abdullah Al-Rasheed home.
One common feature of most legends is that they have earned a 'laqab,' which is a nickname or honorific title. A nickname evokes a timeless image and persona for Arab legends. For instance, the legendary romantic crooner Abdul Halim Hafez from Egypt was dubbed and best known as 'Al-Andaleeb Al-Asmar' — the Dark-skinned or Tan Nightingale — for his gentle voice, which was like the song of a bird. He was also known as Safeer Al Hob (Ambassador of Love), thanks to his swooning ballads.
"The legends are timeless, and they include royals like the founding King Abdulaziz and many others who had an important historic role," he said.

And one of the ways to pay homage to legendary figures is through public art like graffiti. Seeing someone depicted on the wall creates a sense of connection and familiarity.

And when Al-Rasheed decided to commission a unique art on his exterior wall, one that would make all visitors to his majlis pause, he decided on a figure that was and to this day, remains the most famous Arab actor in Hollywood.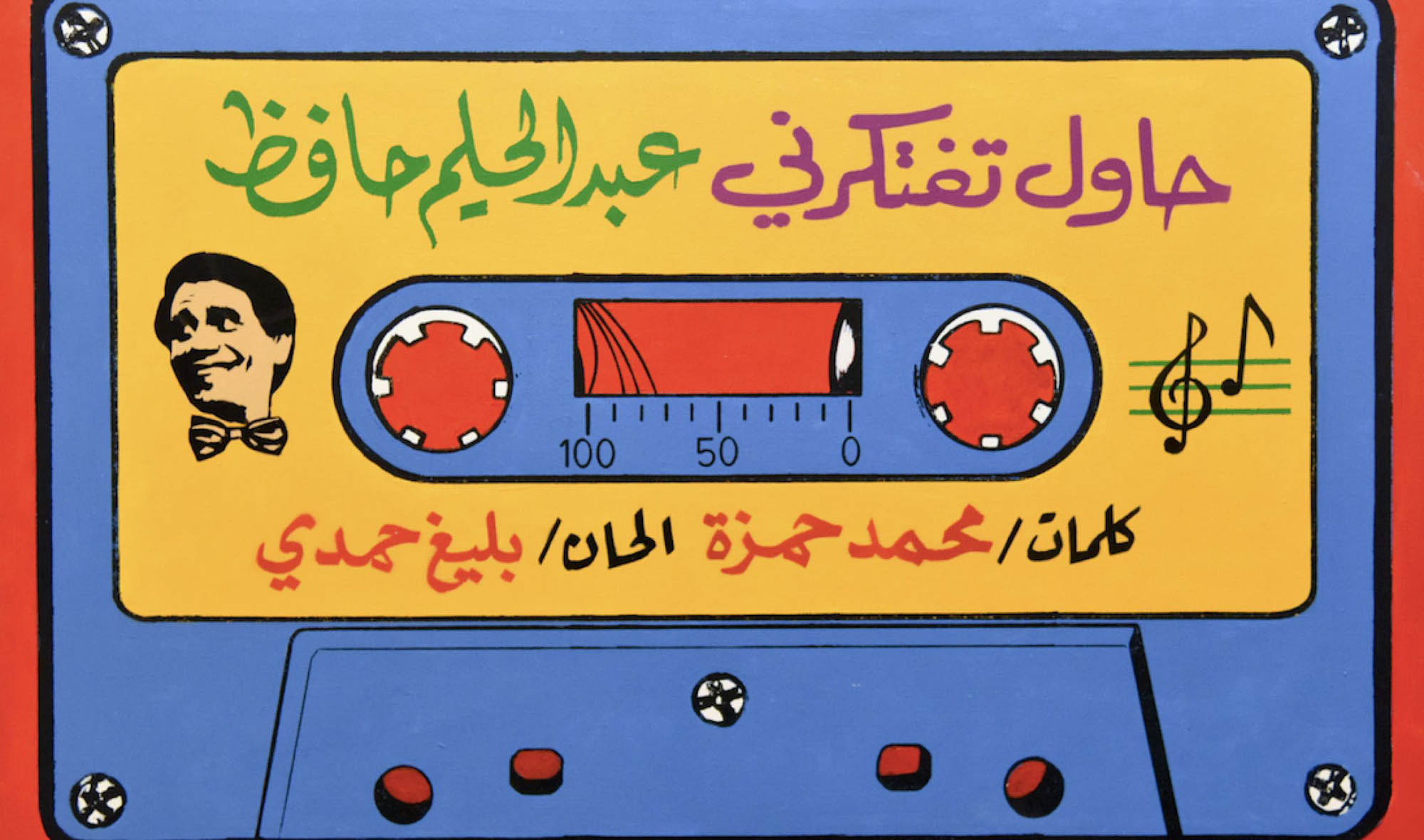 Cassettes of Arab legends: Lebanon's iconic singer Fairouz, Egypt's diva Umm Kulthum and the romantic crooner Abdul Halim Hafez dubbed 'Al-Andaleeb Al-Asmar' — the Dark-skinned or Tan Nightingale — and Syrian-Egyptian composer and singer Farid Al-Atrash. Artwork by Saudi artist Bassem Al Sharqi.
"Omar Sharif was a legend, the role he played was that of a legendary knight, and the movie he was in, remains a legendary movie," said Al-Rasheed. "I wanted an Arab knight, one with a presence and a heroic figure, and Omar portrayed this figure majes-tically in the epic movie Lawrence of Arabia. The way he entered on his first scene, rid-ing a camel in the desert dressed in traditional Arab attire, and the way he held himself. He embodied the honorable Arab knight." In this special 9 by 8 meter graffiti piece, across three floors, Omar's bigger than life persona is brought back to life. "I am wowed each time I see it.
The way he stood in that movie scene recaptured here, and how he now looks towards my other wall, covered in prayers written up in different calligraphic styles," he said. "I am very happy with this piece as it combines my love of art, film and history in one magnificent piece." Graffiti during COVID-19 has played an especially important role in paying homage to figures and heroes like the doctors and nurses. "Street art is just start boom in the Kingdom and it is an important form of art," said Al-Rasheed.
Klakh: The anonymous street artist making waves
The artist behind Omar Sharif's dominant piece is the Saudi street artist known as 'Klakh,' who wants to remain anonymous and is named after the village he comes from near Taif.

"People keep calling me the Saudi Banksy, after the famous British anonymous street artist, but I am not political in my art," said Klakh, who rarely gives interviews.

"I don't want my name to be out there, I want to honor the place I am from. Now more people know about Klakh than before."
"I am now focused on turning abandoned places, especially abandoned houses, into places of beauty and art."

The artist shot to fame after he covered the walls of an abandoned house in Taif with the graffiti of beautiful young women.

"I like pretty faces, and so does the world but I pick the faces that I do as I can play around with the makeup and hair," said the self-taught artist who is currently 26 and started dabbling in air spray and street art when he was just 19 years old.

For his latest project, of Omar Sharif, it took him six days and it was a challenge as he doesn't usually draw known people.
"I still feel I didn't get his skin tone right, but I am proud of it as I got to discover someone knew and a challenge to draw."

However, Omar Sharif is not his first well known character--his first spray up piece was that of SpongeBob SquarePants, an American animated character from a comedy television series.

"He made me laugh and it was fun to create," said Klakh.

The young artist is currently exploring a new style, and hopes to create a new movement in street art.

"It is an impactful art form that leaves an impression and a reaction. Art should cause a reaction. I love that part about it," he said.
Currently whatever I finish, I stop liking. It is like I am done with it. My hope is to try to find something special, something that will inspire others to try. I am not there yet; I am still learning."

One of his hopes is to get the graffiti art form the support it needs, such as having a wide range of spray colors, the tools and the ability to get permission easier to do street art.

"It is my hope to leave my mark on an abandoned house in every part of Saudi Arabia," he said.

"And if they happen to be a haunted house with legends and jinn, even better," he laughs.
Some of the Saudi legends from the 'Wall of Legends" by Jeddah-based artist Monzer Charaby.