Cultural Reflections: An interview
Guest Interview
Cultural Reflections: An interview
'Illusion,' by Hareide Design. A Norwegian design lamp is one of Ambassador Øyvind Stokke's favorite pieces of art at his Saudi home.
"My impression every time I visit Ithra is the impressive, breathtaking sight you get when you travel through the desert from Riyadh, entering
the industrial areas and then all of a sudden there is a mirage, some huge pre-historic (or rather sci-fi) installation on top of a hill, like a Stonehenge, near the site where the first commercial oil was found and drilled, and where today's cultural riches and knowledge are kept, like a well, and from where it will all continue to flow…"


His Excellency Øyvind Stokke
In an exclusive interview with Ithraeyat Magazine, His Excellency Øyvind Stokke, Norway's ambassador to Saudi Arabia, shares his views on the ever-evolving cultural landscape of the Kingdom, and the role of Norwegian creativity in one of Saudi's greatest cultural projects: The King Abdulaziz Center for World Culture (Ithra).
Øyvind Stokke, Norway's ambassador to Saudi Arabia
"Sometimes I feel that there have been small or big changes every week since then," he said. "The opening up of arts and cultural events for the public has been remarkable. In 2017 there were no cinemas. Now, it seems that there are cinemas in every shopping mall in Riyadh – and many more are being built. There are festivals, live music concerts, theatre plays, art exhibitions, and furthermore, sports events, where the whole family can attend."
With overseeing Norway's interests in Bahrain, Oman and Yemen besides Saudi Arabia, the ambassador has had little time to visit touristic sites in the Kingdom. But of those he has visited, his favorites include Al Balad in Jeddah, Ad Diriyah, the city of Madinah, and the red sand areas outside Riyadh.
"Since most of the Norwegians here live in the Eastern Province, where they work in the petroleum and maritime industries, I have visited that region a few times, attended meetings and workshops, visited companies, met with countrymen, looked into what kind of issues or concerns they might have," he said.
Ithra and Norway
One of his favorite visits has been to Ithra, a building designed by the Norwegian architectural firm 'Snøhetta,' which is also the name of a famous mountain plateau in Norway. Ithra's unmissable structure was designed to represent a collection of stones symbolizing unity, where they lean on one another for solidarity, illustrating how the various disciplines explored in the building all depend on one another to stand strong. A true landmark visible for miles across all directions, Ithra is composed of stainless-steel tubes, intricately and individually formed and bent to create an impressive steel skin covering the entire exterior of the building, and many of its internal walls too.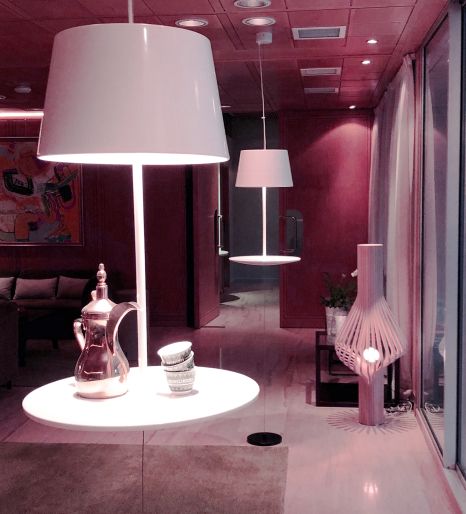 'Illusion,' by Hareide Design. A Norwegian design lamp is one of Ambassador Øyvind Stokke's favorite pieces of art at his Saudi home. To learn more about them, click here.
Even before the impressive Ithra complex was opened, Ambassador Stokke stopped while driving along the highway and took some photos. "My first time inside the building was in January 2019, when I invited Norwegians in the area to a lovely dinner at Ithra's excellent restaurant.
At the same time, we met with some representatives of Snøhetta and they showed us around and talked about the building's design, shape, materials, colors, technical challenges and so on," he recalled.
"I also had the pleasure of being invited in June 2019 to the opening of the exhibition of Norway's greatest painter, Edvard Munch (1863-1944): "Landscapes of the Soul"; where his works were shown for the first time ever in the Middle East."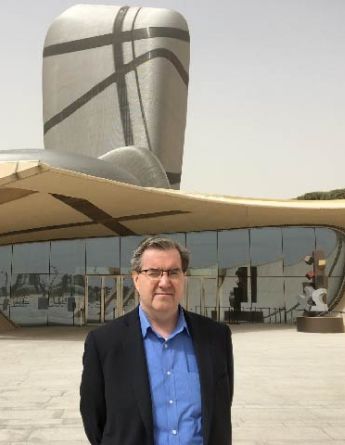 Øyvind Stokke, Norway's ambassador to Saudi Arabia
A historic moment for the legendary Norwegian artist whose works were showcased in a completely new setting to a new audience, was made possible through a collaboration between Ithra, Saudi Aramco, Aker and Oslo's Munch Museum.
"Edvard Munch was, and is, Norway's greatest artist, he left thousands of works to the Oslo Municipal Government when he died, now kept in the Munch Museum, and some of them have travelled around the world as global icons; just think about "Scream." Now, the interesting thing at the exhibition at Ithra back in June was that those works were not as famous and familiar as Norwegians tend to think they are, of course not. Many people saw them for the very first time. They stopped and looked at the artworks in different ways. Many looked at the brush strokes or other techniques," said Ambassador Stokke.
"I hope the public at Ithra got inspired to learn more of Edvard Munch's works, how he drew and painted, and I hope they got inspired to learn more about where in Norway he lived. You can, in fact, do trail walks; in Norway you can find and recognize many of the landscapes and places he painted, just as they are, or as they were backgrounds or contexts for what Munch is perhaps most famous for: painting people's feelings, moods, their inner landscapes. You can take a tram uphill in Oslo to the place where you will see the backdrop of 'Scream.'" Fans of his work can learn everything about Munch's life and works, and discover the new Munch Museum to be opened in 2021.
When asked about his visit to Ithra, the ambassador recalled many of its elegant components. "The museum, exhibition hall, foyers, cinema, and theater hall are extraordinary, but the way you are led upstairs, gliding slowly up towards the light and the library floors is fantastic, as if in a huge airport, ready for boarding," he said.

With over 300,000 books and more than 10,000 e-books and audio books, the library is a trove of literary treasures.
When asked about a favorite story from Saudi Arabia that he likes to share with friends back home in Norway, he said: "Norway is an oil-producing country, so we have a lot of things in common. Some Saudi officials I have met used to tell me that 'Norway is a tribal country, exactly like Saudi Arabia!' I had never thought of that. What I think they have in mind is the fact that many Norwegians are independent, strong-willed, they face harsh and dangerous nature and climate, they care for their families and tribe, they go 'hunting', I mean fishing. And the vast ocean is Norway's desert."
While things are slowly going back to normal, with curfews and lockdowns ending around the world, it will be interesting to see the long-term impact COVID-19 may leave behind. "All people staying at home have (maybe) discovered the value in a good book, a good documentary, an entertaining TV series, or even bought some tools and tried being an artist themselves – such as calligraphy," he said.

When asked to share advice on how to remain happy using examples from Norwegian culture, with Norway always in the top five rankings for 'happiest countries,' the ambassador shared this: "One reason behind our top ranking is the shared value of equality. In Norway, the differences between rich and poor people are not as big as in some other countries. Being equal is not about similarity, but more about solidarity, an even playing field, sharing the burden, every member having the opportunity to live a life as she/he wants, having easy access to help and support when you need it. Being "a happy country" has to do with fulfilling a basic doctrine found in both Islam and Christian beliefs; how can I best help others? How can I behave towards my brothers and sisters as I expect them to care for me?"
When the doors of Ithra open again, Ambassador Stokke and the Norwegian community will be looking forward to revisiting the center and exploring the new programs planned for the rest of the year.
"Coping with COVID-19 has made it necessary for us to focus on other things, and what are 'other things?' Well, they can be the arts," said Ambassador Stokke.