Letter from the editor
Nostalgia
The famous 'Mona Lisa of Hijaz,' also known as 'The Hijazi Mona Lisa,' originally titled 'Al Zaboon.' Painted in oil colors back in 1969, it presents Hijazi women's traditional clothing in the western region of Saudi Arabia.
Some believe it to be a self-portrait of the artist, Safeya Binzagr. Courtesy of the artist.
We all have a nostalgic notion for a time period, often what we believe was a more 'innocent time,' a decade or two with personal meanings and connections, childhood memories, songs, books, cartoons, crushes and love stories, school moments, dishes cooked by mother, locations visited and houses lived in, many things fall under 'Nostalgia' —the theme of this issue.

For many, there is a yearning for a pre-COVID19- era, one that can be globally traced to just a few months ago.
With every change there ar positives, and negatives, and a chance to learn new things and appreciate the things and the people we have taken for granted. In the third issue of Ithraeyat Magazine, we pay homage to Nostalgia in its different forms, and the revisit the importance of having artistic creations that trigger this sense in its citizens and its visitors.
The art on the cover is of 'Al Zaboon' (1969)—also known as the 'Mona Lisa of Hijaz'—one of the famous art pieces by the legendary Saudi artist Safeya Binzagr, who is one the country's first artists with many milestones. Her art pieces capture traditions and stories, and a way of life that many are nostalgic for.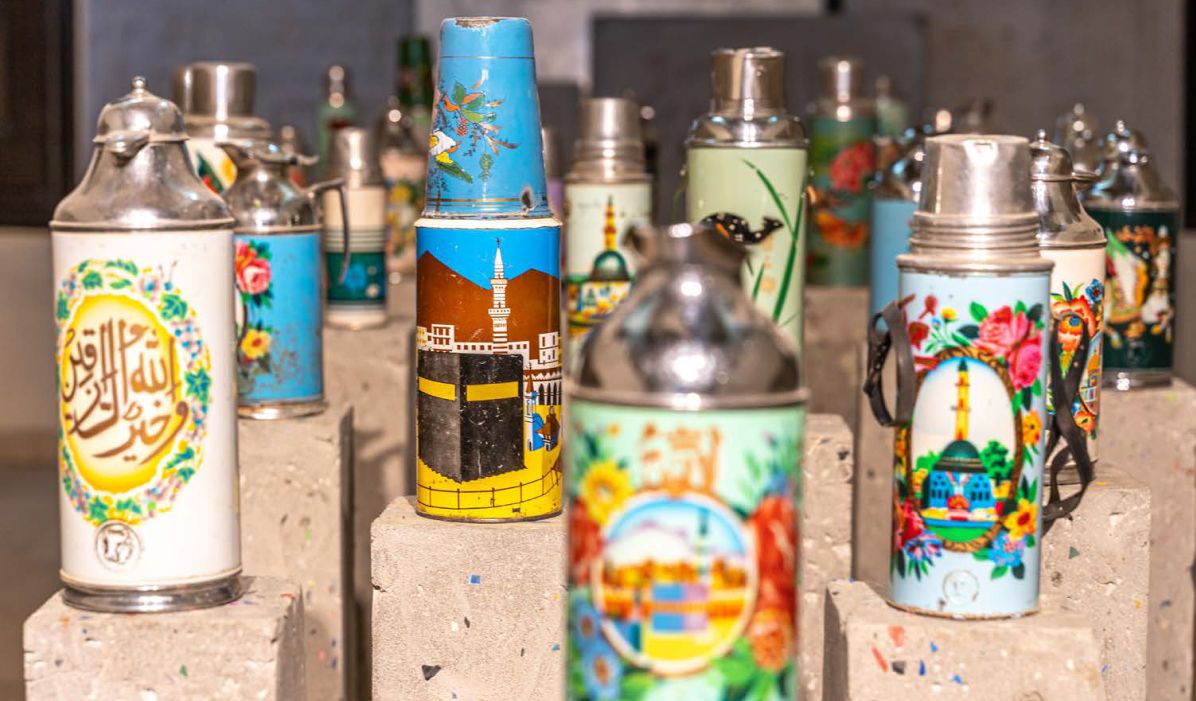 Holy Economy (2018-19) by Prince Sultan bin Fahad. A collection of water bottle containers used in Hajj by various pilgrims, each depicting specific cultural motifs. The artist draws on the use versus waste value of these objects. He salvages and harnesses their function in a collective format, transforming each object into individual totems that stand for diversity, color and collectivity. Courtesy Sultan bin Fahad and Athr Gallery, Jeddah.