Culture Through Digital Art
Special Guest Artist
Culture Through Digital Art
The Feast, 2020. Courtesy of the artist.
"An ode and appreciation for different professions like leather works, gem carving, tea making and pottery…"
Ahmed Al-Refaie is a Kuwaiti illustrator and graphic designer,
known for his unique art that illustrates the Arab and Kuwaiti culture in a vibrant and modern style. His passion in arts started from his early years as a child, when he used to mimic the drawings of the characters from his favorite cartoons on TV. His hobby has since grown and developed through the years into a thriving business where he creates illustrations for local and international brands, including Google.
The passionate self-taught artist uses his illustrations as a form of expression through which he comments on everyday issues from the Gulf and Arab society. His art also includes some of his favorite memories from his childhood depicted with the style of pixel art to achieve a retro 80s feel. His goal is to grow his skills and to show the world how beautiful it is to learn from the culture and tradition and how new ideas can be amplified with the help of the past.
In this interview with Ithraeyat, we get to know the talented Al-Refaie, his inspirations, how he started his digital art journey, and his thoughts on the future of digital art amid all the AI developments.
The artist, Ahmed Al-Refaie.
What inspires you the most?
Definitely culture, tradition and personal experiences. Over the years I've developed a passion to learn and find out more and more. I was once stubborn, thinking that something new can be crafted without learning about what exists. I have learned that everything new has been created and what we do is rather a different version inspired by many things. I found my passion in culture and tradition and molded them into my basis whenever I create any artwork.
What do you hope for the viewers to feel when they see your art?
I create art because I enjoy it. Having an audience definitely helps support this passion. Since I am passionate about culture and tradition, I aim in each artwork to spark interest and emotion and sometimes deliver a compelling message, allowing the audience to interpret on their own. For audiences that are artists, I try to encourage them to self-reflect on our culture and tradition, to learn from the past and to carry it on to the next generation each with their own perspective.
Tell us about the "Scene: from…" series, where you capture moments from the past from different countries. What inspired you to start this series?
The Scene series is composed of six subtly animated artworks that depict men and women practicing their professions across the region. The idea did not come about simply, I was creating one artwork with a Syrian grandmother using an old sewing machine and as I was creating, I wanted to explore more. The series became an ode and appreciation for different professions like leather works, gem carving, tea making and pottery. This helped me learn more about different Arabic cultures and ultimately connect and encourage viewers to learn more.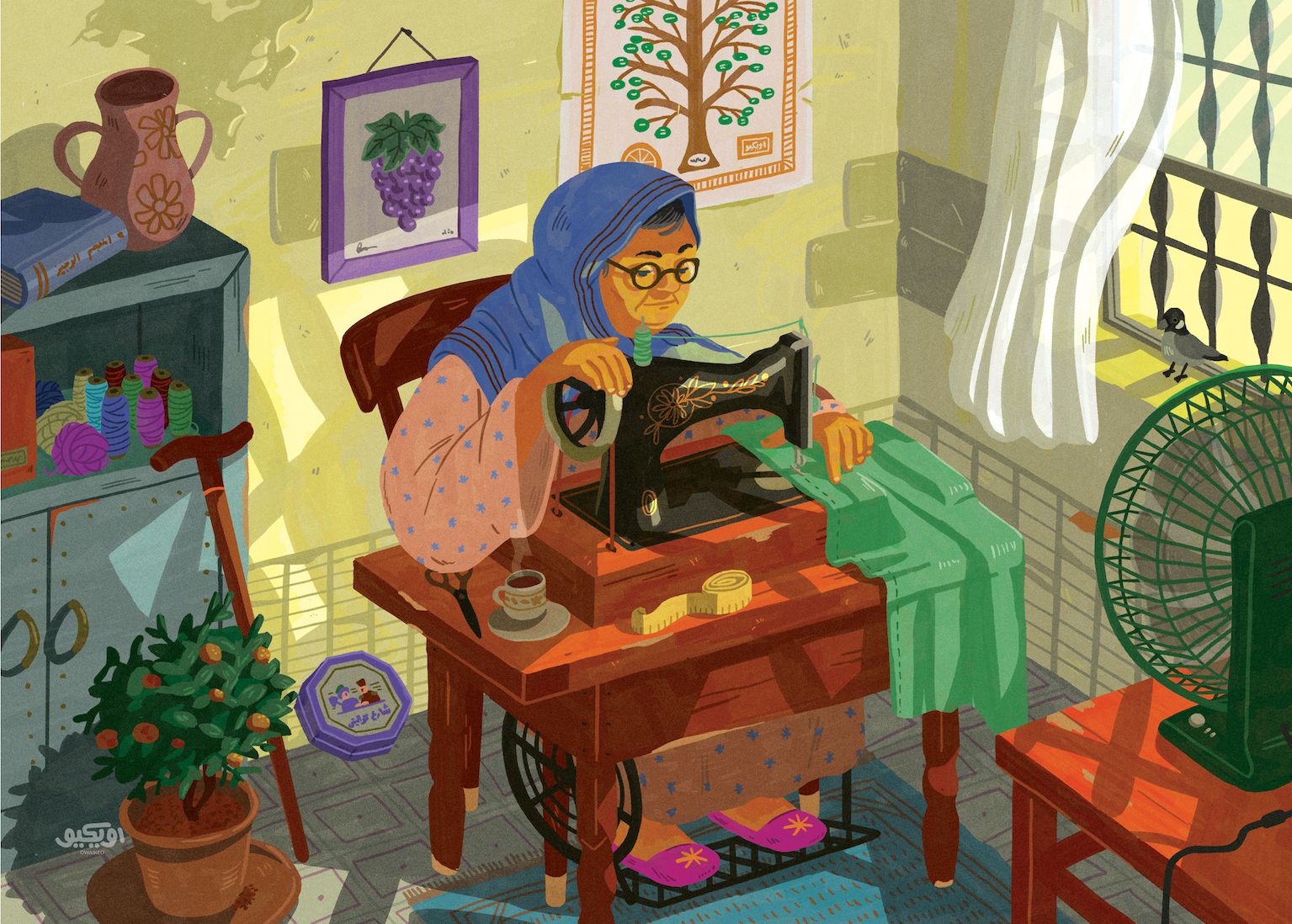 Scene from Syria. Courtesy of the artist.
As someone who started graphic design as a hobby, when did you know that you wanted to be a full-time graphic designer and turn this hobby into your actual occupation?
Growing up, I was not very social, so arts and computers were my escape and places where I really enjoyed the most. I enjoyed watching cartoons but I was more interested in how they were made. This led me as I grew to scribble everyday and try my hand at graphic design which began in high school. I would take my boring paperwork and create borders and graphic elements in order to help them stand out. At this stage I loved creating art and really wanted to pursue it as a career. Being self taught, I took it upon myself to learn by any means. I did not major in this field in college but I still worked as a freelancer with many trials and errors bringing me to what I have today.

Who is the artist that influenced your style the most? An artist that you would consider a role model.
My illustrations are kind of a personal diary, it's a mix of many things as I like to explore and evolve. I cannot point to a particular artist as I always find inspiration in everything. However, I always aim at creating my own style, so I never copy but I like to stay aware of all design and illustration advances. Throughout my journey you will find very complex work and very simplistic work that span across many subjects like culture, character design, environment design and so on.

What advice would you give to artists unsure if they can turn their hobby into a real business?
Social media is a great place to grow, but it can be a place that throttles your hobby backwards if you are not careful. I tend to focus on improving my skills, creating my own styles, and displaying my work to the best of my ability. I listen to feedback and find inspiration, but I avoid riding the trend train. Going with trends does not help one stand out and just catering to whatever people want slowly takes away from your artistic style and work would decline. If one is pursuing a career as a freelancer, they should build on their personality and style as well as how they display their work as these are all very important. Lastly, creating a company takes a lot of time and to me it may be an optional direction but one that is surely more profitable. In short, don't lose your standards because the market demands it, it is our job to educate and make a stance for what we create.

What do you think the future will look like for illustrators with the fast development of AI? Do you think the design industry is going to be replaced with the tools of AI?
This topic is very divided. One thing for sure is that AI is not new and computing on any software is a form of AI. The only new thing here is that AI has galloped from being a tool to being an artist and this is where many find it an issue. My issue in particular isn't that a computer is creating images but more so of the overwhelming evidence that AI is taking other images and artworks from other people and sticking them together. It is still a genius technology but I question its foundation and ethics. That being said, oil paintings today are still valued and needed. Even with digital artists; they don't replace traditional artists, they are a different breed doing their thing and opportunity can be found in all fields. For me as an artist, I am a storyteller, I enjoy what I do and would not cut corners for the sake of speed. All good things require patience.
Your art uniquely depicts the Arab heritage; why did you focus on heritage instead of modern topics?
My earlier work was a mix of many things, but over the years I felt alienated and less educated about my heritage. Earlier on I was just introduced to traditional topics of art like camels and deserts, so I was never compelled to try. Later on I wanted to prove myself wrong and was on a mission to explore my heritage and instead of looking at it as something old, I looked for an opportunity to educate myself and ultimately make it modern. I fell in love with the old and learned from it and that is what empowers what I do.

Regarding food, what is a dish that brings you the most nostalgia?
Probably ice-cream popsicles found in unicycles here on the streets of Kuwait. The flavors and packaging, for the most part, is the same and it's nice.