Tashkeel - Nurturing Art and Creativity
Spotlight
Tashkeel - Nurturing Art and Creativity
By
Ithraeyat Editorial Team
"One of the key phrases embedded in the spirit of Tashkeel is 'Why not?' We aim to create the right conditions and circumstances for artists and designers to push themselves beyond the boundaries of convention and experiment with mediums and materials. The process is everything – it is the path along which we explore, discover and learn…" Lisa Ball-Lechgar, Deputy Director of Tashkeel

Established in Dubai in 2008 by Sheikha Lateefa bint Maktoum, Tashkeel has been nurturing an environment for the growth of contemporary art and design practice rooted in the UAE. Through multi-disciplinary studios, workspaces, and galleries located in both Nad Al Sheba and Al Fahidi, it enables creative practice, experimentation, and dialogue among practitioners and the wider community.
Here we meet one of the main figures behind its success and evolution, Lisa Ball-Lechgar, Deputy Director of Tashkeel, who shares with Ithraeyat some of the important aspects that make Tashkeel one of the influential art centers in the UAE.
What makes Tashkeel unique?
The places, the people, and the combination of support and services we provide artists and designers living and working in the UAE.
You can find Tashkeel in the historical Dubai neighborhood of Al Fahidi, the bustling creative zone of Al Quoz, and the tranquil, leafy area of Nad Al Sheba. Our locations in these three diverse locations offer practitioners environments in which to research, experiment, create, and present.
What motto do you live by?
I think one of the key phrases embedded in the spirit of Tashkeel is 'Why not?' We aim to create the right conditions and circumstances for artists and designers to push themselves beyond the boundaries of convention and experiment with mediums and materials. The process is everything – it is the path along which we explore, discover and learn.
Share with us some important milestones
Since 2008, Tashkeel has presented over 125 exhibitions, facilitated 80 residencies, and provided professional development opportunities to almost 50 practitioners alongside hundreds of workshops, courses, talks, and tours for adults and youth across the country. It is an important milestone that today, the creative and cultural industries are considered an important aspect of the UAE economy and a vital element of society.
Over the last 15 years, Tashkeel has made so many memories. The achievements are due to the vision of its Founder Sheikha Lateefa bint Maktoum and the contributions of the practitioners in our community. The organization was established to empower artists and designers living and working in the UAE and support the growth of contemporary art and design practice, so it has been very special to witness the rise of creatives who have been part of Tashkeel's programmes such as eL Seed (artist-in-residence), Zeinab Al Hashemi (Tanween Design Programme & Tashkeel Grant alumna) and Hind Mezaina (artist-in-residence & Critical Practice Programme alumna), to name but a few.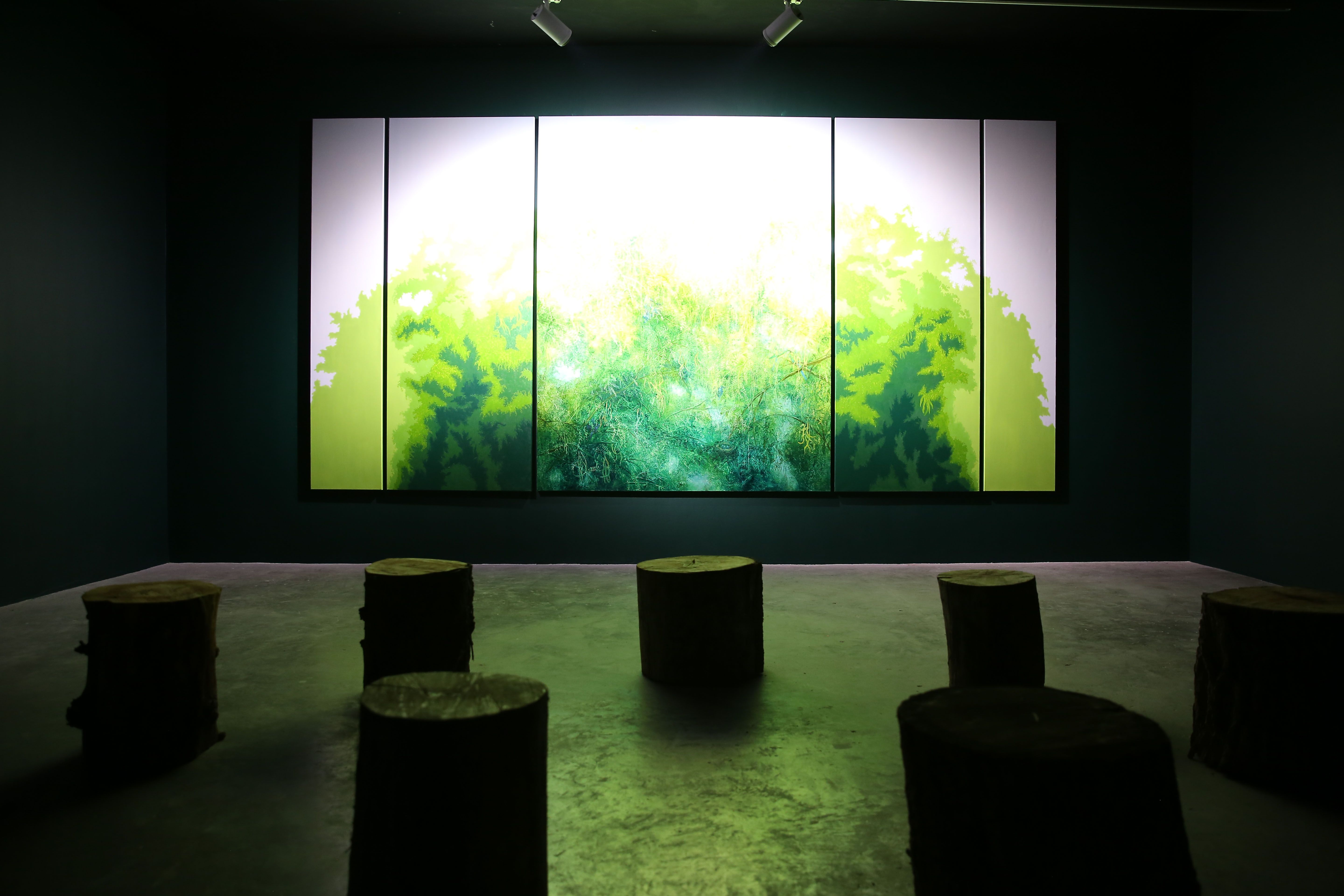 Artist Alonsa Guevara exhibition at Al-Serkal, 2023. She was part of the Tashkeel Residency Programme.
What are the future plans for Tashkeel?
We want to enter the next 15 years with a range of programmes and facilities that will benefit all – from our members to residents, training participants, and the wider cultural sector and civil society. So, Tashkeel is currently in a period of redevelopment. Alongside our house in Al Fahidi, we have moved to Alserkal Avenue while the Tashkeel headquarters in Nad Al Sheba is being renovated and developed to ensure the continued strength and future growth of our community and the Tashkeel ecosystem.
How many artists exhibited with Tashkeel, where are they from and where are they now?
Hundreds of artists have exhibited with Tashkeel over the years in more than 125 exhibitions. While the majority live and work in the UAE, our visiting artists-in-residence are also a vital part of the ecosystem, often bringing new outlooks, skills, and discourse to our community during their time with us. Tashkeel is proud to be home to a diversity of cultures through our membership, which reflects the 200 nationalities who call the UAE home. Over the years, many have grown with us, choosing to pursue further study, gain recognition through awards and competitions, establish their own studios, or embark on the next stage of their career with gallery representation.
A lot can change in 15 years and we are pleased to see that many of the practitioners who have been part of our journey have flourished.