The Recipe for Hyperrealistic Art
Special Guest Artist
The Recipe for Hyperrealistic Art
By
Ithraeyat Editorial Team
In South India, a very talented artist paints delicious dishes, serving a special fusion of food and art. Varuna Sridhar, a young hyperrealism artist, went viral on Twitter for her painting of filter coffee. With exquisite detail, the painting was depicted in such a real way that people speculated it to be a photograph. She shares her art and dreams with Ithraeyat.
Sridhar is the daughter of an artist. "I was raised with art all around me," she shares. "Picking up a paintbrush at two years old has given me more than 19 years of experience in the art industry. I have held over 13 exhibitions by the time I was 13 years old." With a head start on her art career, she received awards at a young age and was certified as the Youngest Certified Corel Designer in Asia Pacific Region when she was eight years old, and she still holds the title to this day.
"I started a new series a year ago of hyper realistic food paintings, mainly South Indian food." Even though she paints hyper realistic art, her growth to fame online for her filter coffee piece was surreal. It gathered more than 60,000 likes and generated buzz on major news outlets. "Since then, I have painted more hyper realistic food paintings like masala dosa with around 35 thousand likes!" She shares. "People always say they can't believe it's a painting!"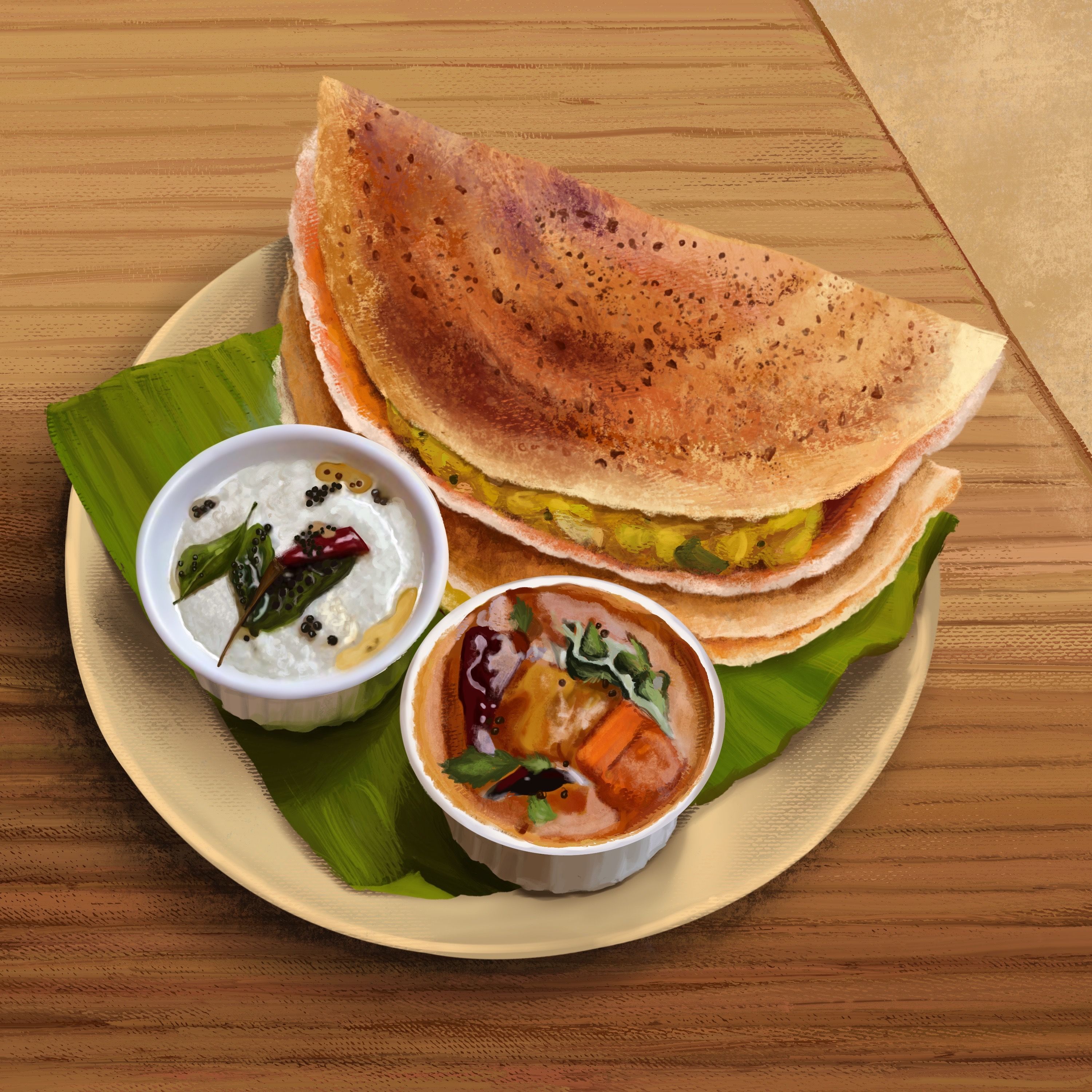 What is it about food that inspires you to paint and replicate in your art?
Food is an emotion. The items I pick to paint always invoke a sense of nostalgia in the viewer and when painted hyper-realistically they feel like they can almost smell the food through the painting!
Your painting of the filter coffee went viral. What about the painting speaks to you and that you hope people could feel or see?
I spent a long time on the painting to get the bubbles right to be realistic. My intention was for the audience to feel like they can catch the signature aroma of the filter coffee just by looking at my painting.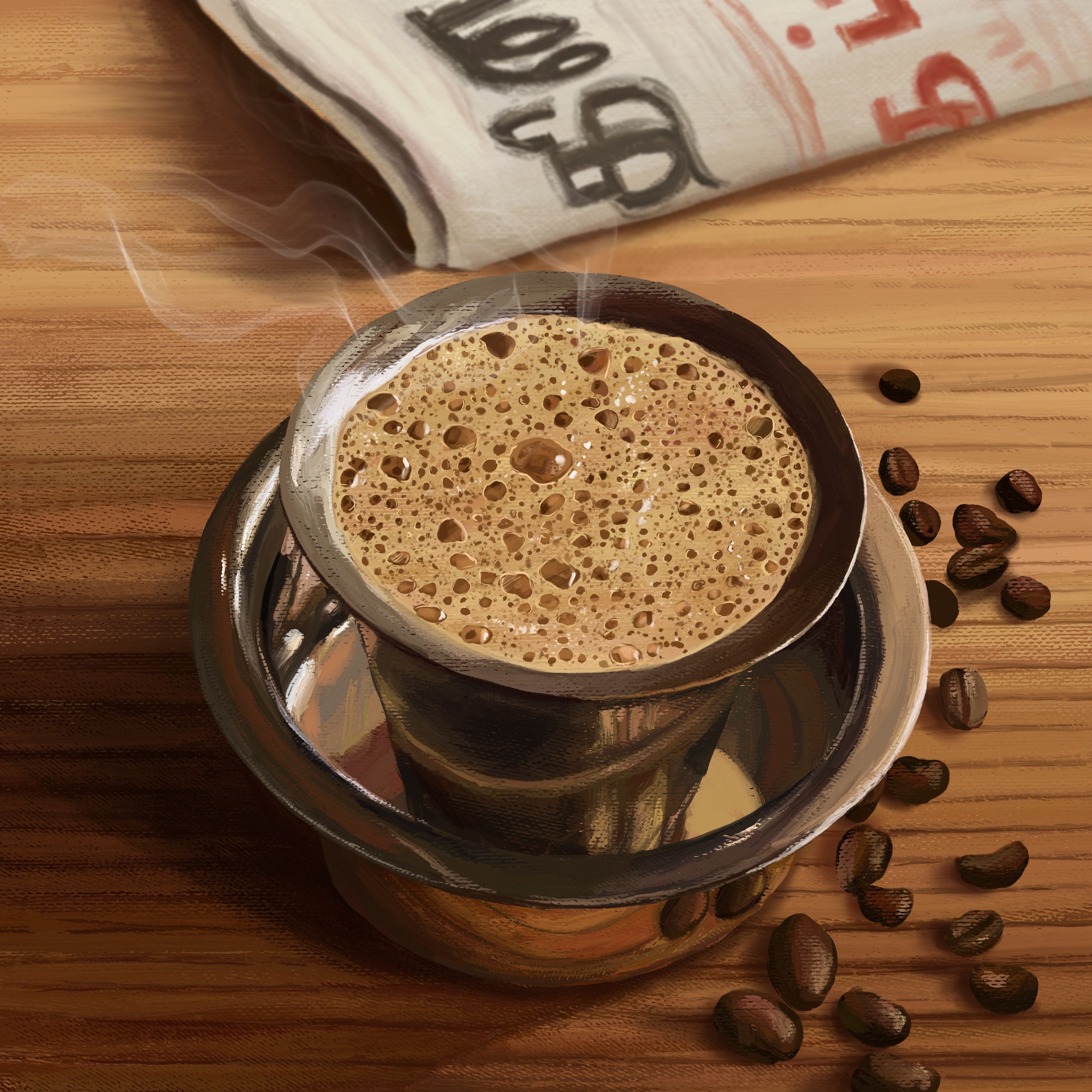 Please share your relationship with food. Have you had a healthy relationship with food, any special thoughts about food?
Yes, I have a healthy relationship with food. I love my home-cooked food more than anything!
What is the food you grew up on and the flavors from around the world that you enjoy most? Have you depicted this in your art?
My mom is Konkani and my Dad is Tamil, so I grew up on Konkani and Tamil food together. I also love Italian food, but I haven't started painting international food yet.
What connection do you feel is inspirational between food and art?
I think the connection of mixing things to create something beautiful. In food we mix ingredients and with art we mix paint.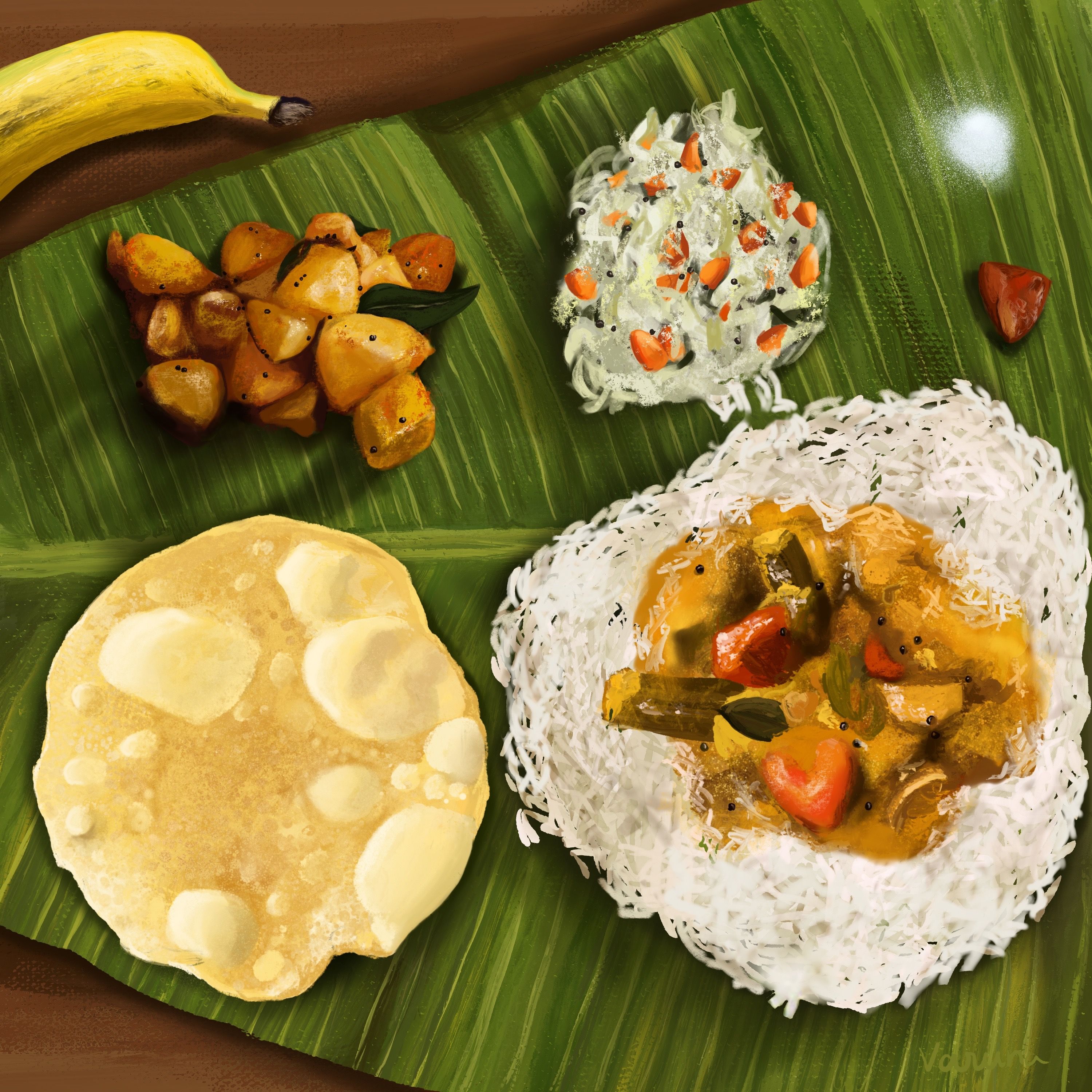 Do you enjoy cooking? What are your early memories of cooking?
I love cooking. I used to go for cooking workshops as a kid, I even learnt how to make pizza and pasta dough from scratch!
Do you feel cooking is an art form? What have you experienced whilst cooking or making a hot beverage that you capture in your food art?
Cooking is an art form. Cooking is not only pleasing to our eyes but also to the palate. The visual representation of cooking makes it artistic as well.
You stated in an interview with Indulge Express that you wish to go down in history as a legendary artist. Please share what drives you to keep this ambitious mindset in your artistic journey.
I have had this ambition since I was very young. Ever since they taught me who Picasso and van Gogh were, I also wanted to be written down in history for my contribution to art. The process of creating art and seeing the end result is what drives me; it makes me want to create more art every day.
You listed Picasso and van Gogh as inspirations, among others. What different skill, other than hyperrealism, do you wish to portray in your food art?
I want to dabble in realism and maybe try to incorporate mixed media as well. I want to try to make it 3D by using sculpture paste.
Can we expect to see an entire collection of food art from Varuna Sridhar?
Hopefully soon! I have it in my vision board.
Your hyperrealism food art serves a sense of hunger and beauty that fills us up. What about hyperrealism art draws you in and keeps you creating more?
The process of painting something so realistic and detailed to the point where the viewer says, "It looks like a photograph!" This compliment makes my day every time and pushes me to create more!