Letter from the editor
Travels
"Traveling—it leaves you speechless, then turns you into a storyteller."
Ibn Battuta, 14th century traveler from Morocco.

Why do we travel? To explore and meet new people, see new things, learn about other cultures and their histories, and simply to get away from the everyday and the mundane. We tell stories of our travels, the experiences and the food we ate, and share images and display the trinkets, like magnets, postcards, currencies and souvenirs collected from the trip. Often, it is the journey, not the destination that leaves the greatest impressions on us.

In this latest issue of Ithraeyat, we pay homage to Travels. On the cover is the inspiring art by renowned Saudi artist Maha Malluh of vintage suitcases and the stories they carry. Titled 'Journey of a lifetime,' the art creation is in honor of the
legendary Zainab Cobbold (born Lady Evelyn Murray; 1867–1963) a traveller and
an aristocrat, an Anglo-Scot who became the first British-born Muslim woman to perform the pilgrimage to Makkah. It inspires a discussion of the freedom of mobility set against the static nature of domestic life, a discussion at the center of women's lives, both in the past and today. The suitcases bear witness of everyday material life in the Arab world but also point towards distant origins and travels.

The artwork inspires a question: Does belonging or domestic rooting always mean to be attached to a single geographical location? Or can a sense of belonging be a mental space, a continuous movement; even an adventure into other cultures and religions? In the COVID-19 era, we realize how much we took travel for granted, and its many seamless forms, compared to past travels riddled with danger and unpredictable turns. But some things don't change. The stars are still here for us to turn to, to help us navigate whatever turbulent new chapters may come our way.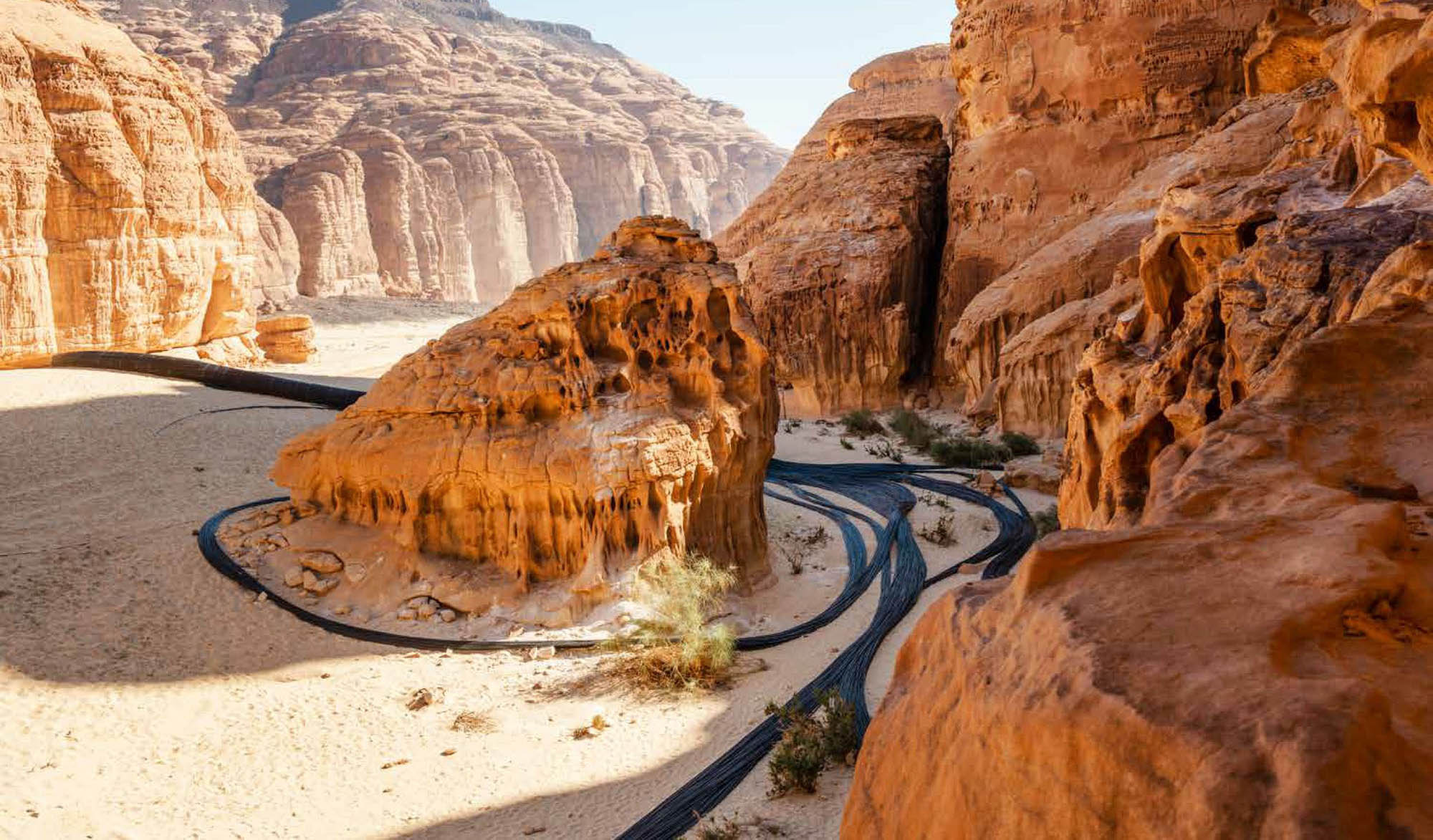 'The Lost Path,' Desert X Al-Ula, 2020 by Muhannad Shono. We are all in search of meaning in our lives, whether it be through maps we follow or journeys we undertake. In The Lost Path, Shono reminds us that the journey is always greater than the destination, and points us towards our own personal buried histories. Known for his unique unpredictable art, Shono revisits his site-specific commission in Al-Ula with a series of unique ink illustrations on 50 prints of a photograph he took over the region of Al Ula. In this art, he is using plastic pipes, a byproduct of the petroleum industry which he repurposes as one would ink on paper, effectively drawing on site – a sculptural sketch in the desert. The Lost Path is a call for discovery, a treasure map leading towards finding our personal path. Art courtesy of the artist and Athr Gallery, Jeddah.