Shakespeare of the Desert
'Theme Special' featured Saudi Artist.
Shakespeare of the Desert
Art pieces & poetry courtesy of Badr Bin Abdulmohsin Cultural Foundation.
An exclusive interview with Badr bin Abdulmohsin Al-Saud
Meet our 'theme-special' featured Saudi artist, HRH Prince Badr Bin Abdulmohsin Al-Saud, an iconic poet who is known for his mastery of words, and as captured in this issue, is also a dynamic master of the brush and colors.
Saudi artist and poet, HRH Prince Badr Bin Abdulmohsin Al-Saud
Art is everywhere... You can't stop art, it will find its way to express itself...
Said Prince Badr Bin Abdulmohsin Al-Saud Poet and artist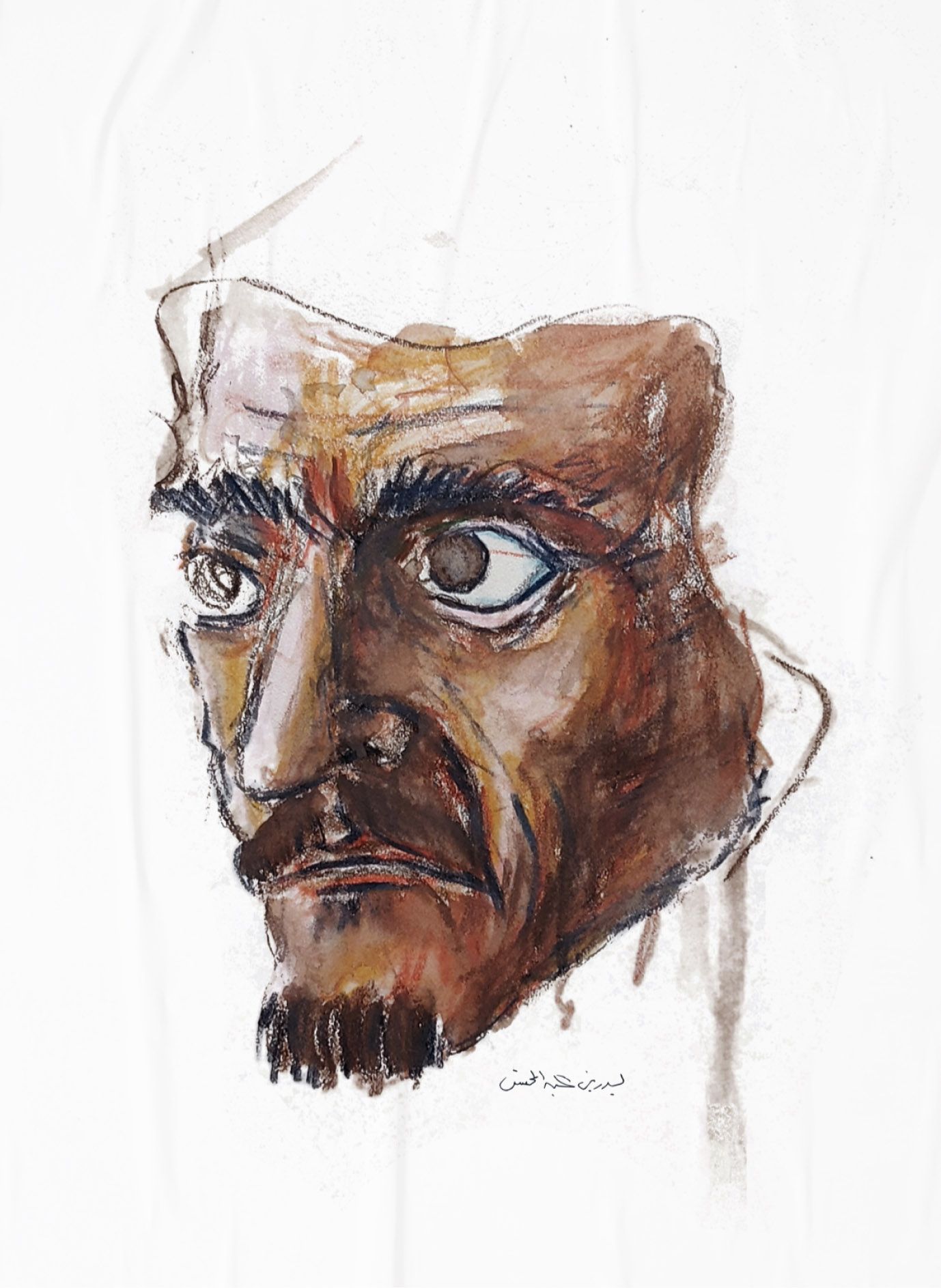 Art pieces & poetry courtesy of Badr Bin Abdulmohsin Cultural Foundation.
Famous for his words, words that touch the hearts of generations of poetry lovers, words known across the north, south, east and west of Saudi Arabia and beyond, words immortalized through poetic verses, songs and iconic sayings, Prince Badr Bin Abdulmohsin in many ways is the poet of the people. They turn to his words to capture their feelings, whether they are praising loved ones like a mother on Mother's Day, paying homage to a nation on National Day or simply wanting to get lost in the depth of his poetry and the timeless sentiments and memories they inspire. "I paint with my words," said Prince Badr in an exclusive interview with Ithraeyat's Editor in Chief Rym Tina Al-Ghazal at his home in Riyadh.
"But poetry is more than just a painting, it is more like a sculpture, multidimensional, where at different angles you see something else, something unique." Instead of classic Arabic, the Saudi prince uses Nabati, the local dialect, where his poetic creations capture various layers of heritage, romanticism, pride, culture and the spirit of a nation. His poems —and passionate songs using his words— feel close to the hearts and imagination of its listeners and readers. His words feel like home. Prince Badr's wealth of poetry spans decades, and his journey and words have inspired many other poets, artists and writers to create various art forms. In 2019, on the occasion of World Poetry Day, the UN Educational, Scientific and Cultural Organization (UNESCO) honored the prince for the artistic contributions he has made over the past 40 years.
Art pieces & poetry courtesy of Badr Bin Abdulmohsin Cultural Foundation.
Shakespeare of the Desert
"Every form of poetry is unique..."
But each reflects the universal of the human experience, the aspiration for creativity that crosses all boundaries and borders of time, as well as space in the constant affirmation of humanity as a single family. That's the power of poetry!" UNESCO Director General Audrey Azoulay said at the occasion. Each art form is a window into the uniqueness of a culture, its traditions, and its people. Besides his legacy as a modern poetry pioneer in the Arabian Peninsula, many of Prince Badr's admirers are unaware of his other creative side as a painter. Each of his paintings has its own style and story. "I like to always experiment," he said. "Like poetry, once you start a painting, it opens unexpected doors and horizons for you." From impressionism to the surreal, portraits, sketches, illustrations and landscapes— the different moods and thoughts of Prince Badr come alive in his art pieces. Recurring themes include painting various interpretations of his late father, an artistic figure in his own right. Prince Badr is the son of one of the Kingdom's leading poets and former Madinah governor, Prince Abdulmohsin bin Abdulaziz. Other themes include the desert, the glorious Arabian horse, traditional symbols and various abstract elements open to perceptions and analysis. "My art has different styles, so one cannot say, 'aha! this is Prince Badr's art.' But my poetry, while I have written in different ways, people can say, aha! yes, this is him, this is the distinct style of Prince Badr," he said.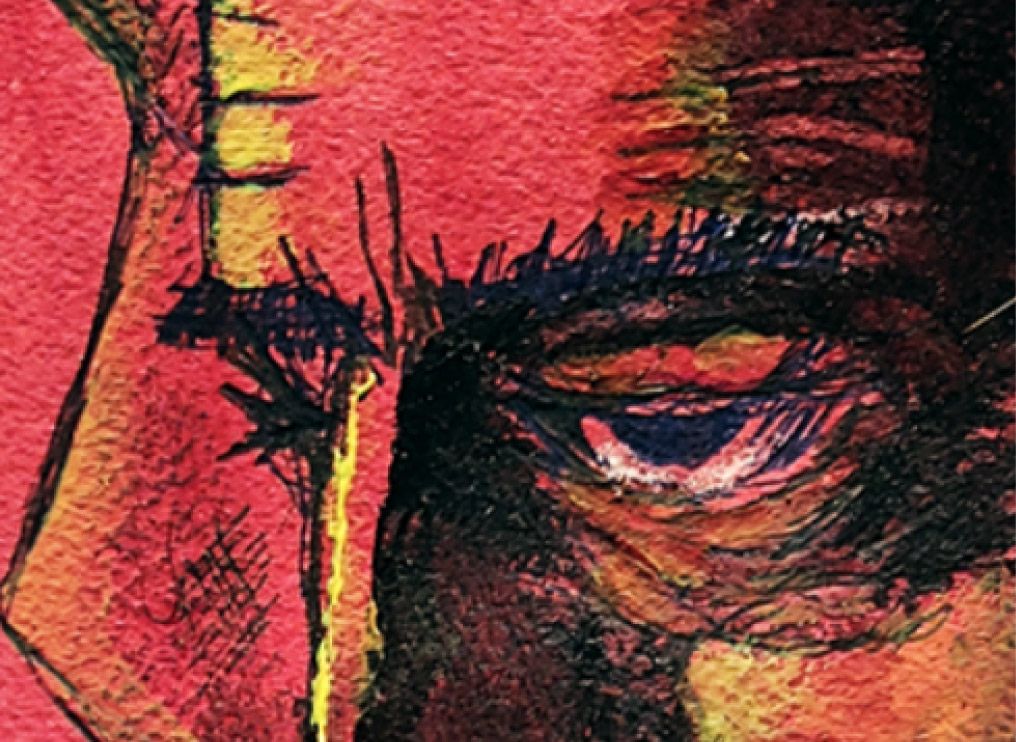 Art pieces & poetry courtesy of Badr Bin Abdulmohsin Cultural Foundation.
Born in 1949 in Riyadh, Prince Badr studied in Saudi Arabia and Egypt, as well as Britain and the US. He was the founding president of the Saudi Arabian Society forCulture and Arts, he curated and produced many important national ceremonies and songs, and has provided a leading supporting role across entities in the cultural fields, such as being on the board of the Saudi Music Commission. He is the Chairman of the Badr Bin Abdulmohsin Cultural Foundation, a foundation that produces and presents Saudi Arabian arts and cultural initiatives, while mentoring and supporting the development of the next wave of artists.

His Royal Highness has been around the world, but it is his beloved desert that holds a special place in his memory and heart. "I am from this land. My mother is the desert, who embraced me with her sands, who quenched my thirst with her purity, who fed me her fruits, and who covered me with her shade..."
Here are a few of Prince Badr's famous (translated) widely quoted lines. Known as 'The Shakespeare of the Desert' and 'The architect of the word' for his beautifully crafted prose, when the Prince Poet was asked about the desert, he answered poetically with these words: "The desert is like a woman, harsh and strict during winter, but gentle and kind during the fall and spring. Moods of the desert is like that of a woman, deep and powerful."

On the cover of this issue of Ithraeyat, themed Desert, is Prince Badr's piece, that captures the various moods and colors inside the desert, contradicting the stereotypical image of a desert being a barren landscape. "In the midst of it, is a typical person, someone who would have been an ancestor, who would be taking a rest (Qaylula), with his stick nearby. It was safe, it was simple. This painting captures the vibrant life in a desert, from its rocks to its plants to its various sand colors, and the stories it must have been a witness to over the decades, over the centuries," said Prince Badr as he overlooked his painting.
"I am from this land. My mother is the desert, who embraced me with her sands, who quenched my thirst with her purity, who fed me her fruits, and who covered me with her shade..."
"The desert is full of life."
He smiled as he paused, reflecting over his own fond memories of time spent in the desert. "The desert's complex story can be captured through its palm trees and its camels. The nomads that traveled across its terrain were more "wataniyoun" (nationalistic) and tied to their homeland more than anyone else. They knew their homeland so well, every rock and tree. They were attached to the land." When asked about the earlier, difficult days of COVID-19, with lockdowns and curfews, when people found themselves isolated, Prince Badr said he found it difficult to create. "I thought, finally, I have all the time to write and paint, to focus without interruptions, but I just couldn't. I lost that connection, and art needs connection. It needs its public and audience. It needs to be debated, discussed and created," he said. For every completed piece of art and poetry, there are many unfinished pieces. His Royal Highness has a special affinity for the "unfinished," where he calls on the creatives to keep their unfinished works, as the "open-ended" pieces can inspire so many endings and possibilities. "Sometimes you don't want something to end, because the subject is more beautiful than the conclusion," he said. As for the many completed works, Prince Badr shares how he approaches them.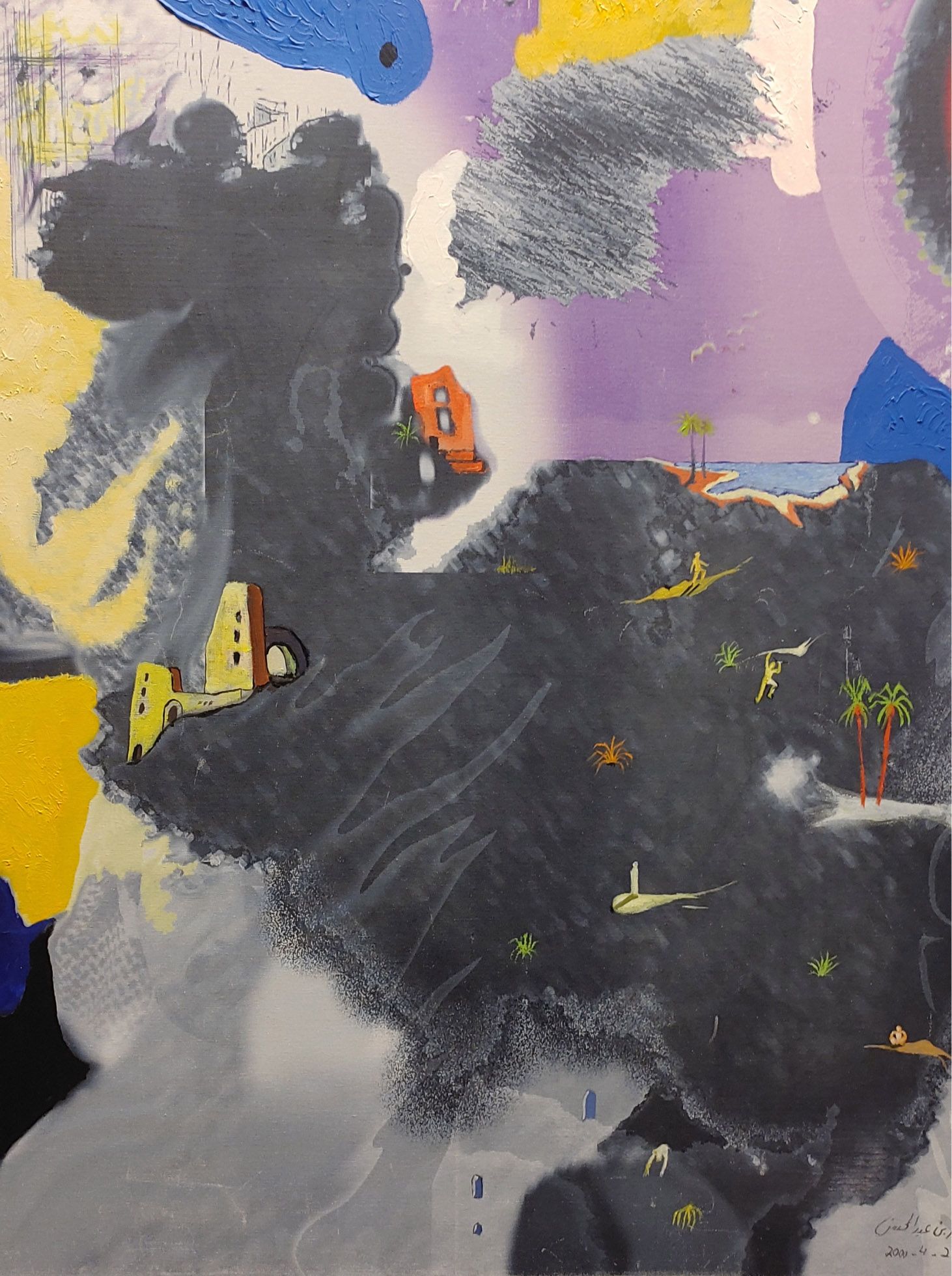 Art pieces & poetry courtesy of Badr Bin Abdulmohsin Cultural Foundation.
Art pieces & poetry courtesy of Badr Bin Abdulmohsin Cultural Foundation.
"I must see and imagine the end result when I write and paint,"
"I must see and imagine the end result when I write and paint," he said. "If I don't see the end first, then often it ends up being an unfinished piece. I believe this is the case for many artists, that they need to see the final destination." Prince Badr then reflects over the decades, and picks out threads that are meaningful to him along this personal memory lane, which in some ways are reflective of the changes to his home and country.
1960s
"It was a simple life. Your worries were just your own and your next door neighbor's. Now, our worries include international worries and countries beyond our own borders. People then would rent film projectors, and would have their own personal cinema at home and watch the Egyptian movies that were popular at the time," he said.

"Before, you traveled 10 kilometers and you were in the bosom of the desert. Now you have to drive over a 100 kilometers, if not more, to reach the heart of the desert. This is quite telling about how far away we have gone from what defines us, and our core."
1970s
"Here the year 1973 comes to mind. A historic event of October was the war between the Arabs and Israelis. In many ways it changed our Arab world," he said. "I had traveled and returned to Saudi Arabia and had my big break with a song written for the Saudi singer Mohammed Abdu, called 'La Trudi Al Rasel' (you don't answer my 12 Art pieces & poetry courtesy of Badr Bin Abdulmohsin Cultural Foundation. letters)," he said. "The 1970s and 1980s saw the slow growth of individual efforts. With fewer things being organized by the Ministry of Information, artists themselves took the initiative. You can't stop art. It finds its way to express itself. "
1980s & 1990s
"I was at my peak here. I hit stardom. I traveled and held poetic evenings across the region. Stardom is a dangerous stage in any celebrity's life. You lose your place as an artist, as a poet, and you have to be that performer.

I am not a circus performer but they treat you like that. They would say things like, 'sit like this, wear this, write us this or that.' It is a very delicate balance, you have to strive to not to be carried away with your own fame," he said. "Do not lose yourself and what makes you special. If you are a poet, be a poet, a sincere one. I realized quickly I didn't want to be derailed from my true purpose." Besides Mohammed Abdu, Prince Badr's musical journey includes many prominent Arab singers such as Talal Maddah, Abadi Al-Johar, Abdul Majeed Abdullah, Ahlam, Hussain Al- Jassmi and Kadim Al-Saher as well as composers, such as Siraj Omar, Mohamed Shafiq, Sami Ihsan, and Abd El-Rab Idris.
2000s
"The year 2000 was distinct, and I wanted something special for that, like perhaps winning the Nobel Prize in Literature.

It is important that the wealth of oral culture and poetry of the Arabian Peninsula be recognized internationally... My goal was a local one, to conquer the local space. And I believe I have achieved that. But that doesn't mean I should stop having high ambitions." With plans for his full collection of poetry to be published by the Ministry of Culture, and new pieces created for artists and special occasions, Prince Badr is constantly creating and dedicatedly working. As for the poet within us all, Prince Badr advises that for poetry to really excel, the piece created must "challenge" existing poetry. "If you love Zainab, don't use poetry written for a Salwa. Write unique, true words for Zainab, ones that are only for Zainab," he said. Another important point he mentions is avoiding artistic extremism, whether it is towards a poetry school or a certain type of art. "I, personally, reject all types of extremism," he said. "Don't just copy and repeat.

You should surpass your ideal, which is the only way to form your own identity and leave a legacy... always challenge yourself"
Art pieces & poetry courtesy of Badr Bin Abdulmohsin Cultural Foundation.
Here is a clip from the interview: