Guest Artist
Women of the Desert
"Art is Life…"
In a busy gallery, Fatimah Al-Nemer stands amongst her works representing the amazing women of Saudi Arabia, specifically of Najd. The Saudi artist is going around describing the artworks to those around her and greeting her fellow artists and guests. Admirers and art enthusiasts alike are milling around the space and fluttering from one piece to another. However, the experience does not start in the showroom, it starts with the climb up the stairs.

On a plain white wall, Fatimah's name and the title "Najdi Features'' (Malameh Najdieh) greet the visitor who is then transported into another universe. Naila Gallery stands as a veritable tribute to the women who have earned their place in history.
Whether they are actually from our history books or from a more contemporary time, these women have changed the way women are viewed in Saudi Arabia. The power of these great women recreated in art form is present in the room and you feel them looking upon the viewer and encouraging them, including the artist. Fatimah defines herself as an artist from Qatif who has created a new way of using different materials and acids. The creative way she presents her work is through material processing and transforming silk into a carpet.
She uses mixed media to create, including acrylics, chemicals, wood, collage, and others that will be documented in full in a book currently under development. Also, she is not inspired by any singular artist, but rather by her own experiences artistically or spiritually. She uses art as a conduit of her experiences to create a story and a message, and to embody a thesis to explore and give truth to her declaration: "art is life."
Fatimah's work isn't just an expression of her inspirations.
Her soul is lit up by stories of women throughout time and has always been curious about the women who surrounded her and made Saudi what it is today. Her art is a way to document the lives of these women and hopes her pieces will endure, keeping their stories alive. She connects her research and deep understanding of the figures, including the environment and the historical context the women existed in, and wants to ensure that their lives and their souls have become tangible.

Furthermore, she explores the concept of these women through her own image and her own understanding of representing herself in the narrative as well as the women of Saudi and the environment they exist within. Fatimah's journey for her Qatif collection began by exploring the women in her hometown and trying to understand them better.
She sat with them and explored their stories for three years. She included her loved ones, like her grandmother and her teacher as part of the series to show the importance of those around each person and the memories they preserve within themselves. She gave them life within herself and her imagination until they were transferred onto the canvas. She felt a connection with the women she drew and tried to imbue their aura into the work and let it travel through to her audience. Her first collection, which was showcased internationally, touched many people's hearts.
On the other hand, Fatima's latest collection was born out of love and awe, inspired by the stories from the book Prominent Women from Central Arabia by Dalal Alharbi, unlike her Qatif collection which was born out of familiarity. She chose women from Najd whose stories lit the flame of creativity in her soul. She used multiple resources to ensure the authenticity of the work including experts like Laila Bassam and books or studies like Norah bint Abdulrahman bin Faisal Al Saud by Dalal Alharbi. She also lived the dream of their existence and then eternalized them.
She embodied different symbolism into her pieces including the compass and the desert, as well as shackles, carpets, doors and more, all the different pieces that make these women who they are and what they mean to history. Even the colors are representations of the desert,
the love and the warmth that exists within their surroundings, producing an aura and an effect on the audience. They encompass their kindness, goodness and strength that exceeds that of men to the extent that the men would prove their worth by referencing themselves as their brothers.
Exploring the idea of the desert further in the artworks,
according to the artist, it is the warmth, the gold, the source of kindness, the light, the depth of which Najd is represented. The desert is the source of culture, beauty, strength and development within these lands. In this instance, in Naila Gallery, Fatimah even created an experience when entering the space. The visitor is greeted with light energy and she hopes the presence of the pieces will inspire people into exploring who these women were and their importance to Saudi history. She hopes the stories will highlight these amazing women and that visitors can dream of becoming eternalized in the same way. Nora bint Abdulrahman Al Saud, Modi 'AlAnoud 2020 by Fatimah Al-Nemer. From the Najdi Features (Malameh Najdieh) collection.
Albassam and Dr. Fawzia Abo Khaled have multiple pieces dedicated to them. Starting with Nora, she is the bright light and the warrior that stood beside her brother, King Abdulaziz bin Abdulrahman.
He honored her and himself by referring to himself as Nora's brother
And even the kings that succeeded him honored her memory with a university named after her. Fatimah created multiple pieces about her: Noor, Albosalah, Alabaah, and Nora. The first and most impactful piece is Nora which is made of 49 square pieces of different materials, including wood, silk, acrylic, and others. When combined like a mosaic, the pieces show the beauty that is Princess Nora bint Abdulrahman, produced with elements of the desert and Najd. The greatest detail is that her abaya has "Akhoo Nora" (Nora's Brother) repeated on it.
Multiple pieces dedicated to her: Modi, Ama Modi, Alritab, and Aliz.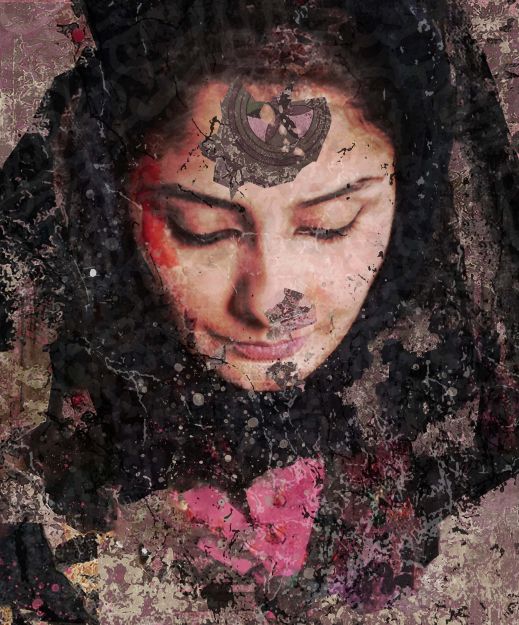 According to the artist, King Abdulaziz has said
That if you have a daughter, name her Modi because of her generosity, dignity, kindness and goodness. She was a Qassimi woman who had a date farm where she would collect the dates and give them to those in need, especially in the years of scarcity. Fatima created her with her eyes covered to symbolize how she would give without seeing, keeping her right hand open to giving and hiding her left hand. Modi is even shoeless to represent her humility. She was so kind that she turned one of her farms into a graveyard during the years of cholera, going as far as to shroud the dead. The stylistic design of the doors is representative of the Anezi style and her colorful gowns are signs of abundance that she would share with those around her. The only contemporary person within the pieces is Dr. Fawzia. She is a woman who consistently affects the artist in her writings beyond just her story. Fatimah, who calls Dr. Fawzia her spiritual inspiration, used her art to honor her and even held an event in Dr. Fawzia's honor and presented her with a gift.
There are many pieces that do not just relate to her as a person, but to her writings as well. She has the highest number of artworks, six in total, but the ones most representative of her are Alsail and Kalam Alsalam. The pieces are very noticeable because of the use of white as the primary color, unlike the other artworks in the space. Fatimah even gives these pieces a halo made of light, reinforcing the visitor's attention and experience of Dr. Fawzia. She fought for women her entire life and was handcuffed, but continued to write to free herself, especially in her 80s. Her story is present in the two main paintings, such as the painting with her interlocked hands and the cloud on her eyes.
The other artworks related to Dr. Fawzia represent her poetry and use some elements like the apple and the dove to indicate the source of each piece, showing clearly how dearly Fatimah holds Dr. Fawzia and her works to her heart. Of course, Fatimah Al Nemer has recreated many more women, from Hessa Alsudairi, the King's mother, to people who aren't as well-known like Hasna, who would sew clothes for those in need. All these women have played a role in ensuring the continuity of the nation and its people. Fatimah's work transcends our understanding of these women and immortalizes them and their stories within her art.