Special Feature
Culture & Gold
'Layla falls asleep,' by Sarah Al-Abdali. 2019. Gouache, charcoal, and gold on paper 63 x 27.5". Courtesy of the artist.
Preserving Hijazi culture with gold, an interview with Sarah Al-Abdali
I think my art is my language that I created over the years, and I'm still shaping, and as I mature, I'm making the vocabularies that would form this language that I call art.
Artist Sarah Al-Abdali is a Saudi contemporary artist. Her art revolves around things she loves and admires: her Islamic heritage and Hijazi culture, her appreciation of Jeddah and Makkah vernacular architecture, and her obsession with women's stories from Islamic history. Al-Abdali's work is a nostalgic trip to the past, where she attempts to retell historical stories, buildings, and influential female personalities through her artistic creation.
She began her journey in her early twenties, when she was frustrated by seeing historical architectural buildings demolished in favor of modernization. Witnessing the erasure of these landscape memories and the historical significance these buildings symbolize, and the communities rooted in these places, catalyzed her to draw graffiti all around Jeddah to draw people's attention to this urban problem. She is considered one of Saudi's first graffiti artists.
Artist bio
Sarah Al-Abdali was born in Jeddah, Saudi Arabia, in 1989. Her love of her land, culture, and unique architectural landscape are recurring themes in her work. She explores Arab culture and Islamic philosophy in her work through various mediums, including illustration, painting, ceramics, wood work, drawing and painting. Al-Abdali gained her master's degree from The Prince's Foundation School of Traditional Arts in London, which offered her the opportunity to explore and experiment with various materials and art forms. She also participated in international art festivals such as RHIZOMA in the 55th Venice Biennale (2013) and #COMETOGETHER by Edge of Arabia East London (2012).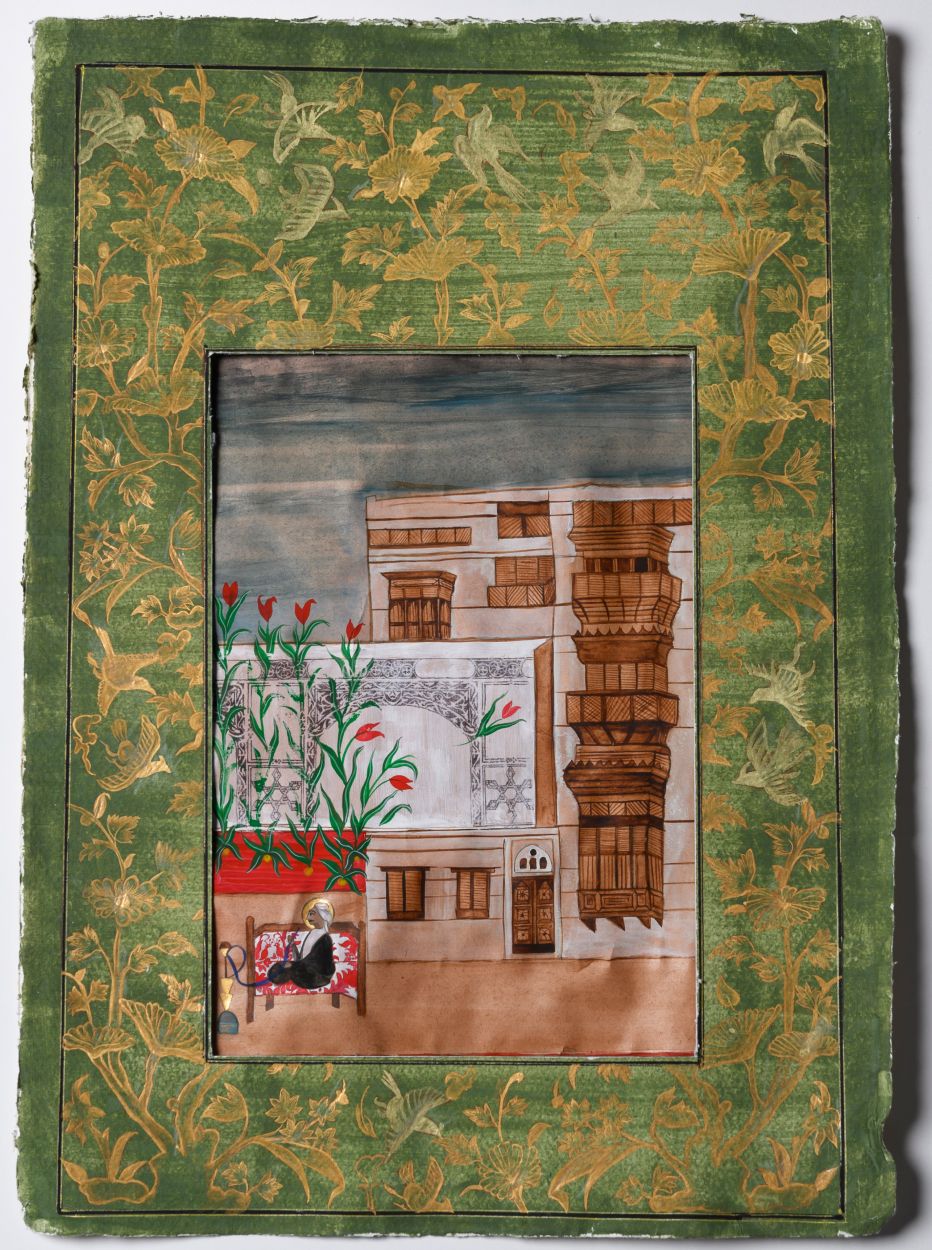 'Sukoon,' by Sarah Al-Abdali. 2018. Natural pigment, gold and gouache on paper 11.7 x 16.5 inches. Courtesy of the artist.
Q1: When did you start your journey as an artist, and why?

I have been into art ever since I could remember. Since I was a little girl, I have always been into drawing, painting and photography. I hadn't really joined the art scene until I started doing graffiti, and that was the only work that I did at that time. I was frustrated. I just graduated from college and I wanted to express how I felt about my identity and the changing urban landscape in Makkah. So I sprayed art in different places in the old town in Jeddah. To my surprise, it caught so much attention locally and globally, and this is how I started my journey.
Q2: When were you first inspired to use gold material in your art? What is the story behind this?

I started using gold when I enrolled in my master's program. I took a course in art techniques and Islamic art, and a huge part of what we were taught was illumination. I wanted to learn how to do traditional techniques that you can find in old manuscripts, and these were mainly done using real gold. This was the first time I was introduced to the many various techniques for applying gold to paper. I use actual gold, which varies from 12K to 24K. I was fascinated that every grade has a different shade, so the higher you go, the darker it would be.
Q3: How did you develop your artistic style?

After I finished my master's program, it got me introduced to many different crafts practiced in the Islamic world, and it gave me a better understanding of Hijazi traditional art. My style developed along the way as I went back from London to Jeddah and tried to find a language that would bring so many questions and concerns in my head onto paper. It would be what many people call contemporary Islamic art, but I think it is still evolving. It might take other shapes.
Q4: How was the public's reaction to your artwork?

I have had different phases, so the first artwork that I created, which was graffiti, was a complete set of reactions to everything I did after because that one was a bit controversial. I was glad that it sparked some controversy, and people were discussing the topic that it was about, which was the urban transformation in Makkah. Then there was my solo exhibition back in 2019. It was a very interesting reaction because the show was about highlighting Hijazi women and Hijazi untold stories and histories. So many people were surprised by the stories I depicted in the painting and the female character that I tried to spotlight.
Q5: Is it hard to find or collect materials find inspiration for your artwork?

Is it hard to find inspiration? No, never. I think there is always something inspiring along the art process. It's just about finding the right time and moment to do the art. For the materials, it is challenging to get some materials, so for my paintings in the past, I used to use handmade paper that I would get special from Turkey, and I have used gold leaves or gold shells in painting, which was hard to get. Adding to the brushes and the paint, I try to use old techniques in my paintings to include all the tools that I use; I try to keep everything handmade.
Q6: How was your experience using gold in your artistic production?

It is a very inspiring process, getting to see there are many ways to apply the gold. But I think the thing that inspired me the most is, if you want to apply a gold leaf onto a sheet of paper, then there are so many different mediums that you can use to stick them together. A huge part of it is breathing onto the paper after applying the glue so the gold would stick. I thought that was something really magical the first time I did it. It was like breathing into an artwork and giving it part of your soul. So, I think that's what got me hooked on using gold, and I have always wanted more, and it feels like it's probably the highest in terms of materials you can deal with.
Q7: Tell us about what inspires you the most in your practice?

I'm inspired by basically just being an artist and meeting the people that I encounter, having a very curious mind, trying to find a bridge between the past histories and the present to understand what is yet to come. I think just maturing into life really inspires me into reflecting all the changes that I encounter into art.
Q8: What themes do you explore in your art?

I explore identity, mainly my own identity as a woman, as a Muslim woman who comes from a strong Hijazi heritage. I'm very interested in Hijaz as a land and as a history. My family comes from Makkah, my maternal grandmother is from Medina, and my paternal grandmother is from Taif, so I feel like I have a bit of those cities in my identity. So I try to depict all the parts of my identity in my work, and I try to do that with an interesting take on history.

A huge part of my work focuses on Hijazi women and about how women in Islamic history are neglected when it comes to defining their roles in society and how they influenced science and religion. They had a massive role that many people don't know about or ignore, so I try to highlight women that I read about. I also explore criticizing modern urbanization and contrasting it with traditional landscape and cities, and how much you would lose just by changing our architecture and the ways we live and how that influences us as individuals and communities.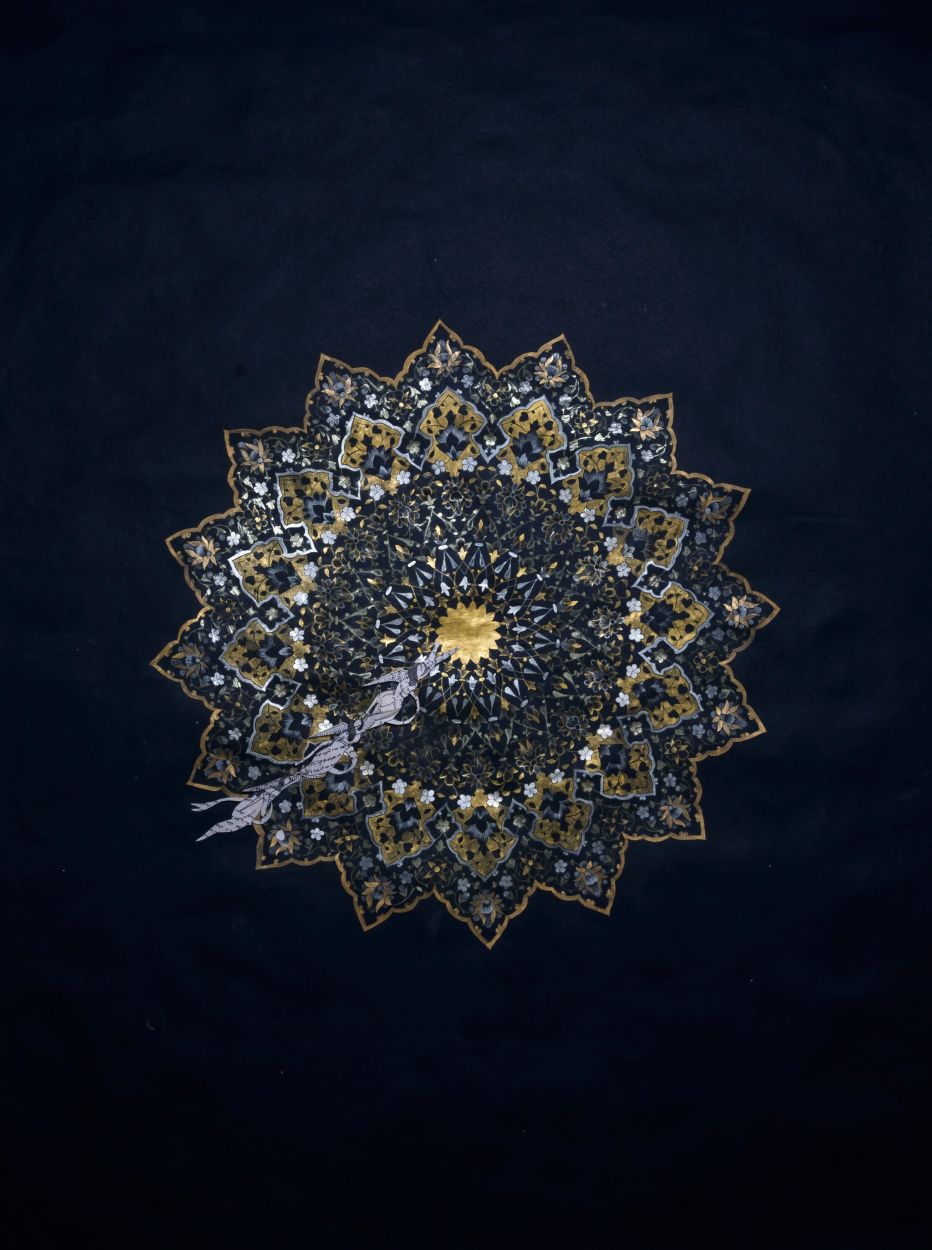 'Inhale,' by Sarah Al-Abdali. 2018. 12,18 and 24 karat gold on paper, 23.4 x 33.1 inches. Courtesy of the artist.
Q9: What does your art mean to you?

I think that that's a very broad question. I think my art is my language that I created over the years, and I'm still shaping it. And as I mature, I'm making the vocabularies that would form this language that I call art. How I communicate myself as an individual to the world, I think that it sets me free as a person. Because then I would not feel that my thoughts and my ideas and my experiences in life are trapped into one life, but when it becomes art, it becomes everyone's.
Q10: Who are/what are your sources of influence and inspiration?

I find inspiration in everyone around me, whether it be a positive inspiration or something negative that happened to me that would fuel me into making art. One of the most inspiring people that I encountered in my life is my late father. He was a poet and a historian, and I gained my love for history and Arab culture from him.
Q11: What artists do you admire as role models, and why?

I don't think I have role models in the arts. I usually find it interesting to look into people's art and even classical artists. I mainly find my inspiration from things that don't relate to what I do, so I find my inspiration in architecture and old Islamic cities, old stories, and old history books. I also found my inspiration in some music, and I can't think I can limit that to one person specifically, but I think it's a massive collection of many things that inspired me to be the artist I am today.
Q12: What motto do you live by?

I think I would have a different motto in every phase of my life. My motto now would be "just be present" because when you are doing that, and you're not obsessing over the past or the future, you become a stronger person.

Sarah Al-Abdali is an artist with a mission. Her love for her culture, which she witnessed decaying, led her to claim it by safeguarding it against decades of rapid ideological and urban shifts. Her appreciation for the land, architecture, and heritage of her home is strongly present in her artwork.