A precious souvenir from Makkah
Bridges: Cross-Cultural Conversations
A precious souvenir from Makkah
Depiction of the Masjid Al-Haram (Holy Sanctuary) at Makkah, Saudi Arabia, probably Makkah/Hijaz. Dates to the late 18th century. Paper, watercolor and ink 61.5 x 85.0 cm. Accession Number: AKM529.
'Like a pulsing magnet at the center…'

This fantastic work on paper, of considerable size, shows a bird's eye view of the Masjid Al-Haram with the Ka'ba in the center. Paintings like this one were made for pilgrims to Makkah, who carried them home and kept them as revered keepsakes imbued with blessings from the holy site. As religious souvenirs, they were either displayed on the wall or carefully stored away for safety.
At the heart of the image, the Ka'ba appears with a semi-circle to the right, indicating the low hatim wall, with the hijr (stone of) Isma'il, where Abraham built a shelter for his wife Hajar and their son Isma'il. The pink surrounding enclosure represents a high circle of metal with suspended lamps. Between this and the outer closed circle lies the mataf, a space for worshippers to walk around the Ka'ba. This area also shows the maqams or pavilions of the four legal schools of Sunni Islam —
Hanafi (right), Malaki (above), Hanbali and Shafi'i (both lower left).
The maqam shafi'i is shown as on the upper level of a two-story building, above the Zamzam well, indicated here as a simple circle. Next to it are the maqam Ibrahim, and below it, an old arched gate known as bab al-salam. Further to the right, the minbar (pulpit) of the Ottoman Sultan Süleyman appears. The latter is marked with a tall conical top, echoing the Ottoman style of minarets and minbars. Outside the circular enclosure lie the two domed buildings Qubbatayin, the storage houses for carpets, drinking water, olive oil, and other supplies. Entrance gates to the holy sanctuary are named and marked by staircases.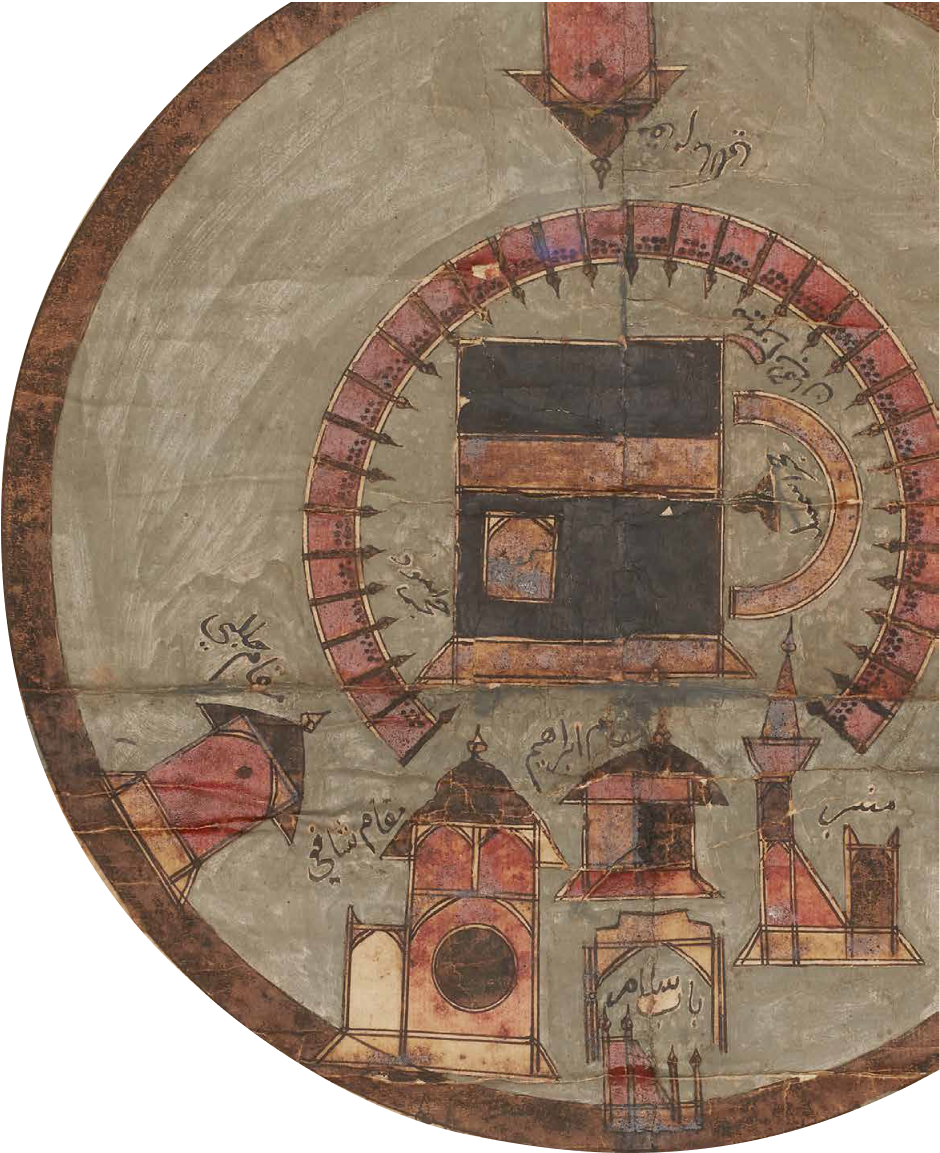 At the bottom of the composition the mas'a road appears, where following the visit of the holy enclosure, pilgrims have to walk and run, between Marwa—shown here as a domed building with stairs on the right— and Safa on the left,
depicted as triple arched buildings with stairs. Besides attesting worshippers' completion of Hajj to those around them, this precious piece beautifully captures how the Holy Ka'ba is like a pulsing magnet at the center— and heart—of the Muslim world.
Written by Special Guest Contributor Dr. Ulrike Al-Khamis, PhD, the Director of Collections and Public Programs at Aga Khan Museum. In each issue, we feature a special treasure from the Aga Khan Museum, one that tells a story, captures a moment and inspires conversation.