'Theme Special' featured Saudi Artist
Homage to a Nation
I try to include a bit of the soul of the place in each of my paintings
Abdullah Al-Shalty Saudi artist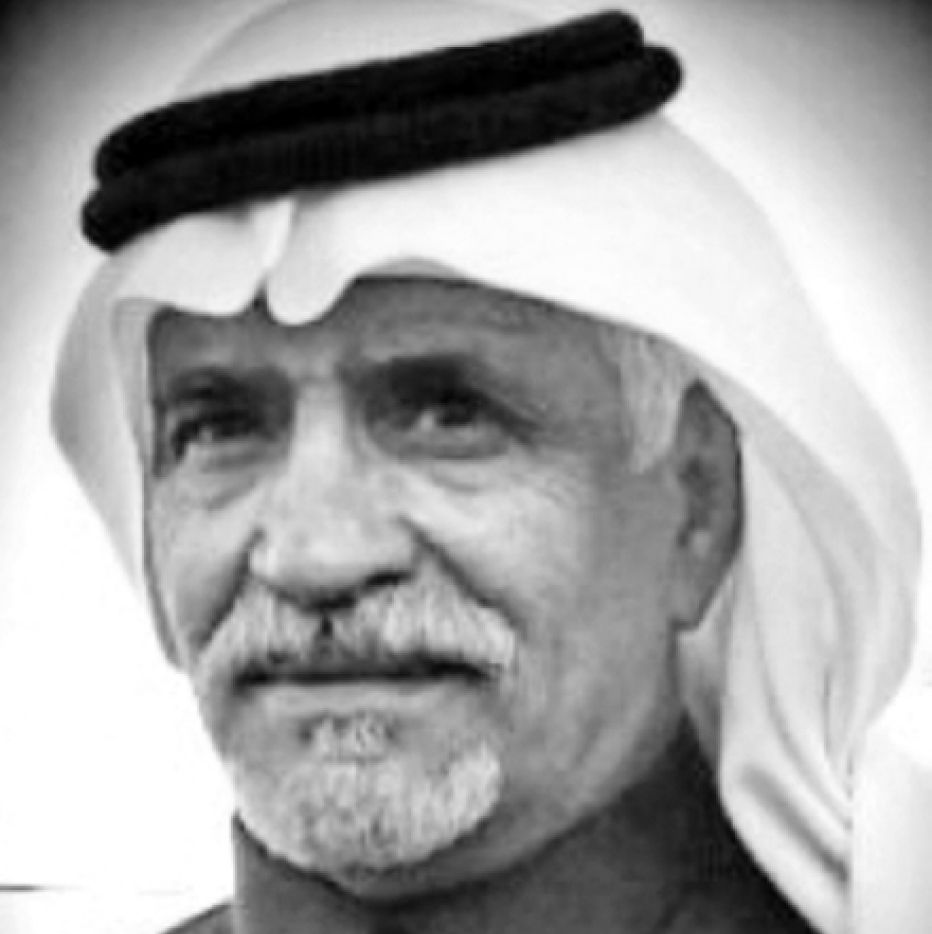 'Theme-special' featured Saudi artist, Abdullah Al-Shalty, whose unique style of art inspires as it pays homage to a nation and its people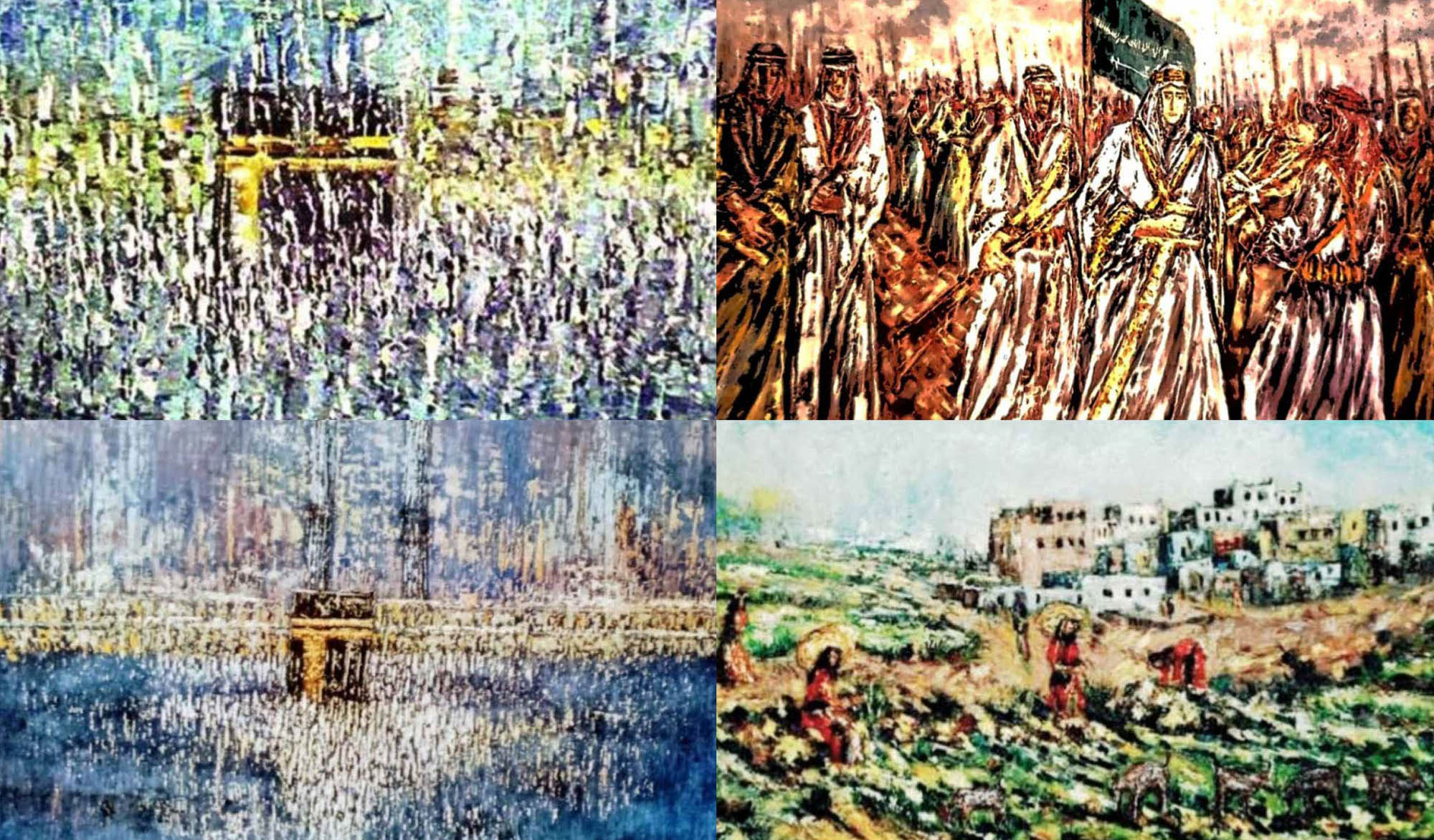 A collection of works that capture the spirit of a nation by renowned Saudi artist Abdullah Al-Shalty.
Abdullah Al-Shalty is truly an artist who connects the dots. In one of the masterpieces that commemorates Saudi National Day, Al-Shalty presents that unifying moment in a surreal way. In his painting, featured on the cover of this issue's Ithraeyat Magazine, the picture is revealed only if you stand from afar, and start to interact with its elements. The art allows us to relive a crucial moment in history. Saudi heroes riding their horses, united at the front lines, with the middle horseman proudly carrying the Saudi flag high.
The unique strokes and dots invit the viewers to see many things, while sending one message. "The painting represents power, unity, cohesion, pride and glory," said Al-Shalty. "It is the unification of the Kingdom under the banner of monotheism. The men on horses represent the strength, power, security and readiness to do good at all time. Holding our national flag with the Shahada words along it, reflect our deep faith."

"It's representation of the patriotic pirit, and it's a small gift to my beloved country…"
Connecting the dots
In each of Al-Shalty's magical art pieces reveal a story and a moment.

The artist has been enriching the Saudi art scene for 55 years, and has been applying his special technique, created over a decade ago, to create timeless art work.

"In my paintings I follow impressionism, while trying to create an indirect impact on my audience. I don't like clear images that reveal themselves and meaning immediately, so I utilize the tippling technique, brush strokes and knife strokes to create my images using intense dots with paint. If you look at it too closely, it may not mean anything, but when you look at it from afar you would see the color combinations and that each dot has a contribution to the overall artwork," Al-Shalty explained.
The artist also uses canvas and plywood materials, as well as oil colors, acrylic and some pastes.
Last year, Al-Shalty's artwork "Tawaf around the Kaabah" garnered the highest price in the first art auction in Saudi Arabia run by Christie's-over 650,000 riyals. This moment was a testament to his long art career, and a celebration of his painting style.
Recalling that moment last year, he explained how that piece was born.
"One day I was visiting Makkah, and I was staying far from the Masjid Al-Haram but I could still see the Kaaba. The people looked like thousands of dots, that scene really inspired me and I wanted to reflect that in my painting."

Al-Shalty enjoys creating memories and then revisiting them through his artwork.
"Everyone who visits the Holy Mosque is dazzled by the landmarks, and most of us forget about the thousands of people present there, circulating the Kaaba and performing their spiritual rituals… that painting celebrates the spirituality created by those people," he said. The dotting technique can be seen in many of his recent paintings and artwork, but won't be seen in his earlier work which used to follow the classical impression art school. In his early work, he reflected on canvas the life of his hometown, Abha, the breathtaking nature of the Asir region and people's tradition there.

Proudly, he recalls his first artwork, an art piece that is close to his heart— "Qarawiat" —which means women from the village in Arabic.
"I portrayed the village scene of women working in the field. It represents the simple life and the lives of many women close to me back then," he said.

His family and their spirit of a family has always been his inspiration. His wife Sharifa has been his muse and his biggest fan and, sometimes his toughest critic. "She has always been the critical eyes that judge my work before anyone sees it. She always tells me where to stop, and when to continue with any new artwork," he said proudly.

Al-Shalty's abstract art masterpieces have been seen in numerous competitions and art exhibitions locally and internationally and have won prizes. But what is important to him, is that what he wants people to see when looking at his artwork.
"To remember to look beyond the painting, step away and have a deep look. To try to have an interaction with the artwork in order to find its meaning and the inspiration within."
Special Guest Contributor
Sheikha Al-Dosary is a journalist and storyteller specialized in Saudi culture and founder of Saudi Women Stories. A storytelling platform for women in Saudi Arabia to tell their stories, show their diversity, and present their inspiring journeys to change and success.