The Art In, Around and Of Streets
Special Feature
The Art In, Around and Of Streets
Old Khobar street art photos taken by Nora Al-Taha.
People come and people go. People cross, pass and dash. Neighbors and strangers walk side by side, either the same way or onto different paths. Streets lead us to new adventures and connect us to each other. Streets are filled with dreamers. Every way you look, you can find a trail of hope lingering in corners and centers. Street performers sing, dance or act to entertain—some hoping to make it big one day and others perform to share their talent and joy. Street photographers capture candid moments, photos that we can treasure as a window to the present, and the past. Street art covers walls and buildings, displaying exceptional artistic talent that live on and thrive along these structures. Streets are a place to find the extraordinary among the mundane.
People set up their businesses on streets as kiosks, food trucks and stalls. Streets are also the foundation for strikes, marches and parades. Gatherings in streets brought about change and exposure to important issues. There are many forms of streets: Roads, avenues, boulevards, lanes, alleys, parkways. There is also cul-de-sac, promenade, highway, one-way, dead-end and so on.

Streets were once bare, dirt muddy roads. With the dawn of industrialization, each country dripped their own distinctive touch to street designs—transforming them to artistic, lively pavements. Cultural, vivid and welcoming, streetscapes offer architectural beauty.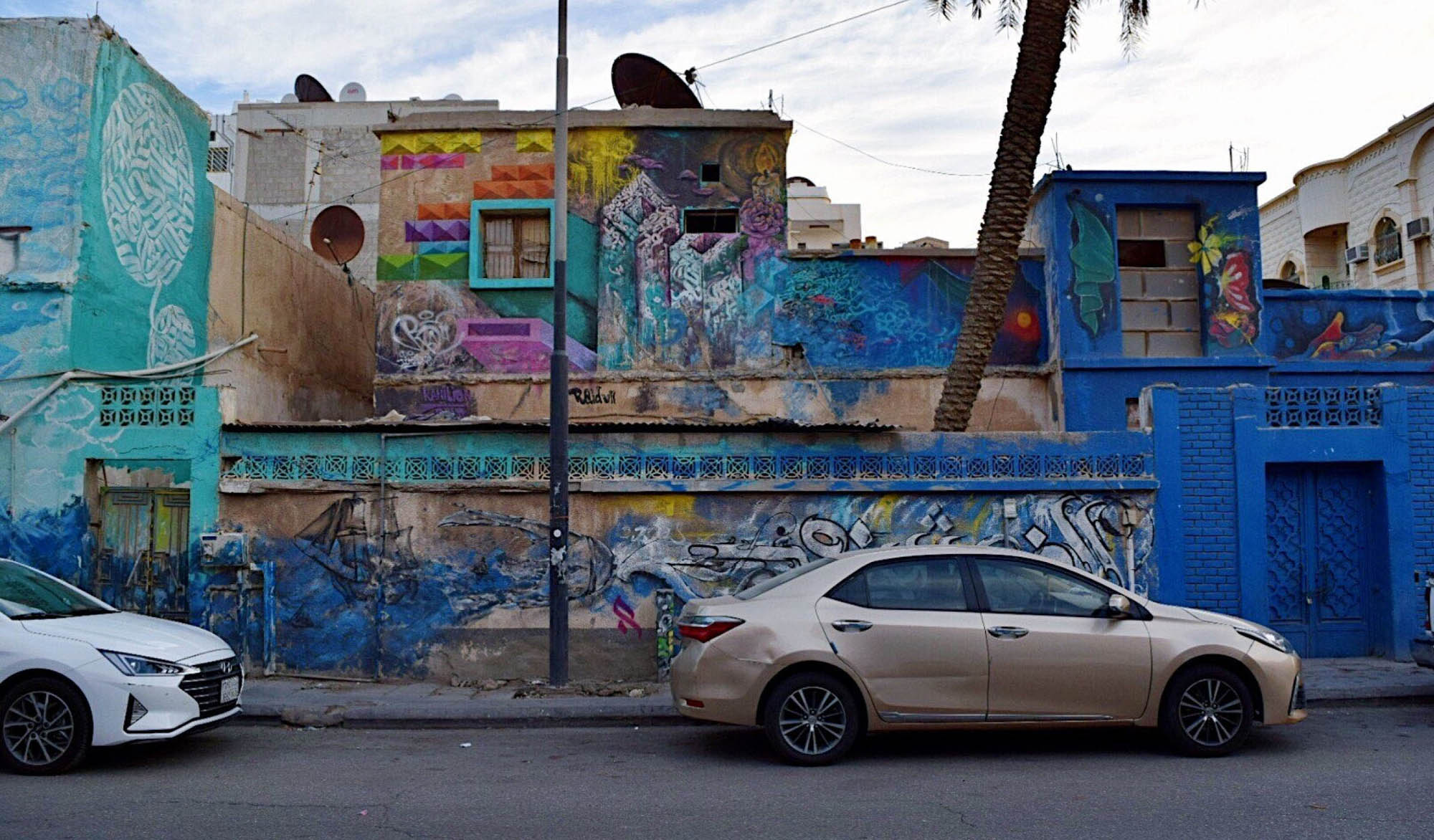 Old Khobar street art photos taken by Nora Al-Taha.
Here, the example of Paris's cobblestone streets and the Art Deco buildings stand against the city's romantic reputation. The Champs-Élysées is a hotspot for shoppers and theatergoers. Tourists bask in the glamorous architecture and exhibition venues, while locals live in its fairy-tale setting throughout their ordinary day-to-day routine. The Champs-Élysées leads to the Arc de Triomphe, a massive arch with inscribed names of those who fought and died in the French Revolution and Napoleonic Wars.
The Arc de Triomphe inspired New York City's Washington Square Arch, located in Washington Square Park in Greenwich Village. The Washington Square Arch was constructed in celebration of George Washington's centennial inauguration.

The Roman Triumphal Arch, the Arch of Titus, inspired the marble Roman design of the Washington Square Arch. The Arch of Titus, a first century Roman honorific arch, inspired both the Arc de Triomphe and Washington Square Arch.
The beauty of these three street monuments is not limited to their construction, but also to the connection between the three different cultures. Each monument was inspired by the other, and honors their own country's history—interweaving our world cultures together.

Gondola's park against Venice's sidewalks, the waterways flow against the wind. Rome's orange shaded buildings and alleyways shed a warm atmosphere for locals and tourists, as the sun shines on an enriched historical empire.

That indeed is the power of street art.
Europe's cities offer diverse cityscapes against Greece's whitewashed and blue palette, painting a paradise surrounded by a blue sea, engulfing the land in a tranquil scenery. Further East is Tokyo, where a futuristic beauty effervesces. Neon lights and technology brighten the spacious streets, as old roads twist through cherry blossom trees and meet ancient temples.

New York, dubbed "The City that Never Sleeps," bustles with skyscrapers and streets that have become iconic for the nearby buildings, monuments and famous filmed locations. New York is a fast-paced city with the famous Times Square, a city that
celebrates the comings and goings of the past, present and exciting future. In Latin America, pastel buildings color Cuba's streets and even more vibrantly colored vintage cars place Havana as an antique haven, making the capital a lively enigma that treasures their significant past.

The street cultures of the world have a unique beauty to them, allowing locals and travelers to awe in the different architectural streetscapes in each city—from the cobblestone sidewalks, to the wide or narrow cracked roads, and the glamorous sky-high buildings or humble towers that accompany them.
Old Khobar street art photos taken by Nora Al-Taha.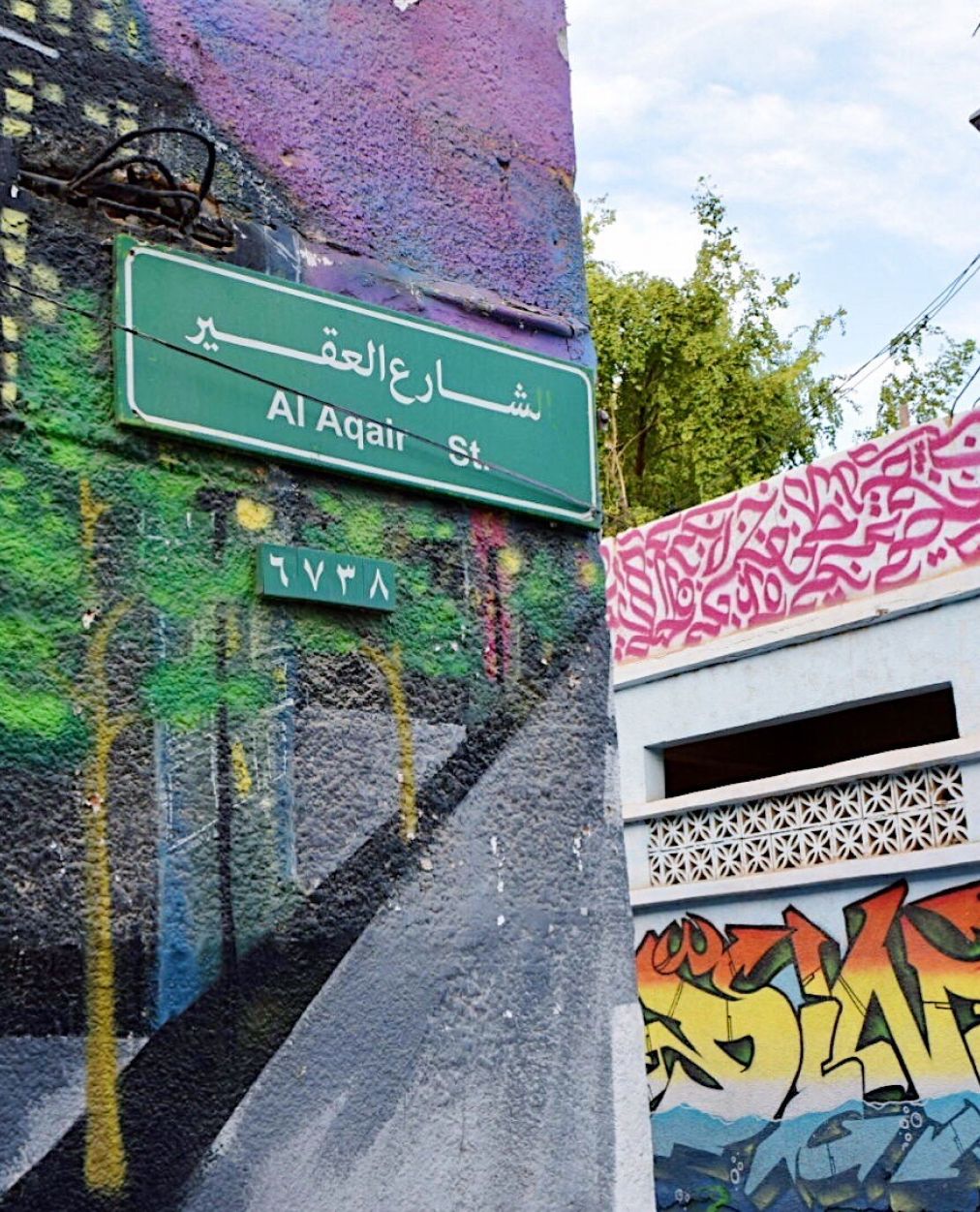 Old Khobar street art photos taken by Nora Al-Taha.
The Future on Al Aqair Street, Khobar
Heels, sneakers and slippers clack against the pavement. Morning people to night owls stroll along the sidewalks and cross the street to the other side. From the summer's heat to the winter winds, the streets have offered a canvas to centuries of civilizations, greeting the comings and goings of a many people. Natives, tourists, and immigrants had stepped, walked and trotted on the same concrete sidewalks and rushed across the bustling traffic. And across the vast many cities, villages and towns of Saudi Arabia, the unique characteristic of its streets is an endless study of evolution and heritage. What had always been a barren desert where Bedouins connected with the sandy lands is now an evolving dynamic country.
On the corner of Al Aqair Street, a burst of color revolutionizes the once-barren walls. As Saudi Arabia's first official graffiti project in 2018, the old Khobar neighborhood transformed into a series of spirited murals. The street is normal compared to other Khobar districts, with the neighborhood black cat dashing across cars and chasing whatever insect it finds. The juxtaposed look of the neighborhood captivates any passer-by: the modern graffiti art plasters old-fashioned AC's, while vibrant blues, yellows,
and greens paint the antique window stalls and expressive paintings cover the doors. The Al Aqair graffiti project effortlessly mixes what once was in Saudi Arabia to what will be—turning the blank antique canvas into a vivid youthful realm of creativity.

And this is just the beginning, with various street art projects taking place across the country's big cities, and as well in abandoned villages and even along warehouses. There is no limit to the art of streets.