It is perhaps one of those things we tend to take for granted. The roads we drive along, the everyday streets we cross and the alleys we roam and get lost in. Often, we don't even know the name of the street we always use, nor the story behind its name. In homage to the life and art of the street, from the public art to the sounds and the scents experienced there, we dedicate this issue to The Street and all it encompasses. We encourage you to pause and look around, and see the
hidden art along its walls, and the stories along its windows. Pause and appreciate those courageous flowers that defied the pavement and grew out of its cracks, those scribbles left behind by someone, or that majestic graffiti painted by a determined creative. 'So and so was here,' is often one of the most commonly carved statements, found in the past and in the present, as we all want to be remembered in one way or another.
On the cover of this issue
we observe on recycled pieces of wood —that are often found discarded in the streets— a man in traditional wear on his way, as we all are, on any given street, with a touch of calligraphy and heritage to localize the piece and link it to its Saudi home. Is he rushing? Where is he going? Who is he? This wonderful piece is part of a collection by Saudi street artist Zeinab Al-Mahoozi, titled 'Jadi wa Jadati' (M Grandfather and My Grandmother), where she pays tribute to the before and the now, bringing colorful new life to any street, be it new or old.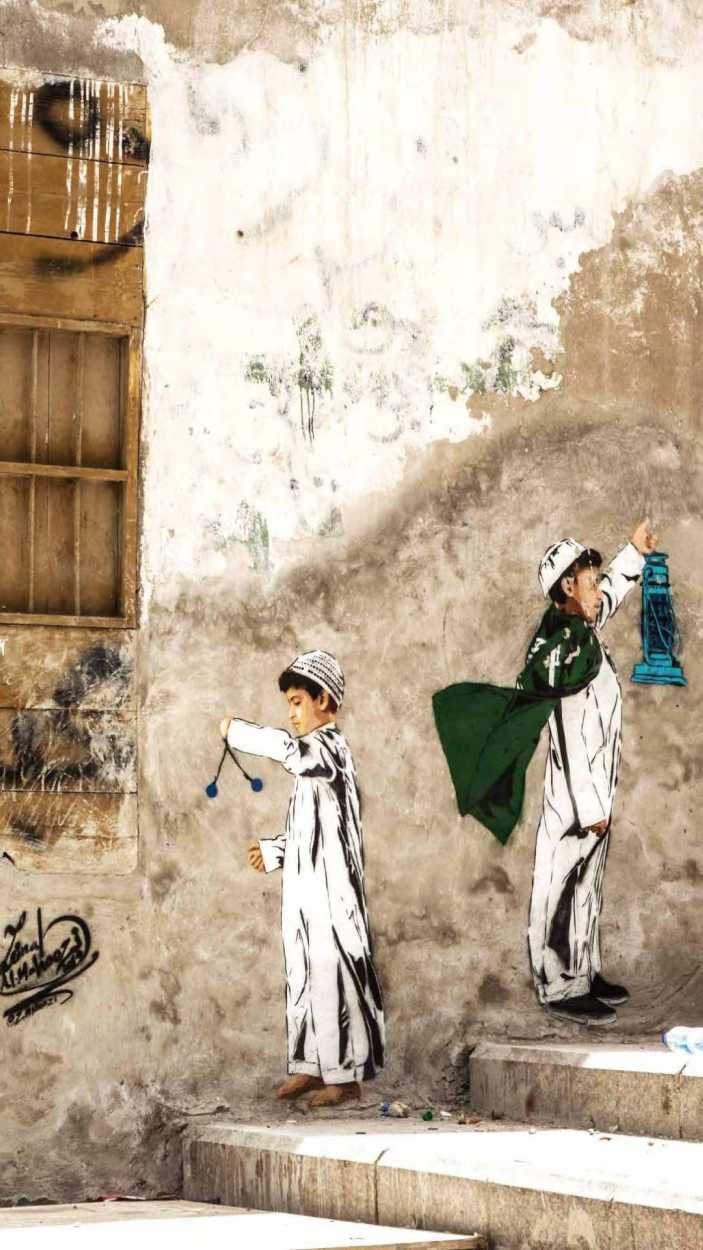 Street art by Zeinab Al-Mahoozi.